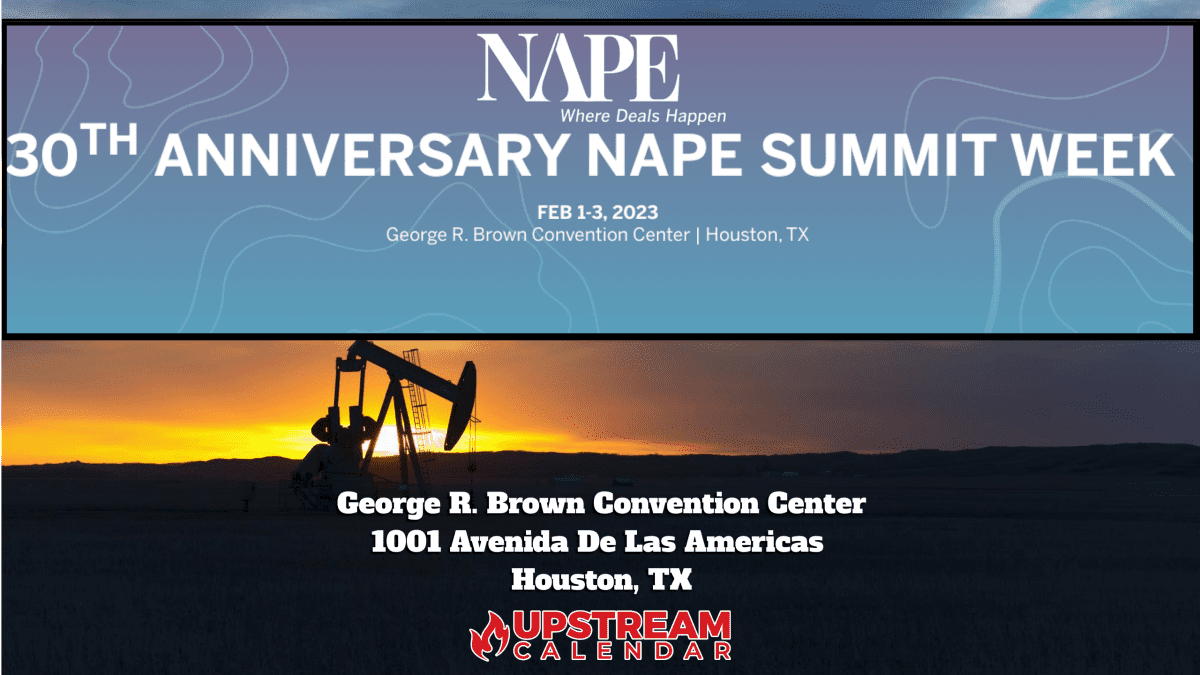 Register NOW for the 2023 NAPE Summit Week 30th Anniversary Feb 1-3 – NAPE Where Deals Happen – Houston
This Event Reminder is Sponsored by:

30 YEARS OF MAKING DEALS HAPPEN
NAPE is the energy industry's marketplace for the buying, selling and trading of prospects and producing properties. NAPE brings together all industry disciplines; draws in decision-makers; focuses its participation on prospect generators; and hosts companies of all sizes, from small independents to majors. With the addition of bitcoin mining and renewable energy sources to our oil and gas offerings, NAPE is the ultimate venue for energy deals.
SUMMIT EVENTS
Celebrate our 30th Anniversary at the 2023 NAPE Summit! This year our events are bigger and better than ever before as we celebrate the resiliency and strength of our energy industry — enjoy the party at our Icebreaker Reception by jamming out to The Spazmatics! NEW at NAPE Summit this year you will find the Bitcoin Mining Pavilion, reimagined lounges and the revamped Energy Business Conference that accompany the networking and dealmaking signature to NAPE.
WHY ATTEND
This event offers international and domestic purchasers a unique chance to connect, reconnect, and make deals on domestic and international levels. You can meet an ambassador from Australia, a lease negotiator from Canada and a geologist from Louisiana all in one place. Our growing attendee base also includes the renewable energy sector, service and capital providers as well as legal counsel. With that much decision-making power accessible at NAPE, deals happen.

Follow UpstreamCalendar.com for upcoming industry events. Upstream Calendar was created to help the industry to synchronize by providing a free lookahead for KEY industry events across the country. We focus on non-profit support, community, and industry specific 2022 Oil and Gas trade shows and conferences for Upstream, Subsea, Offshore, Downhole, Cementing, Completions, Fracking, Pumping, MUD, etc. We are FROM Upstream, FOR Upstream and believe in Networking With A Purpose. We put all streams of energy together as the original Energy Calendar. This event is at NRG and for a full list of NRG Events Calendar follow us on our other pages. Midstream Calendar, Downstream Calendar and this one Upstream Calendar. The Energy Calendar official – sharing All Streams of Energy. Allstream Energy Partners.
2023 Oil and Gas Events
Email Efrain@AllstreamEP.com to get involved.
2023 Oil and Gas Events North Dakota / Houston
2023 New Energy and Oil and Gas Houston
2023 Oil and Gas Charity Events