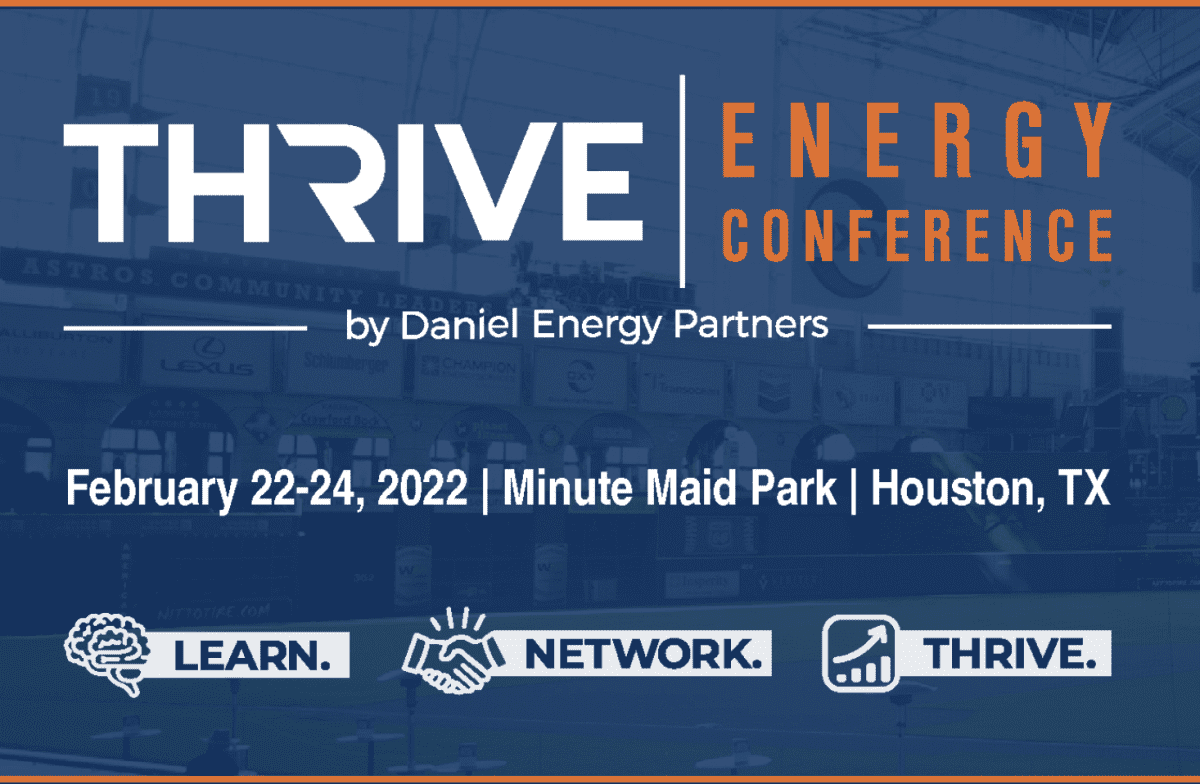 Thrive Energy Conference 2022 by Daniel Energy Partners (Invite Only)- Houston Feb 22-24
This Event Reminder is Sponsored by:
The Thrive Energy Conference by Daniel Energy Partners and presented by Winston & Strawn is an "invite only" industry leading event of key energy professionals collaborating on research-driven insights and trends key to developing a pathway to a "THRIVING" energy future. This unique event combines leadership from public and private global energy companies under a professional yet fun atmosphere in one of the greatest ballparks in America.
Here you will learn about past lessons learned, what's happening now and a peek around the corner of what's to happen next. You will also learn about technologies and services that can make your company or your investment companies more effective and efficient in today's challenging economy.
The inaugural Thrive Energy Conference was held in February 2021 during the end of the first wave of the COVID-19 pandemic. The energy industry hadn't had an event in close to a year. With industry professionals more than ready to get back together, Daniel Energy Partners developed an event in a safe open-air atmosphere with recommended safety protocols and social distancing. The event was more than a homerun bringing together hundreds of key professionals representing 491 companies. Thrive opened the doors to more industry events and helped encouraged many companies to get back to office. Thrive has been recognized by TSNN as a finalist for the 2021 Trailblazer Award.
What to Expect at THRIVE Energy:
Meet and network with hundreds of oil and gas management teams within all aspects of the industry
No stuffy formal presentations. Our sessions will be lively informative panels or fireside chats
"Invite Only" crowd of key industry leaders eliminating the "tire kickers" you see at most events
Two full days of live panel discussions and fireside chats held in historic Union Station
Live video and audio feed of panels on the jumbo screen known as "El Grande" and inside each suite
Up to 100 professional exhibits displaying technologies, equipment, services & more inside Minute Maid Park
Up to 63 company hosted hospitality suites for entertaining and one-on-one meetings
 A designated area outside for OFS vehicles and heavy equipment for a hands-on learning experience
Several unique entertaining networking events including Batting Practice, Receptions and Dinners

SCHEDULE:

Tuesday, February 22, 2022

Registration

1:00pm – 7:00pm

VIP Opening Day Reception

5:00pm – 8:00pm (VIP GUESTS ONLY)

Sponsored by: NOV

VIP Batting Practice

5:00pm – 8:00pm (VIP GUESTS ONLY)

Sponsored by: NOV

Wednesday, February 23, 2022

Registration

9:00 AM – 5:00 PM

Indoor & Outdoor Exhibits

7:30am – 5:00pm

Hospitality Suites

8:30am – 5:00pm (VIP ONLY)

Morning Panel Sessions

8:30am – 12:30pm

Networking Break

10:00am – 10:30am

Sponsored by: Axis Energy Services

Lunch Break

12:30pm – 1:30pm

Afternoon Panel Sessions

1:30am – 4:00pm

Field of Dreams Happy Hour

4:00pm – 6:00pm

Sponsored by: Cummins

VIP Batting Practice

5:00pm – 7:00pm

Sponsored by:

Suite Level Reception

6:00pm – 8:00pm (Open to All Attendees)

Sponsored by: West Texas Cementers

Thursday, February 24, 2022

Registration

7:30am – 3:00pm

Indoor & Outdoor Exhibits

7:30am – 3:00pm

Hospitality Suites

8:30pm – 3:00pm (VIP Guests Only)

Morning Panel Sessions

8:30am – 12:30pm

Networking Break

10:00am – 10:30am

Sponsored by: FESCO

Lunch Break

12:30pm – 1:30pm

Afternoon Panel Sessions

1:30pm – 4:00pm

Closing Reception

3:00pm – 5:00pm

Follow UpstreamCalendar.com for upcoming industry events. Upstream Calendar was created to help the industry to synchronize by providing a free lookahead for KEY industry events across the country. We focus on non-profit support, community, and industry specific 2022 Oil and Gas trade shows and conferences for Upstream, Subsea, Offshore, Downhole, Cementing, Completions, Fracking, Pumping, MUD, etc. We are FROM Upstream, FOR Upstream and believe in Networking With A Purpose.

Email Ops@MidstreamCalendar.com to get involved.

2022 Oil and Gas Events Houston

2022 Oil and Gas Events Texas

2022 Oil and Gas Executive Conferences

If you are wondering when the 2023 Thrive Energy Conference will be, then look no further. This year Thrive 2023 will be February 21-23 at Minute Maid Park. Registration is listed below.

2023 Thrive Energy Conference by Daniel Energy Partners Feb 21-23 – Houston