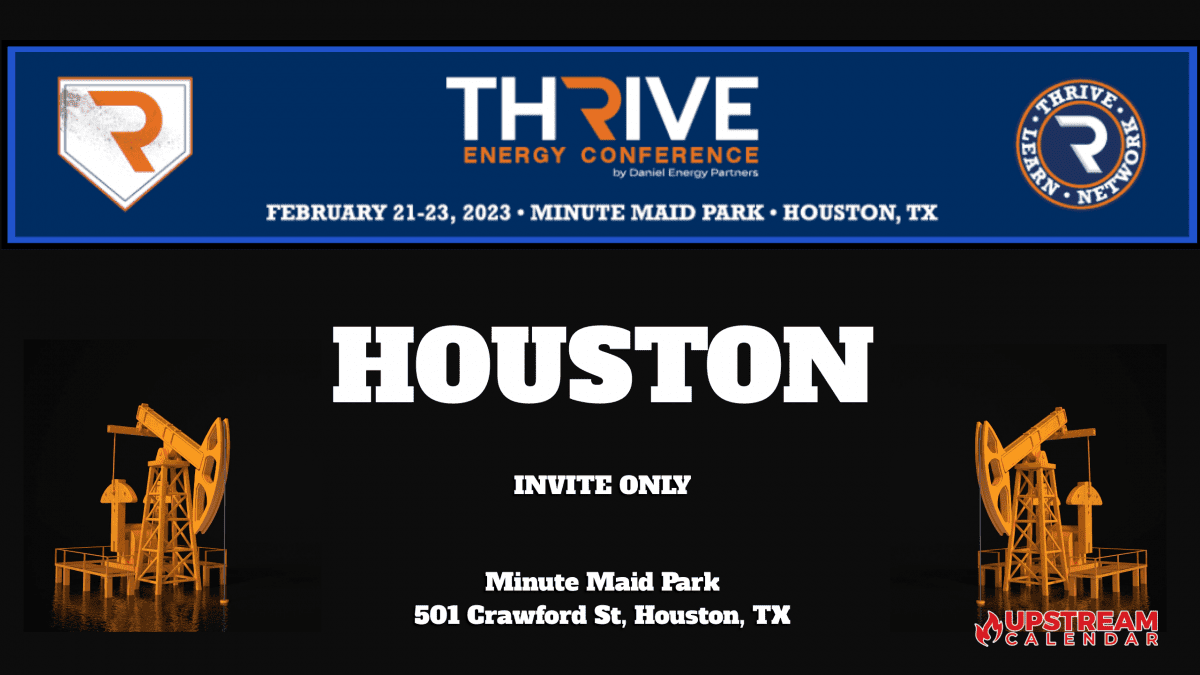 2023 Thrive Energy Conference by Daniel Energy Partners Feb 21-23 – Houston
This Event Reminder is Sponsored by: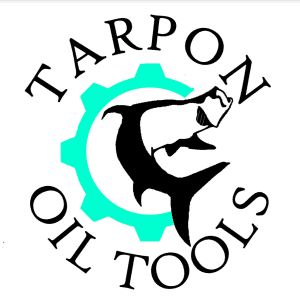 The Thrive Energy Conference by Daniel Energy Partners is an "invite only" industry leading event of key energy professionals collaborating on research-driven insights and trends key to developing a pathway to a "THRIVING" energy future. This unique event combines leadership from public and private global energy companies under a professional yet fun atmosphere in one of the greatest ballparks in America.
Here you will learn about past lessons learned, what's happening now and a peek around the corner of what's to happen next. You will also learn about technologies and services that can make your company or your investment companies more effective and efficient in today's challenging economy.
The inaugural Thrive Energy Conference was held in February 2021 during the end of the first wave of the COVID-19 pandemic. The energy industry hadn't had an event in close to a year. With industry professionals more than ready to get back together, Daniel Energy Partners developed an event in a safe open-air atmosphere with recommended safety protocols and social distancing. The event was more than a home run bringing together hundreds of key professionals representing 491 companies. Thrive opened the doors to more industry events and helped encouraged many companies to get back to office. Thrive has been recognized by TSNN as a finalist for the 2021 Trailblazer Award.
What to Expect at THRIVE Energy:
Meet and network with hundreds of oil and gas management teams within all aspects of the industry
No stuffy formal presentations. The sessions will be lively informative panels or fireside chats
"Invite Only" crowd of key industry leaders eliminating the "tire kickers" you see at most events
Two full days of live panel discussions and fireside chats held in historic Union Station
Live video and audio feed of panels on the jumbo screen known as "El Grande" and inside each suite
Up to 100 professional exhibits displaying technologies, equipment, services & more inside Minute Maid Park
Up to 63 company hosted hospitality suites for entertaining and one-on-one meetings
A designated area outside for OFS vehicles and heavy equipment for a hands-on learning experience
Several unique entertaining networking events including Batting Practice, Receptions and Dinners
Featured Panelists
2023 Panelists & Fireside Chats
Oliver Le Peuch, Chief Executive Officer | SLB
Jeff Bellman, Portfolio Manager- Analyst | Nuveen Investments
Ravi Gill, Analyst | Wellington Management Company LLP
Ashley Ferndandes, Analyst | Fidelity Management & Research Co
Rich Kushel, Senior MD- Head of Portfolio Management Group | Blackrock
Mark Lashier, President & CEO | Phillips 66 Corporation
Clay Williams, Chief Executive Officer | NOV
Jamie Patterson, Chief Executive Officer | Siren Energy
Kristin Smith, Chief Financial Officer | Vista Sands
Wayne Richards, Chief Executive Officer | GR Energy Services
Nathan Ough, Chief Executive Officer | VoltaGrid
Hunter Landers, Vice President, Completions | Diamondback Energy
Michael Segura, Senior Vice President, C&P Division | Halliburton
Maria Borras, EVP – OFSE Segment | Baker Hughes
Soma Somasundaram, President & CEO | ChampionX
Larry Bruno, President & CEO | Core Laboratories
Lance Robertson, Chief Executive Officer | Endeavor Energy Resources
Cody Campbell, Chief Executive Officer | Double Eagle Energy Holdings
Ken Waits, Chief Executive Officer | Mewbourne Oil Company
Tracie Slone, Vice President, Global Supply Chain | Marathon Oil Corporation
Courtney Bresia, Head of Procurement | BPX Energy
Mary Atkinson, Head of Procurement | Grayson Mill Energy
Keelan Adamson, President & COO | Transocean Ltd
Cindy Taylor, Chief Executive Officer | Oil States International Inc
John Lindsay, Chief Executive Officer | Helmerich & Payne
Kevin Neveu, Chief Executive Officer | Precision Drilling
Dominic Macklon, EVP Strategy & Sustainability | ConocoPhillips
Jeremy Goebel, EVP & Chief Commercial Officer | Plains All American Pipeline LP
TBD, Title | Enterprise Products Partners LP
Jeff Miller, Chief Executive Officer | Halliburton
Seth Urruty, Chief Executive Officer | Camino Natural Resources
Mike Warren, SVP Drilling & Completions | Aethon Energy
Molly Smith, VP Drilling & Completions | Murphy Oil Corporation
Ann Fox, Chief Executive Officer | Nine Energy Services
Matt Wilks, Chairman | ProFrac Services
Melissa Cougle, Chief Financial Officer | Ranger Energy Services
Dave Pursell, EVP Development Planning | APA Corp
Nick Dell Osso, Chief Executive Officer | Cheasapeake Energy
Greg Hill, President & COO | Hess Corporation
Travis Stice, Chief Executive Officer | Diamondback Energy
Doug Swanson, Managing Partner | Encap Investments
David Rockecharlie, Managing Partner | KKR
Toby Rice, Chief Executive Officer | EQT Corporation
Billy Helms, President & COO | EOG Resources
Follow UpstreamCalendar.com for upcoming industry events. Upstream Calendar was created to help the industry to synchronize by providing a free lookahead for KEY industry events across the country. We focus on non-profit support, community, and industry specific 2022 Oil and Gas trade shows and conferences for Upstream, Subsea, Offshore, Downhole, Cementing, Completions, Fracking, Pumping, MUD, etc. We are FROM Upstream, FOR Upstream and believe in Networking With A Purpose. We put all streams of energy together as the original Energy Calendar. This event is at NRG and for a full list of NRG Events Calendar follow us on our other pages. Midstream Calendar, Downstream Calendar and this one Upstream Calendar. The Energy Calendar official – sharing All Streams of Energy. Allstream Energy Partners.
2023 Oil and Gas Events
Email Efrain@AllstreamEP.com to get involved.
2023 Oil and Gas Events Houston
2023 New Energy and Oil and Gas Houston
2023 Oil and Gas Executive Conferences