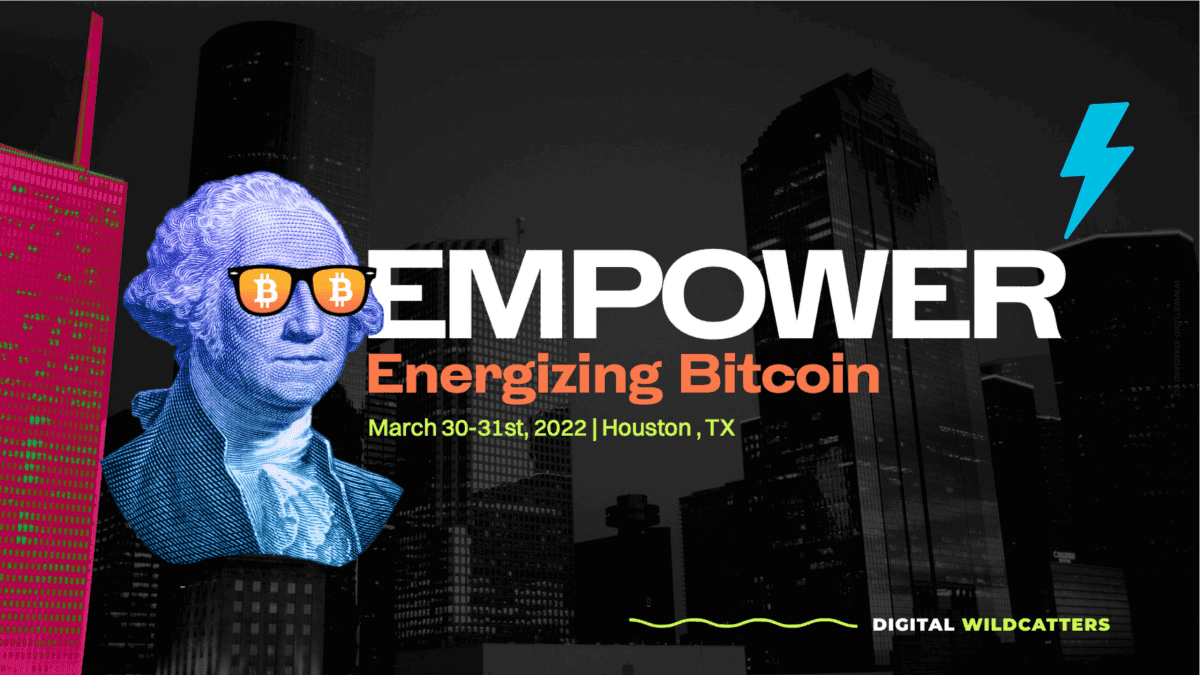 Register Now for the EMPOWER Energizing Bitcoin March 30-31st, 2022 Houston, TX
This Event Reminder is Sponsored by:

Digital Wildcatters – Bringing Bitcoin Mining to the Energy Capital of the World
Empower will be the first bitcoin mining event with a focus on energy — bringing together energy, mining, finance, and other professionals in the city that powers the world. We are shutting down the streets in Houston for an iconic two-day event at 8th Wonder Brewery, where you will get to learn and network with energy producers, capital groups, miners, and other builders in the space.
The Biggest Names on Stage
Bitcoin Mining has the potential to be one of the fastest-growing industries over the next decade. We're bringing in the most forward-thinking names to speak on topics such as natural gas and renewable mining, power generation, venture capital, institutional adoption, regulatory, and more. There will be content tracks that everyone can learn from regardless of background or experience.
We're big believers in getting smart people together and allowing collisions to happen — these collisions are the catalyst for ideas, collaboration, and progress. You will have the opportunity to hang out with other like-minded people in a fun environment with live music, tent parties, and free beer.
Agenda
9:30 PM: Keynotes, Panels, and Q&As
11:30 PM: Break
1:00 PM: Keynotes, Panels, Q&As
4:30 PM: Empower Tech Night
6:00 PM: Live music
8:00 PM: VIP Mixer
9:30 PM: Keynotes, Panels, and Q&As
11:30 PM: Break
1:00 PM: Keynotes, Panels, and Q&As
4:30 PM: Empower Tech Night
7:00 PM: Tent Parties
Every two weeks, 250 tickets unlock. Once 250 tickets are purchased, registration closes and you'll have to wait until the next release. The next release is on February 17th and prices increase to $599.
Follow UpstreamCalendar.com for upcoming industry events. Upstream Calendar was created to help the industry to synchronize by providing a free lookahead for KEY industry events across the country. We focus on non-profit support, community, and industry specific 2022 Oil and Gas trade shows and conferences for Upstream, Subsea, Offshore, Downhole, Cementing, Completions, Fracking, Pumping, MUD, etc. We are FROM Upstream, FOR Upstream and believe in Networking With A Purpose.
Email Ops@MidstreamCalendar.com to get involved.
2022 Oil and Gas Events Houston
2022 Oil and Gas Events Texas
2022 Oil and Gas Conferences
2022 Oil and Gas Tech Conferences