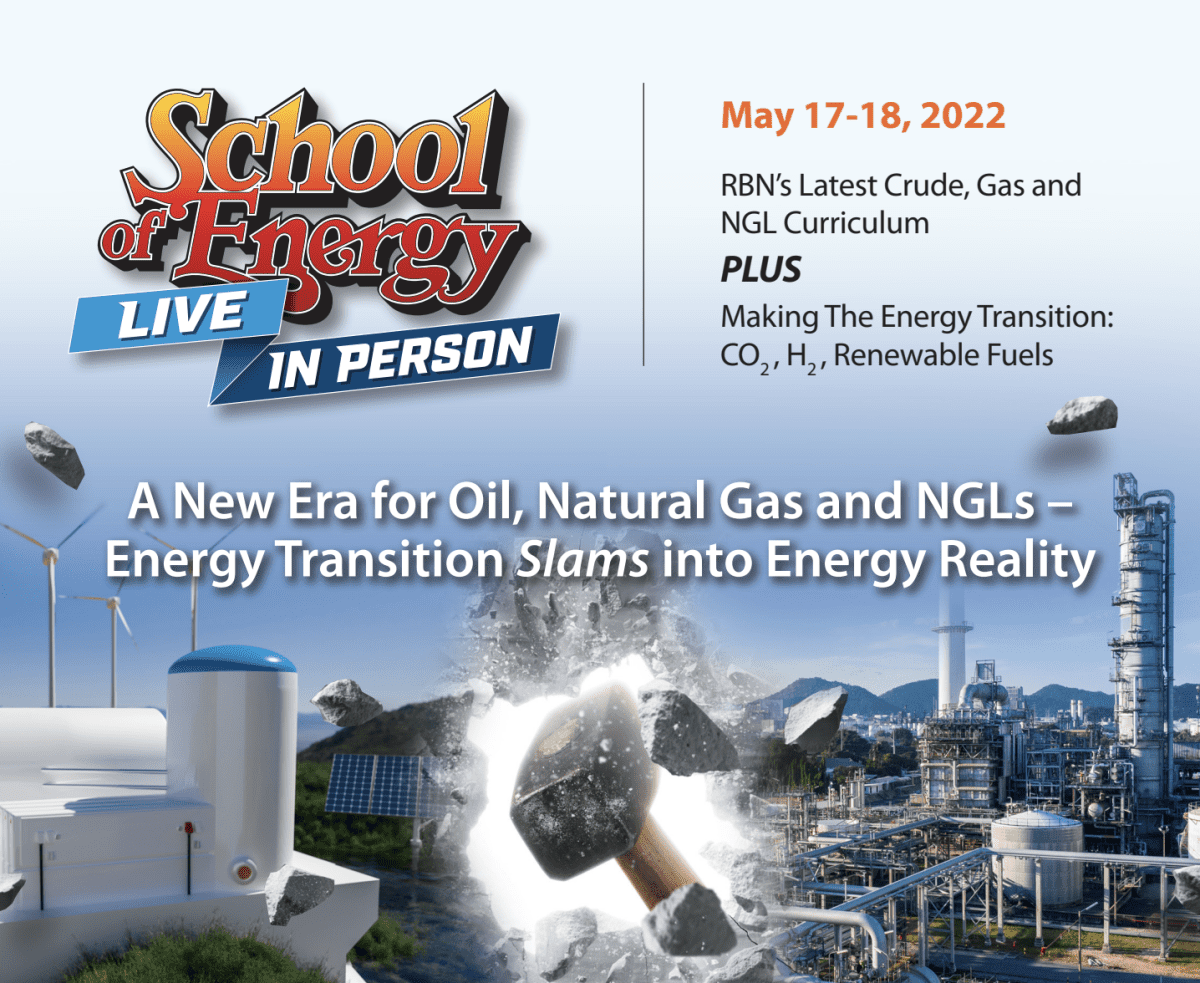 School of Energy A New Era for Oil, Natural Gas and NGLs – Energy Transition Slams into Energy Reality May 17-18th – Houston
This Event Reminder is Sponsored by:

A New Era for Oil, Natural Gas and NGLs – Energy Transition Slams into Energy Reality
May 17-18, 2022 RBN's Latest Crude, Gas and NGL Curriculum PLUS Making The Energy Transition: CO2 , H2 , Renewable Fuels

The illusion of a smooth energy transition was swept away in 2021, with the drive toward decarbonization running headlong into the reality of energy markets. It is now clear that the transition and its effects are permeating all aspects of supply and demand, from the chaos in European natural gas, to producer capital restraint in the oil patch, to the rising impact of renewable fuels and, of course, to the escalating roadblocks in pipeline construction. Gone are the days when traditional energy markets operated independently of the energy transition. Today the markets for crude oil, natural gas and NGLs are inextricably tied to renewables, decarbonization, and sustainability. It's simply impossible to understand energy market behavior without a solid grasp of how these market factors are tied together.
That is what School of Energy – Spring 2022 is all about! We will consider the most important developments that energy markets must deal with in the real world of today but do so in the context of a greener future that could represent radical changes in how energy commodities are produced, transported and used.
And for the first time in over two years, we are LIVE and IN PERSON! That's right. Our 2022 Spring School of Energy will be held at the Houstonian in Houston May 17-18, 2022. We have updated our content to reflect the massive changes we've seen over the past six months, along with additional faculty and upgraded models. And the curriculum includes an entire half day dedicated to what we believe are the most important hydrocarbon-related issues in the energy transition. That means CO2 , hydrogen and renewable fuels. This is nothing like other natural gas, crude oil or NGL conferences! The course work is hands-on. In each module we'll drill down on an important aspect of the market, explain how it works, download a spreadsheet model and learn how to use it. You walk out the door with the how-to Power Points and the Excel models on your hard drive.
Making Connections Across Energy Markets
In RBN's highly respected blog, industry presentations and consulting practice, we explain the how and why of the most important developments in the markets for crude oil, natural gas and NGLs. At the School of Energy, we bring this perspective to an intense two-day curriculum of energy market fundamentals. Your instructors will apply down-to-earth, understandable concepts, real world examples and usable economic models toward the goal of understanding energy markets. There will be no industry luminaries waxing eloquent about the hottest infrastructure project or game changing developments. Instead, RBN instructors will lead you through a tightly scheduled curriculum designed for maximum learning.
This is not a course for complete newbies. We assume you have some working knowledge of at least one of the three traditional energy markets we target: crude oil, natural gas or NGLs. You will need a laptop computer with internet access and Microsoft Office 2013 or higher. Yes, that means you will be downloading several RBN energy economic models and working with them in class. That's what hands-on means. There will be math. But nothing beyond your basic spreadsheet formulas and functions. You will have access to both the Power Point slides and spreadsheet models used in the coursework in real-time. Additionally, we have added supplemental videos for extra model instruction to give us more time to discuss energy transition topics on day two. At the end of the course, you will walk away with all of these materials.
About our Media Partner Spectrum Camera Solutions:

Spectrum Camera Solutions manufactures a full range of globally certified Explosion Proof camera systems to monitor any hazardous area. Founded in 2012, Spectrum Camera Solutions has an unparalleled background as a world leader in hazardous area vision systems for process, security, and safety, creating a new range of Explosion Proof cameras based on durable materials, innovative engineering, and operational excellence.
Designed and Manufactured in USA
NDAA Compliant & FM Approved
Spectrum Camera Solutions Explosion Proof Camera products are designed and manufactured in the USA. As a leader with a reputation for creating exciting and reliable hazardous area products, we pride ourselves in delivering outstanding execution from R&D to production as an ISO9001 & ISO14001 certified company.
Award Winning Manufacturer
As a committed leader to excellence and quality, Corporate Vision and Corporate Energy has recognized Spectrum Camera Solutions for our class-leading hazardous area products.
Being at the forefront of innovation and safety, Spectrum Camera Solutions is setting the benchmark for engineering excellence. Unique to the market, Spectrum's series of Explosion Proof Cameras utilize the latest technology available in the security camera market integrated into our dual patented housings designed to withstand harsh environmental conditions and certified for hazardous areas.
Follow UpstreamCalendar.com for upcoming industry events. Upstream Calendar was created to help the industry to synchronize by providing a free lookahead for KEY industry events across the country. We focus on non-profit support, community, and industry specific 2022 Oil and Gas trade shows and conferences for Upstream, Subsea, Offshore, Downhole, Cementing, Completions, Fracking, Pumping, MUD, etc. We are FROM Upstream, FOR Upstream and believe in Networking With A Purpose.
Email Ops@MidstreamCalendar.com to get involved.
2022 Oil and Gas Events Houston
2022 Oil and Gas Events Texas
2022 Oil and Gas Conferences Hydrogen and Carbon Capture
2022 Oil and Gas Conference Renewables
If you are wondering when the RBN Energy School of Energy will be look no further. This Year's 2023 RBN School of Energy will be held at The Houstonian on September 18-20th. Registration coming soon.
RBN Energy School of Energy Conference September 18-20 – Houston