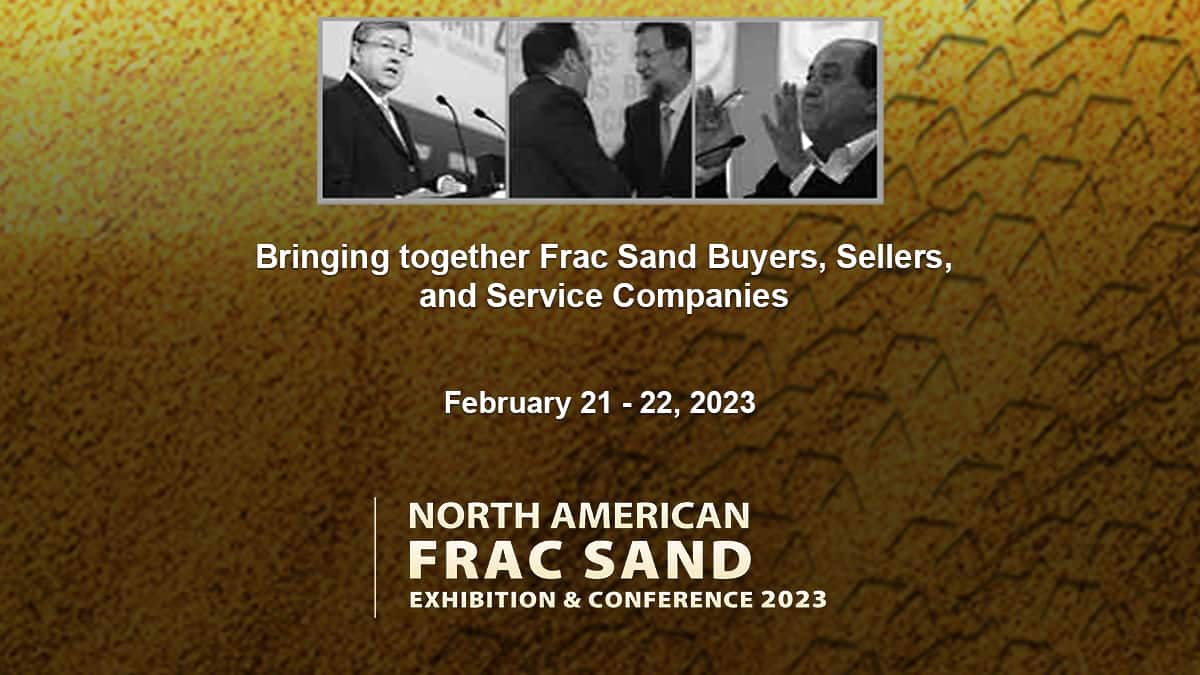 Register Now for the 2023 North American Frac Sand Exhibition & Conference Feb 21, 22 – Houston
This Event Reminder is Brought to you by:

Bringing together Frac sand Buyers, Sellers, and service Companies
The frac sand industry is adjusting to expanding oil and gas operations across the continent. For the year ahead, how will the current environment impact the market for proppants? Is there a continued trend in higher volumes of frac sand being used per well? The supply chain is under pressure to adopt new strategies, and navigating the market has become increasingly complex.
In addition to market constraints, logistics and transportation companies need to find practical solutions for responding to a volatile price regime. The existing U.S. and Canadian transportation networks need to focus on efficiencies to serve the market economically. The overall market supply and logistical challenges are leading to market tightness and price volatilities, which are further aggravated by the added pressures on existing railroad facilities and overall shortages in storage capacity; furthermore, adverse weather-related events only exacerbate the situation due to the lack of sufficient in-play storage facilities.
The objective of the North American Frac Sand 2023 conference will be to bring the frac sand supply chain industry together to evaluate solutions for overcoming the current market and logistical challenges of supplying frac sand to well sites.
This exhibition and conference will provide a forum for all stakeholders, from suppliers and proppant manufacturers to railroad operators, well-servicing companies, and E&Ps, to network and build cross-market relationships and to discuss the latest developments in the proppant market and logistics infrastructure across North America. Our agenda will include:
Frac sand market supply and demand forecasts
New rail loading, offloading, and transloading developments
Reducing transportation costs and understanding pricing dynamics
Optimizing on existing rail infrastructure, storage points, and capacity
Utilize local trucking and last-mile transportation strategies
Multiple end-user case studies and specification requirements
The Exhibition
If you would like to exhibit at this event, please get in touch with sean.collins@iQ-Hub.com
Book now
To secure your place at North American Frac Sand 2023, or if you require more information, please get in touch with delegates@iQ-Hub.com.
February 21 – 22, 2023
South Shore Harbour Resort,
Texas, USA