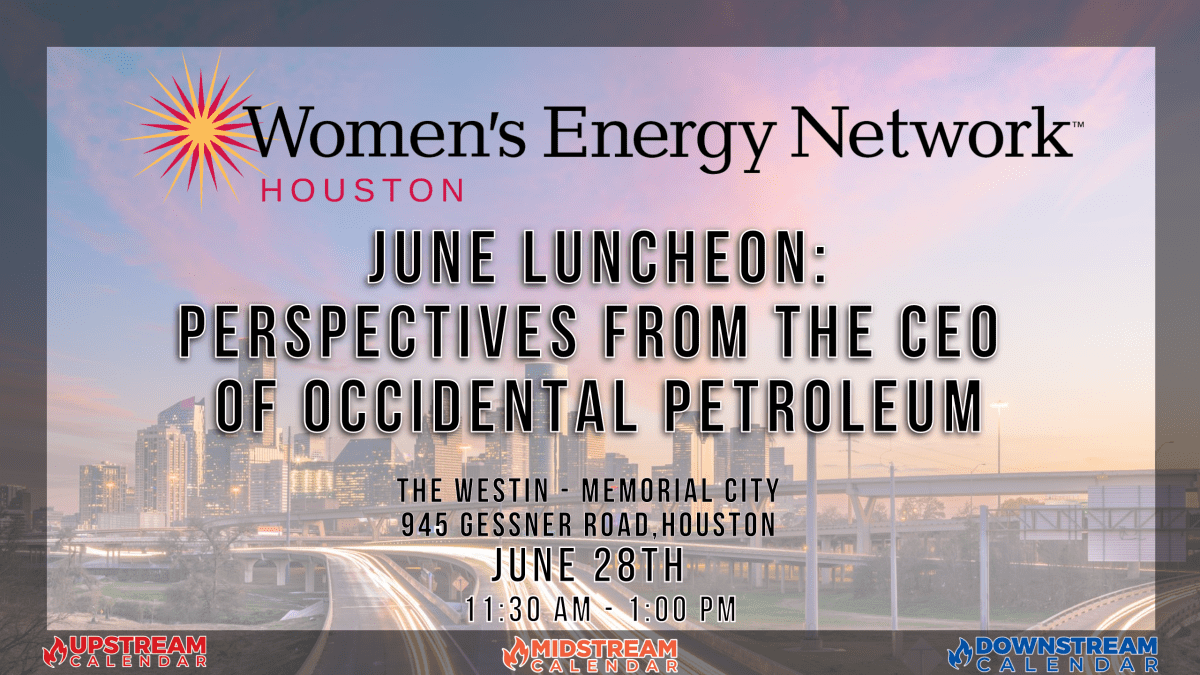 Register Here for the WEN Houston Chapter: June 28th Luncheon – Perspectives from the CEO of Occidental Petroleum- Houston
This Event Reminder is Sponsored by:

Perspectives from the CEO of Occidental Petroleum
Vicki Hollub is President and Chief Executive Officer of Oxy. She has been a member of Oxy's Board of Directors since 2015.
During her 35-year career with Oxy, Vicki has held a variety of management and technical positions with responsibilities on three continents, including roles in the United States, Russia, Venezuela and Ecuador. Most recently, she served as Oxy's President and Chief Operating Officer, overseeing the company's oil and gas, chemical and midstream operations.
Vicki previously was Senior Executive Vice President, Oxy, and President, Oxy Oil and Gas, where she was responsible for operations in the U.S., the Middle East region and Latin America. Prior to that, she held a variety of leadership positions, including Executive Vice President, Oxy, and President, Oxy Oil and Gas, Americas; Vice President, Oxy, and Executive Vice President, U.S. Operations, Oxy Oil and Gas; Executive Vice President, California Operations; and President and General Manager of the company's Permian Basin operations. Vicki started her career at Cities Service, which was acquired by Oxy.
Vicki serves on the boards of Lockheed Martin and the American Petroleum Institute. She is a stewardship board member for the World Economic Forum's Platform for Shaping the Future of Energy and Material, and a member of the Oil and Gas Climate Initiative. A graduate of the University of Alabama, Vicki holds a Bachelor of Science in Mineral Engineering. She was inducted into the University of Alabama College of Engineering 2016 class of Distinguished Engineering Fellows.
Pricing:
WEN Members: $40
Public (Non-Members): $50
Member Walk-Ins: $50
Public (Non-Members) Walk-Ins: $60
Registration Deadline:
June 25, 2022
Walk-in Policy:
Walk-ins are permitted.
Cancellation/Refund Policy:
Registration is non-refundable, regardless of attendance. If you can no longer attend, please let us know.
Data Use:
By registering for this event, you are opting to receive future email communication from the Women's Energy Network. You may opt out at a later date.
Non-Solicitation Policy:
WEN has a non-solicitation policy – by attending this event, you agree to adhere to the policy. Review Our Policy
Recordings Prohibited:
WEN is an organization that provides educational opportunities to members and nonmembers; however, recording of the presentation, speaker, and / or content is prohibited. The presentation is property of the speaker and/or their organization and is not to be removed from the event without prior written consent. The Board may and will take remedial action against any individual, member, or any program participant in the event of non-adherence to this policy. Such action may range from a private or company-led warning, to suspension of WEN membership for a stated term or a prohibition on attending future WEN events.
Problems?
If you are experiencing problems registering, we recommend that you try another browser, such as Chrome. We also recommend that you register from your phone or personal computer as some companies have security settings that do not allow access to our site or some of our registration functions. If you continue to have problems or have questions, please email us at eventregistration@womensenergynetwork.org.