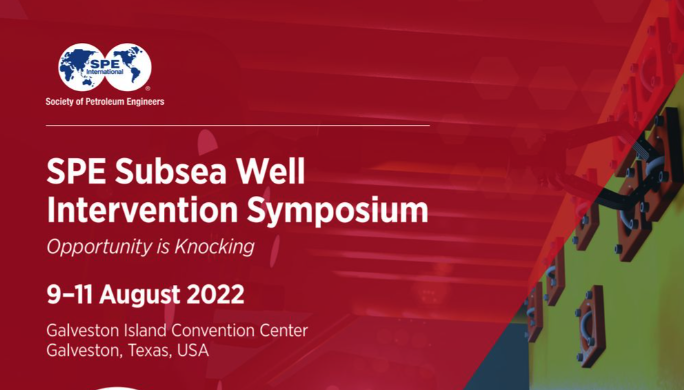 SPE Subsea Well Intervention Symposium Aug 9 – 11, 2022 -Galveston Island Convention Center – Galveston
This Event Reminder is Sponsored by:

About the Symposium
The 2022 SPE Subsea Well Intervention Symposium is the premier opportunity to interact with operators, service partners, regulators, and industry experts from across the globe who are focused on subsea well interventions. The program showcases a wide array of established and emerging intervention areas unique to subsea. As an SPE symposium, authors are offered, but not required, to submit papers for review and publication. Additionally, the program committee plans to offer a unique subsea well intervention training course prior to the beginning of the event.
The theme for 2022 is SPE Subsea Well Intervention: Opportunity is Knocking. The opportunity space for subsea well intervention professionals is immense.  This event will give attendees the chance to hear success stories in meeting the classic challenges such as, efficiency gains to reduce costs to optimize well productivity and reliability, or to restore production. In addition, new opportunities are emerging in this important intervention space, from P&A and decommissioning to carbon capture and storage. Attendees will be able to network amongst those industry experts taking up these opportunities using the latest technology and operational developments.
Intervention experts will share their knowledge on the performance and effectiveness of subsea well intervention solutions and advancements through presentations on case studies, new technology developments and regulatory developments. Presentations, papers, and networking will highlight the opportunities historically addressed and currently emerging for subsea well interventions such as:
Compliance, Industry Standards and QHSE in Subsea
Subsea Intervention to Extend Asset Life

Carbon Management
Reserves Capture/Acceleration
Well Repair/Remediation

Subsea Intervention Contracting

Single Operator campaigns
"Schedule Sharing" amongst Operators – what does the North Sea know that the rest of the world does not?
Best Practices from Operator and from Contractors

Case Histories
Is Subsea Intervention worth it?

Diagnostics
Through Tubing Intervention
Workovers
What are the alternatives?
Follow UpstreamCalendar.com for upcoming industry events. Upstream Calendar was created to help the industry to synchronize by providing a free lookahead for KEY industry events across the country. We are the original energy calendar and focus on non-profit support, community, and industry specific 2022 Oil and Gas trade shows and conferences for Upstream, Subsea, Offshore, Downhole, Cementing, Completions, Fracking, Pumping, MUD, etc. We are FROM Upstream, FOR Upstream and believe in Networking With A Purpose. We are a global network of oil and gas professionals that bring all streams of energy together.
Email Ops@MidstreamCalendar.com to get involved.
2022 Oil and Gas Events