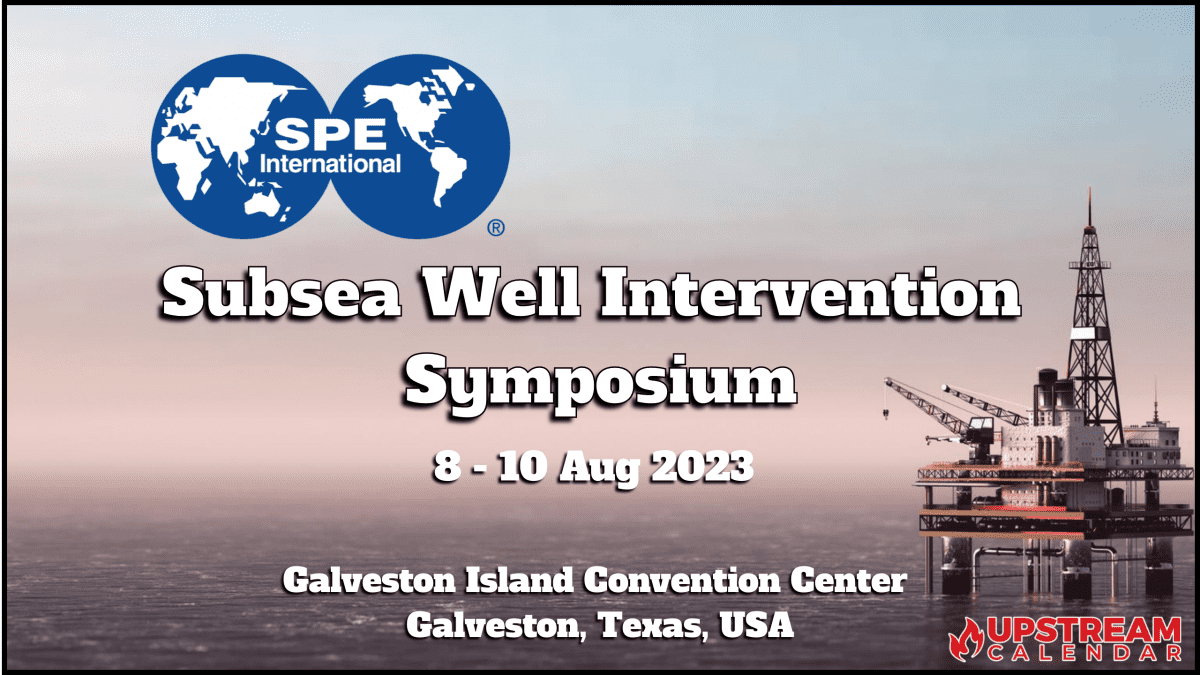 SPE Subsea Well Intervention Symposium 8 – 10 Aug 2023 Galveston Island Convention Center – Galveston, TX
This Event Reminder is Sponsored by:
SPE Subsea Well Intervention Symposium
8 – 10 Aug 2023 Galveston Island Convention Center Galveston, Texas, USA
About the Symposium
The 2023 SPE Subsea Well Intervention Symposium is the premier opportunity to interact with operators, service partners, regulators, and industry experts from across the globe who are focused on subsea well interventions. The program showcases a wide array of established and emerging intervention areas unique to subsea. As an SPE symposium, authors are offered, but not required, to submit papers for review and publication. Additionally, the program committee plans to offer a unique subsea well intervention training course prior to the beginning of the event.
The theme for 2023 is De-risking the Intervention Decision – Balancing Investment and Reward. Industry professionals face complex decisions imposed by subsea conditions. They also realize the need to find cost-effective, low risk solutions to advance. The event will give attendees the chance to have in-depth discussions on efficiency gains to reduce costs, optimize well productivity, and reliability. The need to increase production and bolster energy security are critical now, more than ever, making it crucial for intervention experts to share their knowledge on the performance and effectiveness of subsea well intervention solutions and advancements through presentations on case studies, new technology and regulatory developments.
Presentations, papers, and networking will discuss the current environment and challenges while de-risking the decision for subsea well interventions. The program committee welcomes proposals on:
Subsea Well Intervention Case Studies in the Gulf of Mexico
International Intervention Case Studies
Technologies, methods, and solutions with high impact on production
20k/ high-pressure, high-temperature (HPHT) and beyond including HPHT downhole/ subsea equipment for subsea interventions
Health, Safety and Environment (HSE) requirements for high pressure wells
Light well intervention plug and abandonment (P&A) enablers
Well-known Impairments
Follow UpstreamCalendar.com for upcoming industry events. Upstream Calendar was created to help the industry to synchronize by providing a free lookahead for KEY industry events across the country. We focus on non-profit support, community, and industry specific 2022 Oil and Gas trade shows and conferences for Upstream, Subsea, Offshore, Downhole, Cementing, Completions, Fracking, Pumping, MUD, etc. We are FROM Upstream, FOR Upstream and believe in Networking With A Purpose. We put all streams of energy together as the original Energy Calendar. This event is at NRG and for a full list of NRG Events Calendar follow us on our other pages. Midstream Calendar, Downstream Calendar and this one Upstream Calendar. The Energy Calendar official – sharing All Streams of Energy. Allstream Energy Partners.
2023 Oil and Gas Events