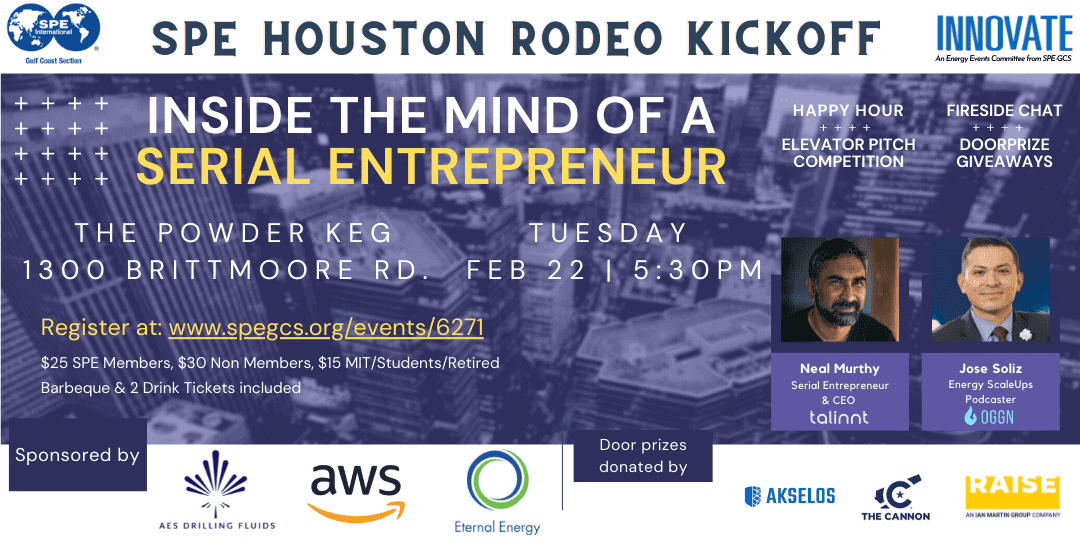 Register Now for the SPE "Inside the Mind of A Serial Entrepreneur" Feb 22 – Houston
This Event Reminder is Sponsored by:

An Entrepreneur's Journey: Inside the Mind of a Serial Entrepreneur with Neal Murthy, CEO of Talinnt (and founder of 8 startups!)
Join the SPE-GCS Innovate Committee for "Inside the Mind of a Serial Entrepreneur" with Neal Murthy, CEO of Talinnt (and founder of 8 startups!). Hear from Neal on his entrepreneurial journey which began in his teen years and led him to start several companies including 3 current ones – Talinnt, SolverX, and Village Insights.
A new addition to our event is the SPE-GCS Innovate & Elevate Pitch Session, where founders have one minute to pitch their startup to the audience for a chance to win a guest slot on the Energy ScaleUps Podcast hosted by Jose Soliz!
We will have plenty of great eats and beverages, and the best and brightest from the industry, so sign up today!
Agenda:
5:30 – 6:15: Welcome, food and bar opens
6:15 – 6:30: Innovate & Elevate – Elevator pitch Round 1
6:30 – 7:15: Inside the Mind of a Serial Entrepreneur with Neal Murphy
7:15 – 7:30: Innovate & Elevate – Elevator pitch Round 2
7:30 – 8:30: The best hour of professional networking in Houston
Neal is a serial entrepreneur, angel investor, advisor, and (former) lecturer in entrepreneurship at the University of Houston along with many other roles.
Speaker Neal Murthy
Neal Murthy's expertise lies in the use of intuitive and creative techniques in organizational development and strategy. He has been a member of the global entrepreneurship community for over twenty years.
Neal is currently a founder in three, early-stage startups: Talinnt (HR transformation solutions), SolverX (startup development using university IP), and Village Insights (software platform for connectivity and collaboration). Additionally, he sits on the boards of six early-stage startups and provides mentorship to organizations in Houston, elsewhere in the U.S., and abroad. He is also a member of the advisory councils for nonprofit organizations Collective Liberty in Washington, DC and the Black Fret Society in Austin, TX, as well as the University of Houston's Technology Bridge.
In the past, Neal has been co-founder/managing director of the startup consultancy Indalo Solutions, founder/director of data analysis and modeling company Intellihence, and the founder/director of enterprise technology firm The Nefer Group. In addition to his work as a consultant and entrepreneur, he was a lecturer in entrepreneurship, finance/economics, and business communications at the University of Houston from 2003 to 2018.
Follow UpstreamCalendar.com for upcoming industry events. Upstream Calendar was created to help the industry to synchronize by providing a free lookahead for KEY industry events across the country. We focus on non-profit support, community, and industry specific 2022 Oil and Gas trade shows and conferences for Upstream, Subsea, Offshore, Downhole, Cementing, Completions, Fracking, Pumping, MUD, etc. We are FROM Upstream, FOR Upstream and believe in Networking With A Purpose.
Email Ops@MidstreamCalendar.com to get involved.
2022 Oil and Gas Events Houston
2022 Oil and Gas Events Texas
2022 Oil and Gas Executive Conferences
2022 Oil and Gas Startup
About our Media Partner Spectrum Camera Solutions:

Spectrum Camera Solutions manufactures a full range of globally certified Explosion Proof camera systems to monitor any hazardous area. Founded in 2012, Spectrum Camera Solutions has an unparalleled background as a world leader in hazardous area vision systems for process, security, and safety, creating a new range of Explosion Proof cameras based on durable materials, innovative engineering, and operational excellence.
Designed and Manufactured in USA
NDAA Compliant & FM Approved
Spectrum Camera Solutions Explosion Proof Camera products are designed and manufactured in the USA. As a leader with a reputation for creating exciting and reliable hazardous area products, we pride ourselves in delivering outstanding execution from R&D to production as an ISO9001 & ISO14001 certified company.
Award Winning Manufacturer
As a committed leader to excellence and quality, Corporate Vision and Corporate Energy has recognized Spectrum Camera Solutions for our class-leading hazardous area products.
Being at the forefront of innovation and safety, Spectrum Camera Solutions is setting the benchmark for engineering excellence. Unique to the market, Spectrum's series of Explosion Proof Cameras utilize the latest technology available in the security camera market integrated into our dual patented housings designed to withstand harsh environmental conditions and certified for hazardous areas.