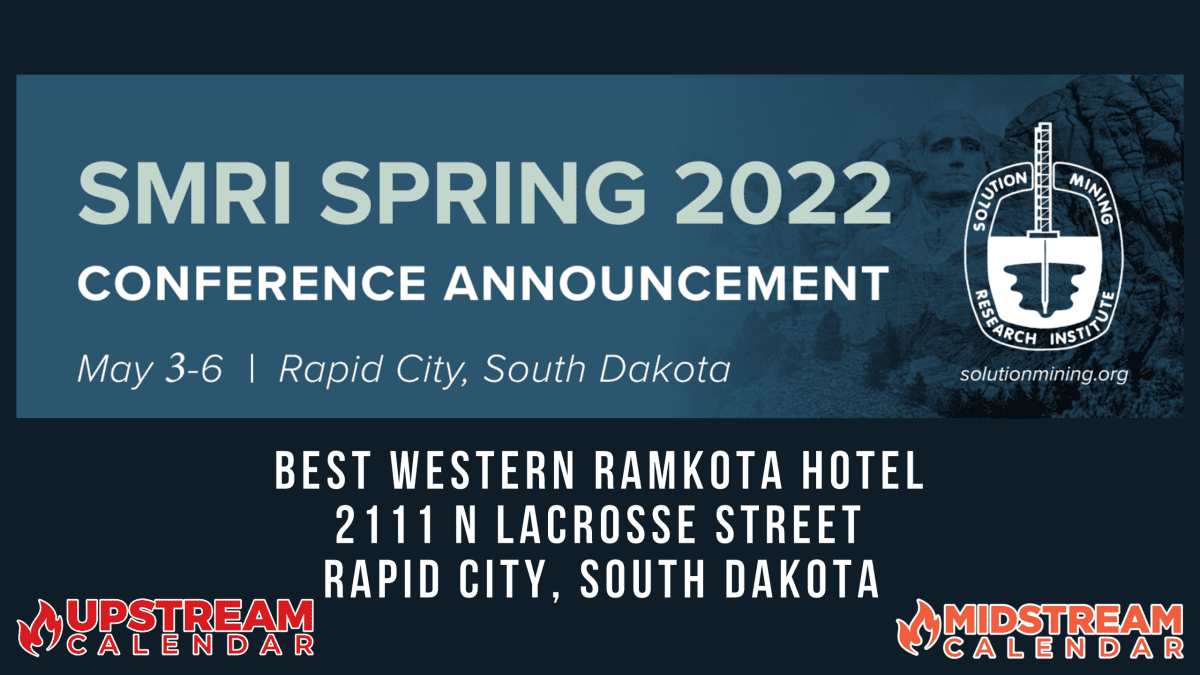 Spring 2022 SMRI Technical Conference; Rapid City, South Dakota USA; May 3-6, 2021
This Event Reminder is Sponsored by:

IN
Spring 2022 SMRI Technical Conference; Rapid City, South Dakota USA; May 3-6, 2021
(Underground Storage – Caverns, for storing natural gas, co2, h2)
The Conference announcement is now available and can be viewed here. The optional Technical Class subject will be "Development of a Cavern Storage Project, Cavern Basics" and will be repeated from the Fall 2021 Galveston, Texas Conference, along with a laboratory based class to be offered at RESPEC. Information on both class opportunities can be found in the Conference Announcement.
The complete conference schedule can be downloaded here.
FIELD TRIPS – Three field trips are being planned with details to be included in the forthcoming Conference Announcement.
Conference Registration
Conference registration is now closed. Please contact Dawn (dawnl@solutionmining.org) regarding any questions about registration.
Please log into the database to register for the conference.
Conference Schedule
3 May 2022                      Technical Class

4 May 2022                      8:00 am-10:00 am: Business Meeting (members only)
4 May 2022                      Technical paper Presentation, day 1
5 May 2022                      Technical paper Presentation, day 2
6 May 2022                      Field Trips
(Additional Schedule to be presented in Conference Announcement)
For further technical paper program or author questions, please contact Program Chair 2022 – Yvan Charnavel, Phone +33 6 64 15 28 56, Email yvan.charnavel@storengy.com.
Travel Information
The Conference will be held at the Best Western Ramkota Hotel, located at 2111 N LaCrosse Street in Rapid City, South Dakota. The closest airport to the Ramkota is the Rapid City Regional Airport, located nine miles southeast of Rapid City, in Pennington County, South Dakota, United States.
SMRI room rate is $89.00 plus tax per night for bookings from 5/1/2022 through 5/7/2022 and can be booked by calling (605) 343-8550. Rates will be honored if space is available.
Sponsor Information
SMRI thanks our sponsors of the upcoming Spring 2022 Rapid City SMRI Conference:
DIAMOND: WSP USA | Empire Wireline

PLATINUM: Sonic Surveys
GOLD:  Enventure Global Technology | Lonquist & Co., LLC | RESPEC
SILVER: Agapito Associates, Inc. | Burns & McDonnell | Geostock Sandia | GHD Services, Inc. | KLX Energy Services | Lane Power & Energy Associates, Inc. | Strata, LLC. | Subterra Engineering
BRONZE:  Alpha Geoscience | Cavern Solutions, Inc. | Patterson Services, Inc. | Ratigan Engineering & Consulting LLC | SOCON Sonar Well Services, Inc. | Seal-Tite International | Stream-Flo Industries | T & C Consulting
App Sponsor: Tiberius Energy Services, LLC
For information on 2022 sponsorships, please click here.
Follow UpstreamCalendar.com for upcoming industry events. Upstream Calendar was created to help the industry to synchronize by providing a free lookahead for KEY industry events across the country. We focus on non-profit support, community, and industry specific 2022 Oil and Gas trade shows and conferences for Upstream, Subsea, Offshore, Downhole, Cementing, Completions, Fracking, Pumping, MUD, etc. We are FROM Upstream, FOR Upstream and believe in Networking With A Purpose. We put all streams of energy together as the original Energy Calendar. This event is at NRG and for a full list of NRG Events Calendar follow us on our other pages. Midstream Calendar, Downstream Calendar and this one Upstream Calendar.
Email Ops@MidstreamCalendar.com to get involved. Follow our sister page at www.UpstreamCalendar.com for upcoming 2022 Oil and Gas Events
2022 Oil and Gas Events
2022 Upstream Under Ground Storage Conference
2022 Energy Calendar
2022 Renewables Calendar
2022 Oil and Gas Events Calendar for Energy
2022 Renewables Storage Conference