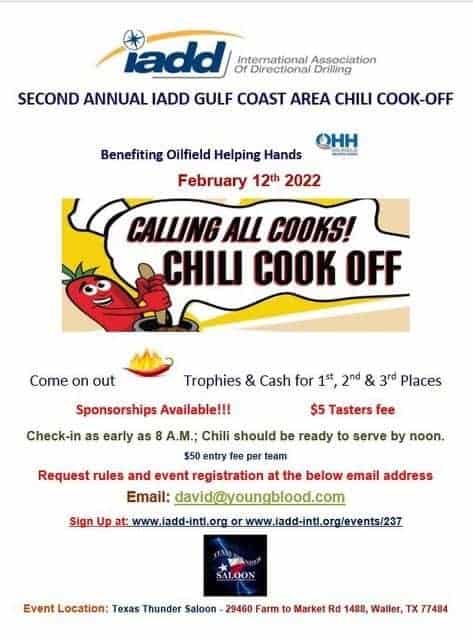 Register Today for the Second Annual Gulf Coast Area Chili Cook-off Feb 12 – Waller (Houston Area)
This Event Reminder is Sponsored by: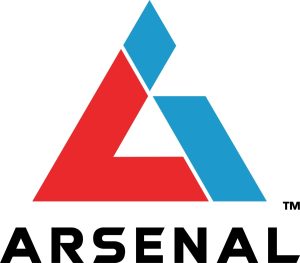 SECOND ANNUAL IADD GULF COAST AREA CHILI COOK-OFF Benefiting Oilfield Helping Hands
February 12th 2022
Come on out Trophies for 1st, 2nd & 3rd Places
Sponsorships Available!!! $5 Tasters fee
Check-in as early as 8 A.M.; Chili should be ready to serve by noon.
$50 entry fee per team
Request rules and event registration at the below email address
Email: david@youngblood.com www.iadd-intl.org
Event Location: Texas Thunder Saloon – 29460 Farm to Market Rd 1488, Waller, TX 77484
Second Annual IADD Gulf Coast Area Chili Cook-Off
Alcohol is allowed in event area, as long as it is purchased from the bar.
All teams are welcome. No outside food or beverages will be permitted on the premises.
$50 for each entry.
COOKING RULES:
1. NO precooked chili or commercial packaging recipes (this includes precooked meats), Canned tomatoes, beans, bottled or canned picante sauce etc. are acceptable Marinating of meat is also acceptable,
2. Only one (1) chili entry per team, Teams may cook more than one (1) chili, but only one (1) chili can be presented for judging. Co-mingling of multiple Chili will not be permitted.
3. Chili preparation must be prepared by the "Team" and from "Scratch" on site in open view while the committee or designee's can view each team preparing their chili. (Pre-chopping of onions, tomatoes, peppers, etc. is acceptable.)
4. Chili must be prepared in a sanitary manner and cleanliness must be maintained. Grease must be disposed of by each team entered. NO GREASE WILL BE DUMPED ON THE GROUND OR IN THE TRASH CANS ON THE PREMISES. A minimum of (2) gallons of Chili must be prepared by each team entered.
5. Chili Cook-Off coordinator must physically inspect all ingredients before teams begin cooking, IT IS EACH TEAMS RESPONSIBILITY TO CONTACT THE CHILI COOK-OFF COORDINATOR BEFORE THE COOKING CAN BEGIN. Each team may begin cooking after inspection and Registration and fee is turned in. Cooking
may start as early as 8:00 am. Teams will provide ticket containers, Bowls, and Eating Utensils.
6. Each teams Chili should be ready for judging by 12:00 NOON. At this time, judging will commence and each team will provide a container to collect judging tickets. NO TICKETS ARE ALLOWED TO BE DROPPED IN CONTAINERS UNTIL 12:00 noon. If tickets are found in containers prior to 12:00 noon the coordinators will collect those tickets. At 3:00 PM the Judging will Cease, Each team's Head cook will bring their container to be counted by the coordinators. Head cooks may be present during the counting of tickets. People's Choice Tickets are $5.00 each at the ticket booth.
7. PRIZES: 1. First Place will receive the First Annual IADD Gulf Coast Area Chili Cook-Off Trophy. 2nd and 3rd place Trophy's will also be awarded.
8. JUDGING: 1. Chili judges will consist of Peoples choice. Tickets may be purchased from Ticket Booth.
Location: 29460 Farm to Market Rd 1488, Waller, TX 77484 February 12th 2022
https://stubbys-bar-and-grill.business.site
Title Sponsor (for a team of 15) –

$1000.00

(ends 02/11/2022)

Platinum Sponsor (for a team of 7) –

$500.00

(ends 02/11/2022)

Gold Sponsor (for a team of 3) –

$250.00

(ends 02/11/2022)

Cooking Team Registration Fee –

$50.00

(ends 02/11/2022)

Taster's fee –

$5.00

(ends 02/11/2022)
Follow UpstreamCalendar.com for upcoming industry events. Upstream Calendar was created to help the industry to synchronize by providing a free lookahead for KEY industry events across the country. We focus on non-profit support, community, and industry specific 2022 Oil and Gas trade shows and conferences for Upstream, Subsea, Offshore, Downhole, Cementing, Completions, Fracking, Pumping, MUD, etc. We are FROM Upstream, FOR Upstream and believe in Networking With A Purpose.
Email Ops@MidstreamCalendar.com to get involved.
2022 Oil and Gas Events Houston
2022 Oil and Gas Events Texas
2022 Oil and Gas Executive Conferences
2022 Oil and Gas Golf Tournaments