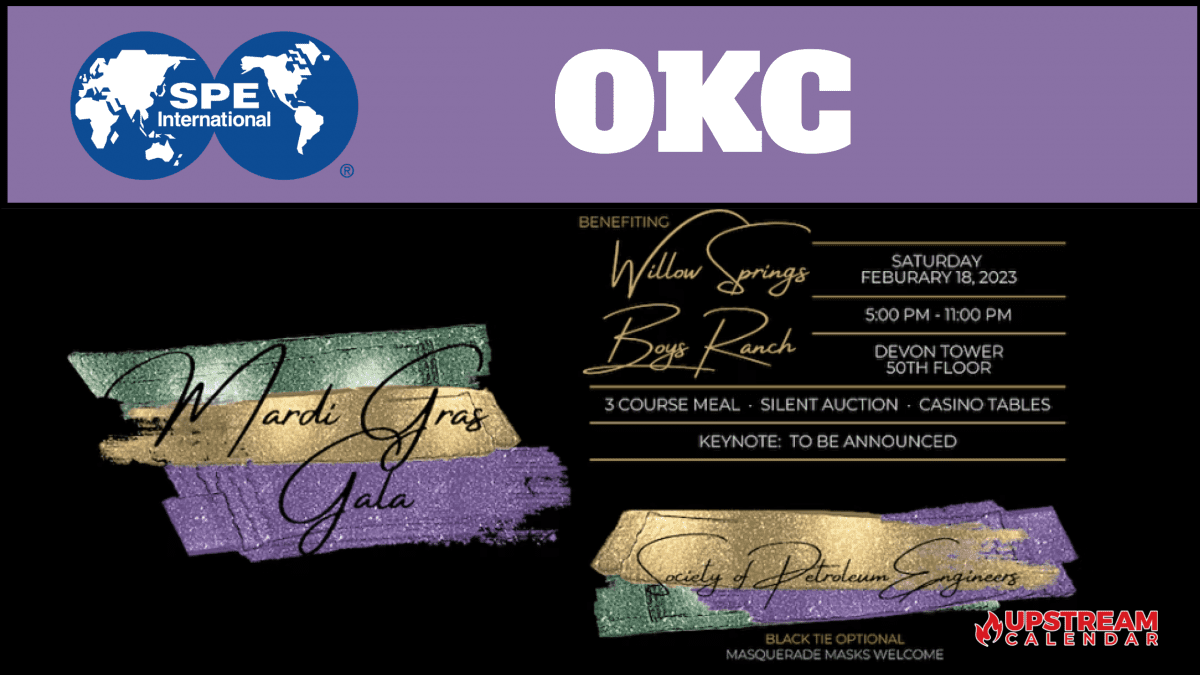 Register Now for the SPE OKC Mardi Gras Gala Benefitting Willow Springs Boys Ranch Feb 18 – OKC
This Event Reminder is Sponsored by: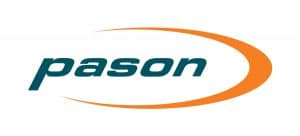 SPE OKC Mardi Gras Gala Benefitting Willow Springs Boys Ranch
The Society of Petroleum Engineers OKC chapter is hosting the 17th Annual SPE Gala fundraiser benefitting Willow Springs Boys Ranch on February 18th, 2023 on the 50th floor of Devon Tower in Oklahoma City. Wear your favorite mask and suit and look forward to a silent auction, balloon raffle and our signature casino games! Three course dinner, two drink tickets and $50 casino cash included in each ticket purchase.
Willow Springs Boys Ranch (WSBR) is a long-term residential childcare program that accepts boys between the ages of 7-12 years old who find themselves in a family crisis or abandoned or are from a broken or dysfunctional home. We are seeking event sponsors as well as donations for a silent auction from which all proceeds benefit WSBR. Both cash value donations and item donations are notably appreciated. For larger valued donations we have a sponsor level tier where your company will be recognized largely at the event. We appreciate your continued support for this event and for WSBR. Please contact Byron Cottingham (cottinghamconsulting@gmail.com) for further sponsorship details or to pledge your support.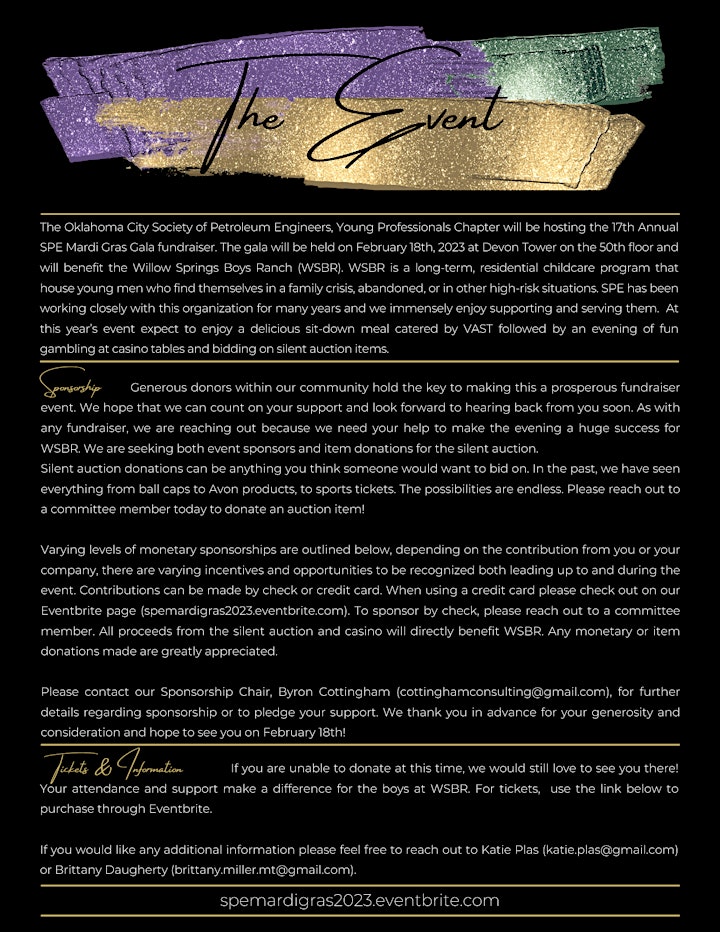 We are going to present awards for the Best Dressed and the Best Mask during the evening. Show off your style and creativity by showing why you deserve to win!
Follow UpstreamCalendar.com for upcoming industry events. Upstream Calendar was created to help the industry to synchronize by providing a free lookahead for KEY industry events across the country. We focus on non-profit support, community, and industry specific 2022 Oil and Gas trade shows and conferences for Upstream, Subsea, Offshore, Downhole, Cementing, Completions, Fracking, Pumping, MUD, etc. We are FROM Upstream, FOR Upstream and believe in Networking With A Purpose. We put all streams of energy together as the original Energy Calendar. This event is at NRG and for a full list of NRG Events Calendar follow us on our other pages. Midstream Calendar, Downstream Calendar and this one Upstream Calendar. The Energy Calendar official – sharing All Streams of Energy. Allstream Energy Partners.
2023 Oil and Gas Events
Email Efrain@AllstreamEP.com to get involved.
2023 Oil and Gas Events OKC
2023 Oil and Gas Events Society of Petroleum Engineers
2023 Oil and Gas Charity Events