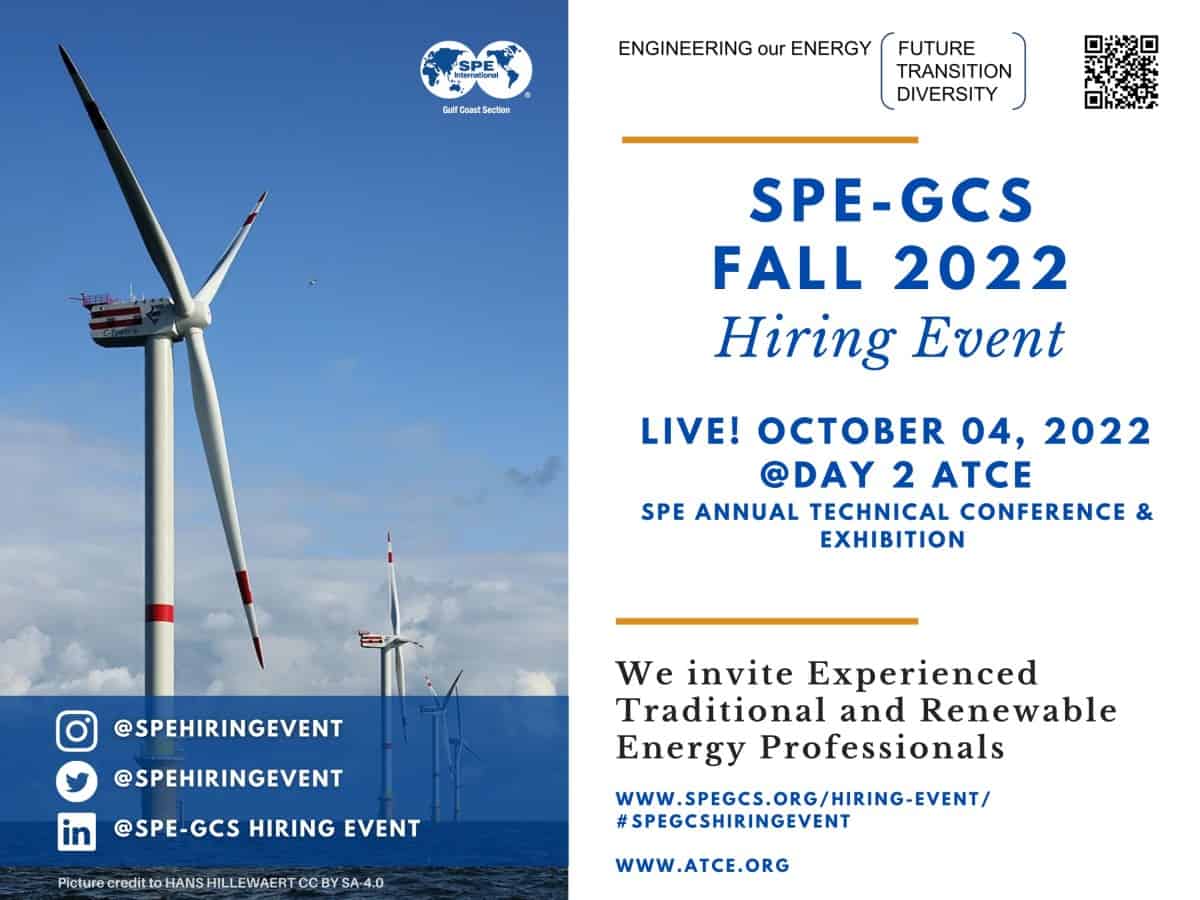 Register Now for the SPE – Gulf Coast Chapter Fall Hiring Event day 2 at ATCE Oct 4th – Houston
This Event Reminder is Sponsored by:
When and Where:
In PERSON at the SPE ATCE (Annual Technology Conference and Exhibition) on Day 2;
Tuesday, October 04, 2022 from 1000-1400 CDT,
at the George R. Brown Convention Center, Houston, Texas.
Fall 2022 SPE-CGS Hiring Event Agenda
30 SEP 2022 – 1000-1300 – SPE-GCS MiT Panel Event – Navigating the Energy Transition
04 OCT 2022 – IN PERSON Job Fair – 1000-1400 CDT @ ATCE – George R. Brown Convention Center
06 OCT 2022 – Virtual Event – Cancelled
You are cordially invited to attend the "ENERGY PROFESSIONALS HIRING EVENT" hosted by the Society of Petroleum Engineers – Gulf Coast Section in partnership with the SPE ATCE and Texas Workforce Solutions. We are striving to provide a platform for experienced upstream and energy professionals and industry companies to e-meet and create value for both sides.
JOB SEEKERS
Welcome to the SPE Fall 2022 Energy Professional Hiring Event! This event provides job seekers with opportunities to meet with potential energy industry hiring companies in upstream oil and gas and renewables. The event also features Discipline-driven Newtorking Suites hosted by Collaborating Organizations and companies. Each suite engages in industry-related topics and provides job seekers opportunities to network and learn about different segments of the industry.
Event registration is required and resume/CV must be submitted at least 48 hours before the event. Various Event entry times are available for registration to allow job seekers ample time to meet with companies. Job seeker qualifications include:
QUALIFICATIONS:
Be an active member of either SPE or at least any one of the professional Collaborating Organizations (click here for summary of participating Collaborating Organizations). Provide proof of active membership.
And possess a university degree equivalent to a 4-year bachelor's degree in engineering, applied sciences or a 4-year degree in a field other than science or engineering and technical experience working in the energy sector and / or proejcts.
Or possess a 2-year science or engineering degree and technical experience working in the energy sector and / or projects.
NETWORKING SUITES
Networking Suites are your chance to connect with industry professionals, fellow job seekers, and collaborating organizations. Admittance to the Networking Suites is included in the Hiring Event and take place in two hour brackets from 9:00am to 3:00pm featuring a variety of disciplines and interests
MiT ENERGY INDUSTRY PANEL DISCUSSION (September 30, 2022) – Topic – Navigating the Energy Transition
Last time we were pleased to have a great panel and have started planning for our next event.
The Fall 2022 panel event is detailed below.
https://www.spegcs.org/panel-discussion/
EMPLOYERS
Event Registration
This Fall we are joing the SPE ATCE conference which hosts over 6000 E&P professionals and 150 exhibitors. The Energy Professionals Hiring Event will be held during Day 2 of the conference from 100-1400 CDT. And SPE International has agreed to allow the Hiring Event to be Free to Employers! (This does NOT include any exhibition or conference passes.)
In Person Event Registration can be found as an option on the Employer Registration. Employers attend the in person event will also be registered for the Virtual Event, unless a drop request is provided.
VIRTUAL ONLY event will not be offered for Fall 2022
EMPLOYER REGISTRATION
IN PERSON EMPLOYER REGISTRATION @ ATCE
Employers, please check here to learn more.
For more information about the SPE Annual Technology Conference & Exhibition please see https://www.atce.org/welcome
Support SPE-CGS Scholarship Endowment Fund
SPE-GCS encourages your support of the SPE-GCS Scholarship Endowment Fund. Supporting SPE-GCS raises scholarship money for our future local engineers. SPE-GCS has been providing college scholarships for students interested in math, science, and engineering degrees since 1963. Our program has sponsored over 800 students in the 56 years that we have been awarding scholarships and we have given out over $5 million in scholarships.
Visit the Scholarship Endowment Fund for more information on how you can support SPE-GCS.
SPE-GCS is a 501 c3 organization (tax ID 75-2001539).
QUESTIONS? Email us at: spegcs.mit.hiringevent@gmail.com
COLLABORATING ORGANIZATIONS
The SPE collaborates with many oil and gas and engineering organizations. The following are our list of Fall 2021 collaborating organizations. The members for spring of 2022 are going to be joining us soon! To learn more about what organizations are collaborating, please click here.
Follow UpstreamCalendar.com for upcoming industry events. Upstream Calendar was created to help the industry to synchronize by providing a free lookahead for KEY industry events across the country. We are the original energy calendar and focus on non-profit support, community, and industry specific 2022 Oil and Gas trade shows and conferences for Upstream, Subsea, Offshore, Downhole, Cementing, Completions, Fracking, Pumping, MUD, etc. We are FROM Upstream, FOR Upstream and believe in Networking With A Purpose. We are a global network of oil and gas professionals that bring all streams of energy together. Follow us for upcoming oil and gas events.
Email efrain@allstreamep.com to get involved.
2022 Oil and Gas Events