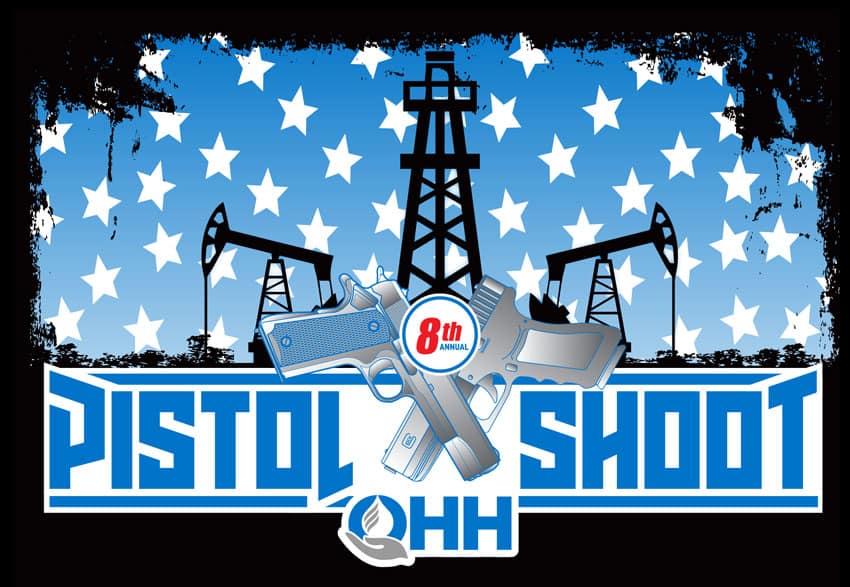 Register now for the OHH 8th Annual Houston Winter Fun Pistol Shoot January 27, 2023
This Event Reminder is Sponsored by:

OHH 9th Annual Houston Winter Fun Pistol Shoot on January 27, 2023, at the Saddle River Range.
OHH is holding the 9th Annual Houston Winter Fun Pistol Shoot on Friday, January 27, 2023, at Saddle River Range, 4280 Farm to Market Rd 1488, Conroe. Enjoy a beautiful day of competition, fun and camaraderie, all benefiting the Houston oilfield community.
As a sponsor, your company will help offset event expenses to allow maximum proceeds to be used to benefit oilfield families in financial crisis. Your company will be recognized in several ways during the event and on our website. At certain levels, you can register a specified number of teams to participate in the tournament at no additional cost. A wide variety of commitment levels are available. Please see the sponsorship opportunities sheet for full details.
Saddle River Range will have 9mm ammo priced from $24-$30 for 50 rounds and 45 ACP (Blazer Brass) at $39.99 for $50.
Deadline for team entry is January 16, 2023.
KNOW BEFORE YOU GO
Location: Saddle River Range, Indoor Range, 4280 Farm to Market Rd 1488, Conroe, TX 77384.
Each team will consist of four (4) shooters.
Cost per four (4) man team: $500.
Open to all levels, from beginner to the more experienced shooter.
Pistol caliber only, with minimum caliber .380 and up (no rifle caliber pistols allowed).
Eye and ear protection required for all shooters and volunteers inside shooting ranges.
Revolvers or auto loaders of shooters choice may be used.
No optic sights, open sights only.
Match will be shot in flights (number depending on number of teams).
Each flight is estimated to take approximately one and a half hours to complete.
Projected flight times (subject to change) will be 9:00 a.m. – 10:30 a.m. & 11:00 a.m. – 12:30 p.m. (if necessary).
Recommend each shooter have 4-6 magazines or 6 speed loaders for revolvers.
Loading at shooting lines with magazines or speed clips only — no loose ammo will be loaded on the shooting line.
Pistol bags or boxes required and must be used. No firearms in holsters may be worn inside of Saddle River Range. No handling of guns in side of range except when instructed to do so by range officer in each stage.
Course of fire for three stages will require no more than 50 rounds per shooter. However, the Stump Shoot stage can require 50 rounds or more depending on how fast the shooter can load and shoot and the effectiveness of all team shooters. We recommend that each shooter bring a minimum of 100 rounds of ammo for the shoot. If shooting in more than one team then bring ammo accordingly.
Fun team scenarios will be employed including: individual paper targets, bowling pins (flurry), pistol clays (Zombie Norde), and cutting 4X4 in half (Stump Shoot). All will challenge team skill and coordination while being a fun experience.
Food will be provided for all flights.
Drinks will be provided by Saddle River Range for all participants.
No alcoholic beverages allowed on Saddle River Range property at any time. Please observe this rule.
Safety and safe firearms practice and handling are essential to the safety of all. Each participant is a Safety Officer.
All shooters must attend a safety briefing before the match and turn in a signed release form before shooting.
Follow UpstreamCalendar.com for upcoming industry events. Upstream Calendar was created to help the industry to synchronize by providing a free lookahead for KEY industry events across the country. We focus on non-profit support, community, and industry specific 2022 Oil and Gas trade shows and conferences for Upstream, Subsea, Offshore, Downhole, Cementing, Completions, Fracking, Pumping, MUD, etc. We are FROM Upstream, FOR Upstream and believe in Networking With A Purpose. We put all streams of energy together as the original Energy Calendar. This event is at NRG and for a full list of NRG Events Calendar follow us on our other pages. Midstream Calendar, Downstream Calendar and this one Upstream Calendar. The Energy Calendar official – sharing All Streams of Energy. Allstream Energy Partners.
2022 Oil and Gas Events

Sign up for the 2023 OHH Fall Pistol Shoot here
Register now for the Oilfield Helping Hands Houston Summer Fun Charity Pistol Shoot August 25 – Houston