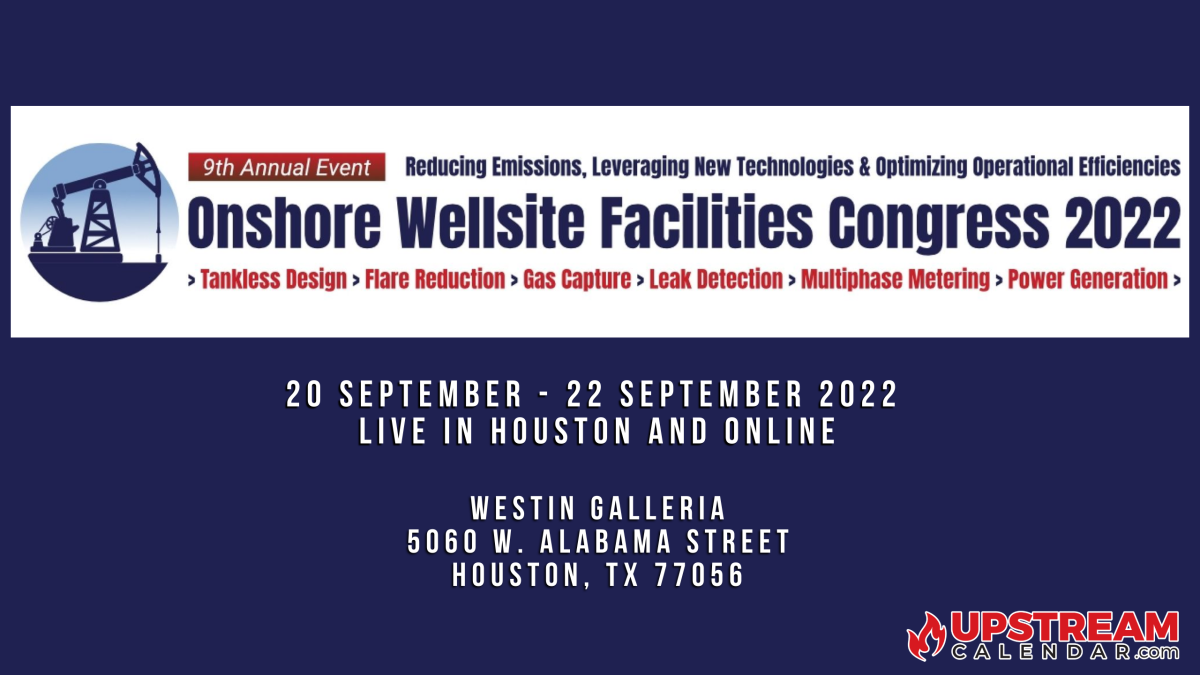 Register Now for the 9th Annual Onshore Wellsite Facilities Congress 2022 – Sept 20-22 – Houston
This Event Reminder is Sponsored by: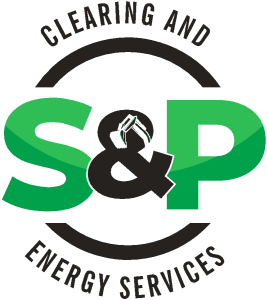 "Modernizing Facilities To Eventually Achieve Net Zero"
Live & Online Hybrid Business Conference – Houston – September 20-22, 2022

Many multinational oil and gas companies have already set targets to be carbon neutral by 2030. Operators from North American onshore wellsite facilities are also facing increasing social and regulatory pressure to reduce emissions and eliminate GHG throughout their upstream operations.
Adopting innovative techniques for flare elimination, mitigating fugitive emissions and addressing liquids and gas leaks are the key investment priorities for facilities engineers in 2022/23.
This year, American Business Conferences' Onshore Wellsite Facilities Congress is focusing on providing practical solutions for leveraging new technologies for capturing gas, addressing all types of air releases and electrifying key processes.
Following in-depth consultation with the North American facilities and operations community, the economic drivers this year are less about absolute cost reduction and more about tying emissions reduction in with efficiency optimisation to help drive bottom-line performance. And, how innovation in tankless facilities, multi-phase metering and simplifying multi-pad well-set ups can drive efficiency gains as well as ESG.
Critically, the conference focuses on multiple solutions for emissions reduction because what works well for one operator at one site may not always be optimal for another producer at a different location.
Speakers will be briefed to talk about the macro strategies for overcoming emissions-related challenges as well as the economics driving the project outcomes for individual sites. To talk about what is working, but also to be candid about what hasn't worked so well and what they would do differently next time.
What Are Operators Working On? What Have They Tried?
What Were The Results?
AGENDA
DAY 1 – September 20, 2022

NEW TECHNOLOGY FOR ESG & EMISSIONS REDUCTION PROJECTS

Tankless Versus Tank Designs
Addressing Fugitive Emissions
Further Reducing Flaring
Improving Compressor Using More Electronic Valves

DAY 2 – September 21, 2022

NEW TECHNOLOGY FOR ESG & EMISSIONS REDUCTION PROJECTS

ESG Regulation

Leak Prevention & Detection

Gas Capture

Electric Power Generation   

DAY 3 – September 22, 2022
MULTI-PHASE METERING
MULTIWELL PAD SETUPS
AUTOMATIONAddressing Supply Chain Challenges, & Manpower Shortages,

Asset Integrity Management

High-Level Perspectives On Emissions Reduction & GHG Elimination For Diverse Locations & Assets (New Build & Legacy)
Gain Clarity On Technology Responses To Changing ESG Regulation In New Mexico, Texas, Colorado & Oklahoma
Revisiting Multi-Phase Metering & Automation Of Three Phase Measurement
Investigating New Build Tankless Wellsites To Reduce Emissions
Optimal Leak Detection For Gathering Pipelines
Justifying The Cost Of Multi-Phase Pumps
Comparing Different Technologies & Options For Gas & Tank Vapour Capture
Engineering & Procedural Solutions For Fluid Leak Detection
Multiwell Pad Set-Ups
New Technologies To Make Facilities Smarter & Reduce ESG Risks – From New Valve Designs To New Computational Applications
Continuous Monitoring For Gas Leak Detection
Implementing Automation To Improve ESG Performance & Deliver Efficiency Gains
Technology To Address Fugitive Emissions
Ensuring Reliable Electricity & Power At The Wellsite
Automation Of Valves To Eliminate Pneumatics
Addressing Combustor Quality & Flaring Mitigation
Technology For Utilizing Waste Heat For Power Generation On Site
Automation Of The Facility To Improve Personnel Safety
Making The Case For Implementing More Low Pressure Capacity In The Field To Reduce Flaring  
Micropower Generation & Capturing Small Waste Streams For Remote Locations
Creative Solutions To Address The Escalating Price & Availability Of Materials Including Electrical & Automation Equipment
Optimizing Equipment To Capture & Monetize Product Or Reduce Fuel Burn

Implementing Solar Power Generation For Applications At Remote Locations
New Approaches To Staffing & Prioritising Facilities Projects
VRU Design, Sizing & Operation
Gas Dehydration For Sales
Asset Integrity Programmes For Legacy Assets With Limited Historical Data
Improving Compression Efficiency
Technologies For Efficient H2s Removal
Pressure Vessel Asset Integrity Management
Implementing Electronic Valves To Reduce GHG
Innovative Technologies To Cost-efficiently Meet Separation Requirements With A Smaller Footprint And Less Chemical Usage
Lightening Protection Strategies
Cost Competitive Conversion To Instrument Air Systems
Methods, Technologies & Case Studies On Sand Removal
Ensuring Construction Efficiency
Follow UpstreamCalendar.com for upcoming industry events. Upstream Calendar was created to help the industry to synchronize by providing a free lookahead for KEY industry events across the country. We are the original energy calendar and focus on non-profit support, community, and industry specific 2022 Oil and Gas trade shows and conferences for Upstream, Subsea, Offshore, Downhole, Cementing, Completions, Fracking, Pumping, MUD, etc. We are FROM Upstream, FOR Upstream and believe in Networking With A Purpose. We are a global network of oil and gas professionals that bring all streams of energy together.
Email Ops@MidstreamCalendar.com to get involved.
2022 Oil and Gas Events