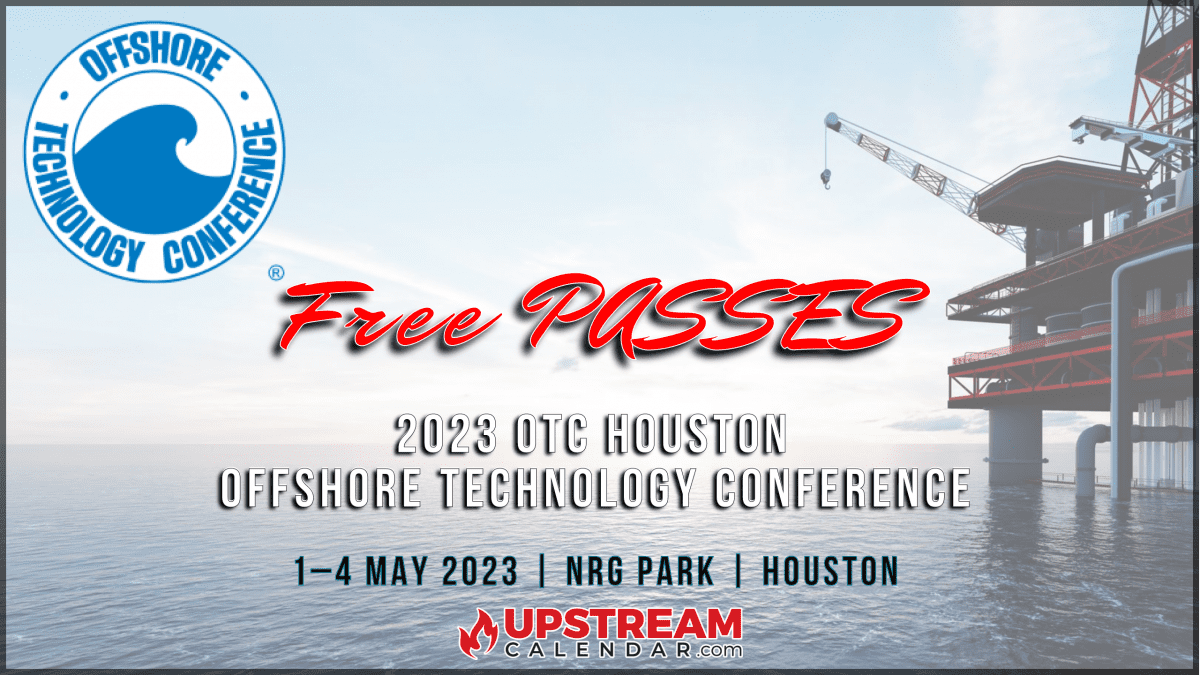 Complimentary FREE Pass – OTC Houston Offshore Technology Conference 1–4 MAY 2023 – Houston
This Event Reminder is Sponsored by:
2023 Free Passes are here: Scroll Down for the Links
REVOLUTIONARY TECHNOLOGIES
OTC brings together the technical and scientific knowledge from offshore energy game-changers as they share best practices, technical innovations, energy transition, and emerging trends. The conference has a strong reputation for a world-class technical program.
When you attend OTC, you gain a year's worth of training and knowledge in one week from scientists, engineers, researchers, and executive-level speakers on their progress in revolutionizing the ever-changing environment of offshore projects.
Engage and explore a wide variety of topics such as:
Carbon Capture Utilization and Storage
Decommissioning / Abandonment
Digital Transformation, Digital Technologies & Data Management
Drilling Technology
And more!
Don't miss this opportunity to participate in four days of learning, sharing, and networking.

Links to Passes: 
Baker Hughes 1 day pass: EX1508
Baker Hughes 4 day pass: "Register as an Attendee and provide the promo code: BHFC23 in the "Tell Us About Yourself!" section"
SLB Complimentary guest pass (Requires Sign in)
Follow UpstreamCalendar.com for upcoming industry events. Upstream Calendar was created to help the industry to synchronize by providing a free lookahead for KEY industry events across the country. We focus on non-profit support, community, and industry specific 2023 Oil and Gas trade shows and conferences for Upstream, Subsea, Offshore, Downhole, Cementing, Completions, Fracking, Pumping, MUD, etc. We are FROM Upstream, FOR Upstream and believe in Networking With A Purpose. We put all streams of energy together as the original Energy Calendar. This event is at NRG and for a full list of NRG Events Calendar follow us on our other pages. Midstream Calendar, Downstream Calendar and this one Upstream Calendar. The Energy Calendar official – sharing All Streams of Energy. Allstream Energy Partners.
2023 Oil and Gas Events

About our Media Partner Spectrum Camera Solutions:

Spectrum Camera Solutions manufactures a full range of globally certified Explosion Proof camera systems to monitor any hazardous area. Founded in 2012, Spectrum Camera Solutions has an unparalleled background as a world leader in hazardous area vision systems for process, security, and safety, creating a new range of Explosion Proof cameras based on durable materials, innovative engineering, and operational excellence.
Designed and Manufactured in USA
NDAA Compliant & FM Approved
Spectrum Camera Solutions Explosion Proof Camera products are designed and manufactured in the USA. As a leader with a reputation for creating exciting and reliable hazardous area products, we pride ourselves in delivering outstanding execution from R&D to production as an ISO9001 & ISO14001 certified company.
Award Winning Manufacturer
As a committed leader to excellence and quality, Corporate Vision and Corporate Energy has recognized Spectrum Camera Solutions for our class-leading hazardous area products.
Being at the forefront of innovation and safety, Spectrum Camera Solutions is setting the benchmark for engineering excellence. Unique to the market, Spectrum's series of Explosion Proof Cameras in stock utilize the latest technology available in the security camera market integrated into our dual patented housings designed to withstand harsh environmental conditions and certified for hazardous areas.