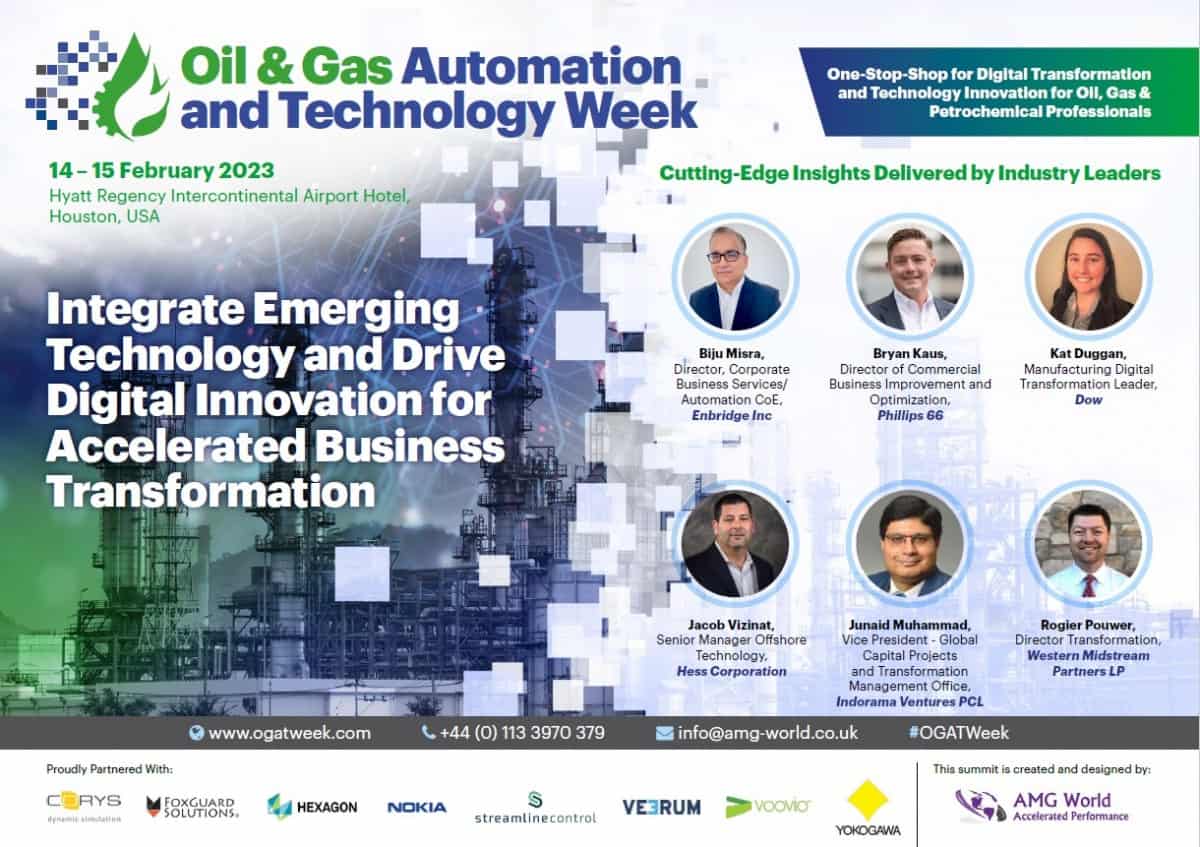 Register Now for the 2023 Oil & Gas Automation and Technology Week Summit Feb 14-15 – Houston
This Event Reminder is Sponsored by: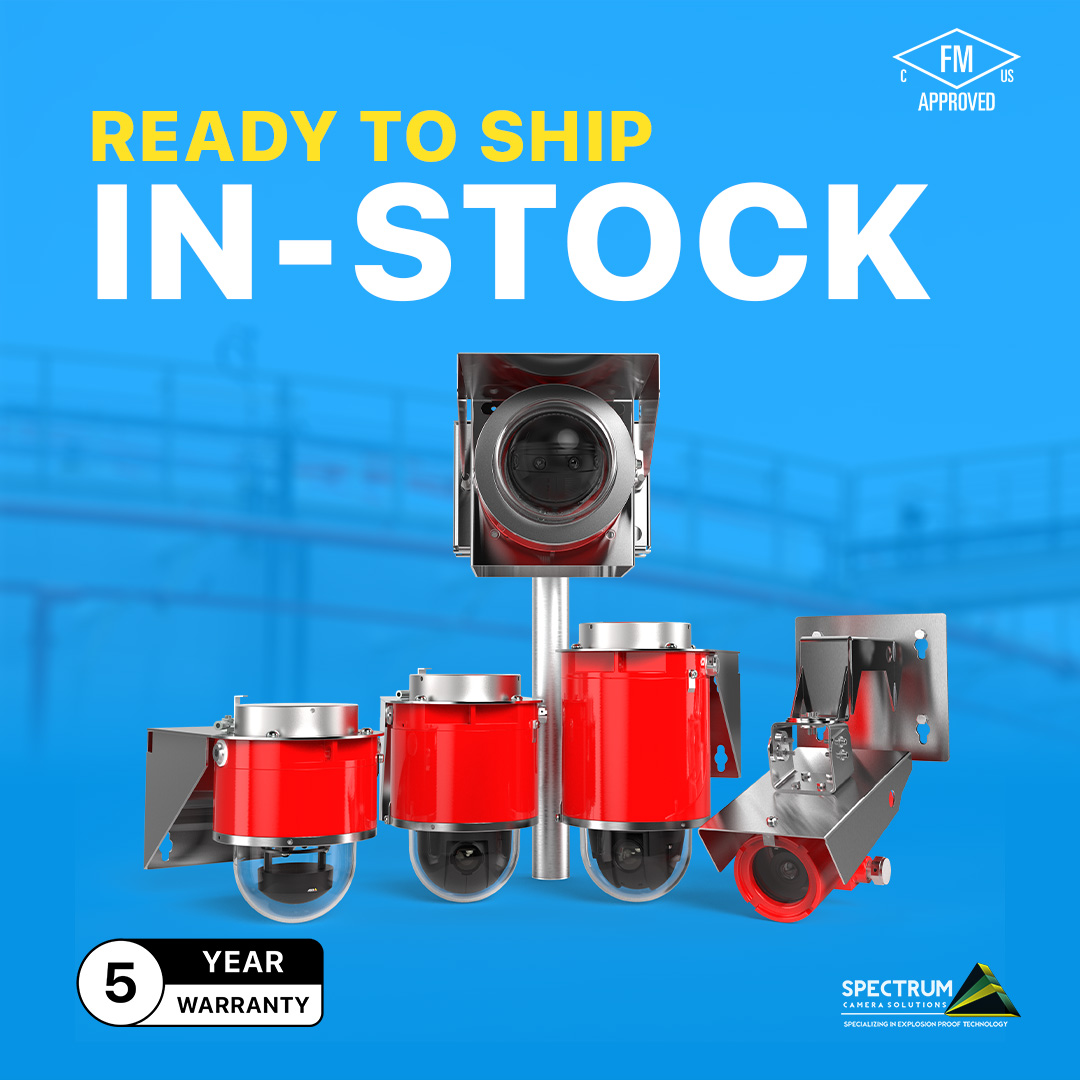 The Future of Oil & Gas Automation and Technology
Undertaking digital transformation and embracing a new era in digitalization, is enabling upstream, midstream and downstream operators to transform and develop smart, digitally connected organizations that leverage technology, data and talent, optimizing the efficiency, productivity, reliability, safety and profitability of their organizations.
However, the dizzying array of automation and technology solutions providers can be daunting, with many options and potential pitfalls, especially when transforming on such a large enterprise scale. Therefore, it is critical operators gain a granular understanding of what is possible and available, along with which providers can facilitate their digital journey at scale and pace. So they can begin to reap the rewards and added value benefits of a digitally optimized, technology supported, and data-led future.
With such a vast and complex task, how will you ensure the most effective and successful digital transformation of your organization?
Join us for Oil & Gas Automation and Technology Summit to hear industry leaders share best practice strategies and exchange know-hows to optimize business performance, create new business capabilities, and strengthen the technology foundation.
Early confirmed speakers include:
Biju Misra, Director, Corporate Business Services/Automation CoE at Enbridge
Luke Skaarup, Director Operations, Northern Region at Enbridge
Partha Chatterjee, Data & Analytics SME at Shell
Rogier Pouwer, Director Transformation at Western Midstream
Visit our website www.ogatweek.com, email us at info@amg-world.co.uk or call us on +44(0)113 2647 914 for more information about attending and sponsoring the summit.
Follow UpstreamCalendar.com for upcoming industry events. Upstream Calendar was created to help the industry to synchronize by providing a free lookahead for KEY industry events across the country. We focus on non-profit support, community, and industry specific 2023 Oil and Gas trade shows and conferences for Upstream, Subsea, Offshore, Downhole, Cementing, Completions, Fracking, Pumping, MUD, etc. We are FROM Upstream, FOR Upstream and believe in Networking With A Purpose. We put all streams of energy together as the original Energy Calendar. For a full list of NRG Events Calendar follow us on our other pages. Midstream Calendar, Downstream Calendar and this one Upstream Calendar. The Energy Calendar official – sharing All Streams of Energy. Allstream Energy Partners.
About our Media Partner Spectrum Camera Solutions:

Spectrum Camera Solutions manufactures a full range of globally certified Explosion Proof camera systems to monitor any hazardous area. Founded in 2012, Spectrum Camera Solutions has an unparalleled background as a world leader in hazardous area vision systems for process, security, and safety, creating a new range of Explosion Proof cameras based on durable materials, innovative engineering, and operational excellence.
Designed and Manufactured in USA
NDAA Compliant & FM Approved
Spectrum Camera Solutions Explosion Proof Camera products are designed and manufactured in the USA. As a leader with a reputation for creating exciting and reliable hazardous area products, we pride ourselves in delivering outstanding execution from R&D to production as an ISO9001 & ISO14001 certified company.
Award Winning Manufacturer
As a committed leader to excellence and quality, Corporate Vision and Corporate Energy has recognized Spectrum Camera Solutions for our class-leading hazardous area products.
Being at the forefront of innovation and safety, Spectrum Camera Solutions is setting the benchmark for engineering excellence. Unique to the market, Spectrum's series of in stock explosion Proof Cameras utilize the latest technology available in the security camera market integrated into our dual patented housings designed to withstand harsh environmental conditions and certified for hazardous areas.