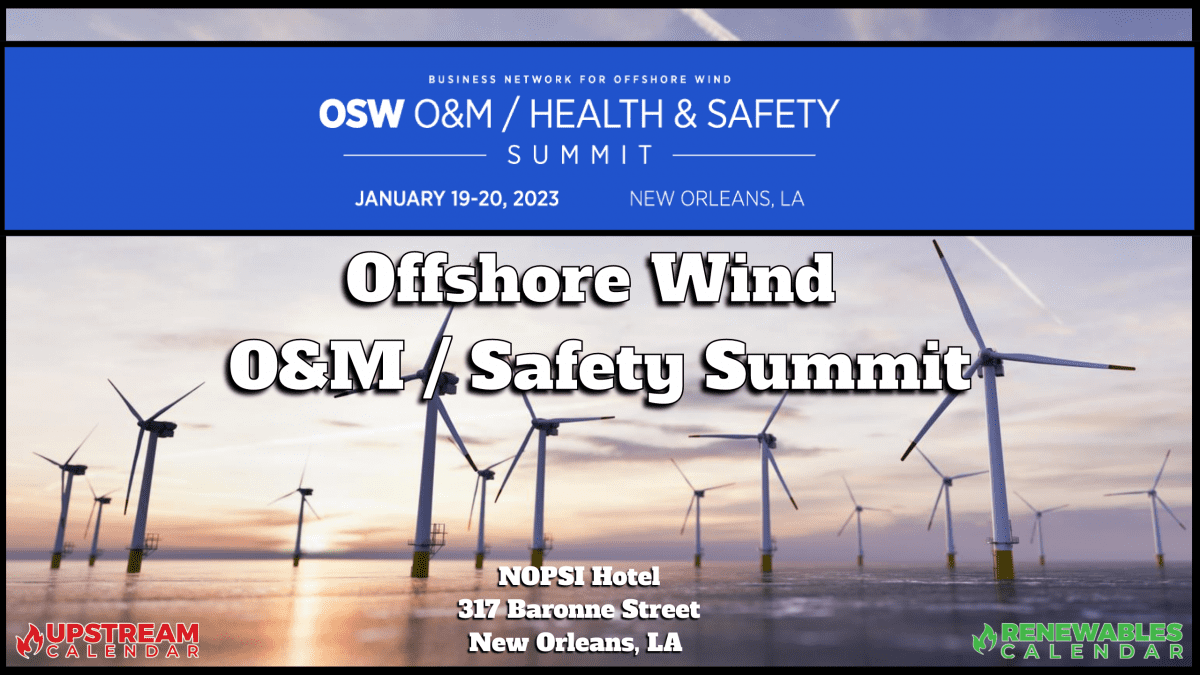 Register Now for the Offshore Wind O&M / Safety Summit January 19-20 – New Orleans
This Event Reminder is Sponsored by:
Strengthening the present & future growth of the industry's operations. Business Network for Offshore Wind.
As the offshore wind industry continues to mature, it is critical that its support systems (operations & maintenance and health & safety) are strong and resilient across the industry. With several projects set to get underway, we will start to see a lot of steel in the water over the next several years. What are the industry standards for operations and maintenance? Operational wind farms also require a trained workforce that values safety – how can we ensure that safety remains a high-level priority as the industry moves forward?
Join us in New Orleans to discuss the nexus of these industry support systems and the critical need for them to work together.
SUMMIT AGENDA
Thursday, January 19
8:00 – 9:00 A.M. Networking Breakfast
9:00 – 9:05 A.M. Welcome Remarks
9:05 – 9:25 A.M. Offshore Wind Market Overview
9:30 – 10:15 A.M. Safety First: Early Design Concepts To Improve Worker Health & Safety Outcomes
Improving offshore wind safety begins well before the first worker steps onto a vessel. The Summit's opening session will address the importance of industry collaboration across the lifecycle supply chain and the need to adopt safe-by-design principles to reduce personnel risks. Panelists will discuss how to utilize risk management early in the design process to emphasize health and safety throughout the wind farm life cycle.
Speakers:
Christy Lan, Senior Technical Advisor for Renewable Energy, Bureau of Safety and Environmental Enforcement (BSSE)
Peter Lukens, Head of HSE Projects & Services North America, Siemens Gamesa Renewable Energy
Marcus Peters, Global Head of Offshore HSE, RWE
10:20 – 11:05 A.M. The Need For Transparency: Data-Sharing To Improve Health And Safety
How and when do workers get hurt? Are offshore wind injuries unique or do they mimic adjacent industries? To answer these questions and improve health and safety outcomes, it is critical that relevant data be openly shared throughout the industry. What data the industry decides to collect and who is responsible for reporting it are questions still to be answered. Industry leaders will discuss how best to leverage workplace safety data in the emerging U.S. market to ensure consistent reporting that will support a safe industry.
11:05 A.M. – 12:00 P.M. Safety On The Sea: A Look At Vessel Operational Safety In Construction And O&M
Industry safety extends beyond turbine installation and maintenance – it includes the dozens of vessels that survey, construct, and maintain wind farms. Vessel operators conducting crew or equipment transfers require advanced skills that include dynamic positioning operations. Leading vessel experts will discuss what the industry should expect from regulators and operators to ensure maritime safety.
Speakers:
Otto Candies IV, Business Development – Southeast, Crowley Wind Services
Dustin Varnell, U.S. Country Manager, Osbit
12:00 – 1:00 P.M. Networking & Exhibition Lunch
1:00 – 1:20 P.M. Keynote Address – A Bird's Eye View: Exploring Aviation's Role In Offshore Wind O&M
While offshore wind is primarily a maritime industry, aircraft will play a critical role in the operations and maintenance (O&M) of an offshore wind farm. Helicopters will transport personnel to and from farms and remote operated aircraft will inspect and possibly even perform maintenance on turbines and blades. Industry leaders will share how aviation can help meet the needs of offshore wind O&M and will address how drone and unmanned aircraft companies can play a role in the offshore wind supply chain.
2:05 – 2:40 P.M. Networking Break
2:40 – 3:25 P.M. Thinking Outside The Box: Innovations In Offshore Wind Workforce Training
The U.S. offshore wind market is in a quandary – it must quickly train tens of thousands of new workers to meet the nation's ambitious GW goals, but a lack of commercial-scale projects means hands-on training is difficult. Hear from market entrepreneurs who are stepping up and introducing new technologies and products to help get workers trained from afar.
Speakers:
Dr. Cynthia Brown, Partner, IWNL Consulting
Jon Kjaerulff, Director Of Business Development, MITAGS
Eagle Wu, Founder & CEO, VinciVR
3:25- 4:15 P.M. Strengthening Local Communities: Workforce Development Needs In O&M
The operations and maintenance (O&M) of an offshore wind farm will be an important economic driver and job creator for many U.S. coastal communities, as well as a growth opportunity for supply chain companies. The decades-long operations and maintenance needs of an offshore wind farm require building a robust local workforce and strong supply chain that extends from trained technicians to vessel bunkering and refueling. This discussion will focus on how public officials, developers, supply chain companies, and unions can prepare their community for the opportunities offshore wind brings
Speakers:
Lori LeBlanc, Principal Consultant, ERM/Southeast LA Economic Council
Andy O'Brien, President/ Executive Secretary, Louisiana NABTU
Tamika Jacques, Director of Workforce Development and Supply Chain, Avangrid
4:25- 4:30 P.M. Closing Remarks
4:45 P.M.Networking & Exhibition Reception
Friday, January 20
7:30 – 8:30 A.M. Networking Breakfast
7:30 – 8:30 A.M. Recap & Welcome Back
8:30 – 8:50 A.M. Keynote Remarks
Brad Lambert, Deputy Secretary, Louisiana Economic Development.
8:50 – 9:35 A.M. Understanding The Unique O&M Needs For Floating Offshore Wind
With California's deep-water lease sale scheduled to be completed in early December (and future auctions slated for the Atlantic and Pacific), floating offshore wind has officially arrived in the Unites States. The operations and maintenance (O&M) needed for floating offshore wind farms differ from those of fixed- bottom wind farms. Floating experts will review the unique challenges and opportunities of floating O&M and share lessons learned from current floating farms in Europe.
9:40 – 10:25 A.M. Don't Reinvent The Wheel: Integrating Oil And Gas Best Practices Into Offshore Wind O&M
Maintaining an offshore wind farm means servicing the whole turbine beyond blades and nacelles. The oil and gas industry has decades of experience maintaining platforms, foundations, and components to ensure maximum operational efficiency. Industry experts, both oil and gas and offshore wind, will discuss what the new industry can learn and leverage from the experience of oil and gas operators in the Gulf of Mexico.
10:25 – 11:00 A.M Panel TBD
11:00 – 11:05 A.M Closing Remarks
Follow UpstreamCalendar.com for upcoming industry events. Upstream Calendar was created to help the industry to synchronize by providing a free lookahead for KEY industry events across the country. We focus on non-profit support, community, and industry specific 2022 Oil and Gas trade shows and conferences for Upstream, Subsea, Offshore, Downhole, Cementing, Completions, Fracking, Pumping, MUD, etc. We are FROM Upstream, FOR Upstream and believe in Networking With A Purpose. We put all streams of energy together as the original Energy Calendar. This event is at NRG and for a full list of NRG Events Calendar follow us on our other pages. Midstream Calendar, Downstream Calendar and this one Upstream Calendar. The Energy Calendar official – sharing All Streams of Energy. Allstream Energy Partners.
2023 Oil and Gas Events

About our Media Partner Spectrum Camera Solutions:

Spectrum Camera Solutions manufactures a full range of globally certified Explosion Proof camera systems to monitor any hazardous area. Founded in 2012, Spectrum Camera Solutions has an unparalleled background as a world leader in hazardous area vision systems for process, security, and safety, creating a new range of Explosion Proof cameras based on durable materials, innovative engineering, and operational excellence.
Designed and Manufactured in USA
NDAA Compliant & FM Approved
Spectrum Camera Solutions Explosion Proof Camera products are designed and manufactured in the USA. As a leader with a reputation for creating exciting and reliable hazardous area products, we pride ourselves in delivering outstanding execution from R&D to production as an ISO9001 & ISO14001 certified company.
Award Winning Manufacturer
As a committed leader to excellence and quality, Corporate Vision and Corporate Energy has recognized Spectrum Camera Solutions for our class-leading hazardous area products.
Being at the forefront of innovation and safety, Spectrum Camera Solutions is setting the benchmark for engineering excellence. Unique to the market, Spectrum's series of Explosion Proof Cameras utilize the latest technology available in the security camera market integrated into our dual patented housings designed to withstand harsh environmental conditions and certified for hazardous areas.