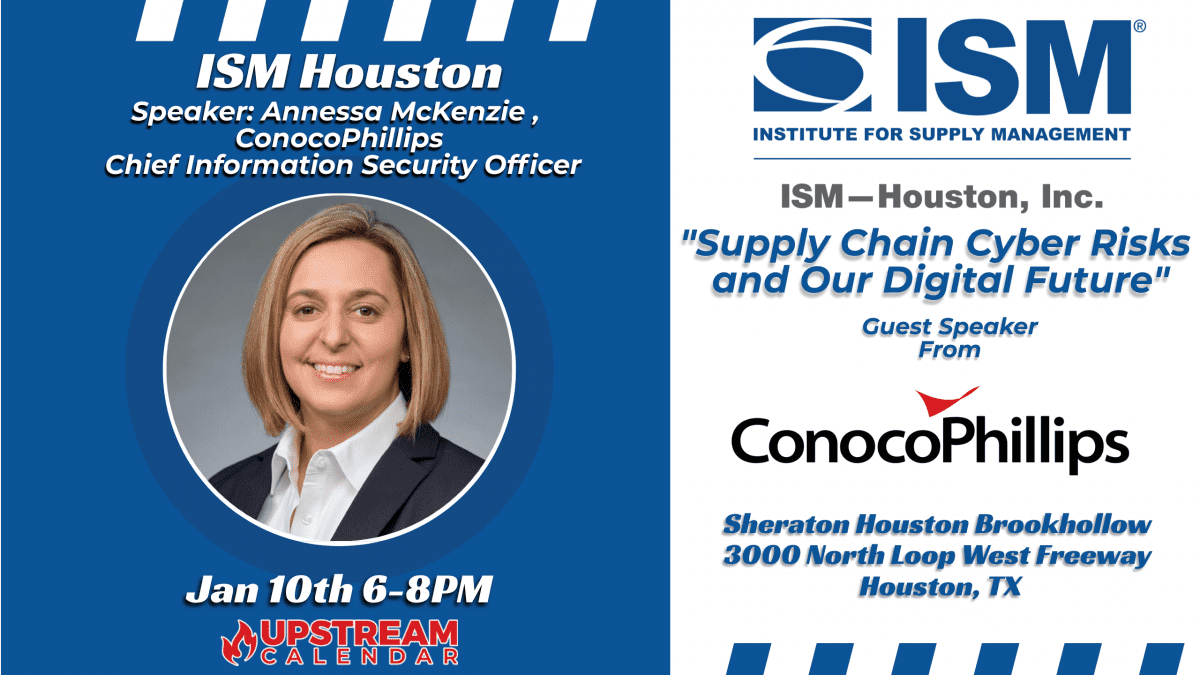 Register Now for the ISM Houston January 2023 PDM "Supply Chain Cyber Risks and Our Digital Future" Jan 10th – Houston
This Event Reminder is Sponsored by:
About This Event
Dine with us as we communicate news and opportunities within our organization and our industry.  This is an opportunity to engage among supply chain professionals and establish lasting external connections in a social setting. Cash bar is available.
Cyber Security risks have increased due to the expansion and integration of technology interfaces, between companies and their Supply Chains.
Special Guest: Annessa McKenzie , Conoco Chief Information Security Officer

We will have an industry expert and dynamic presenter on cybersecurity in the supply chain space!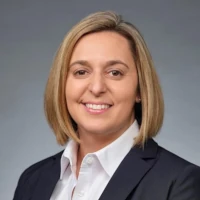 Annessa McKenzie  joined ConocoPhillips in 2022 and currently serves as Chief Information Security Officer, responsible for establishing an enterprise IT and OT security strategy across all functional business units.
Annessa's focus has been establishing long-term investment roadmaps, assessing IT/OT and operational risk by business unit, and deploying value-added zero-trust security architectures to ensure resilience, cyber defense and compliance across the organization.​
Prior to joining ConocoPhillips, McKenzie held the role of Chief Security Officer and VP of Supply Chain at Calpine Corporation, responsible for setting cyber and physical security strategies across all functional business units as well as the overall strategy for IT compliance, business continuity, infrastructure, supply chain and facilities.
McKenzie has also held the role of chief information security officer at Baker Hughes, where she was responsible for a multinational team focused on cyber-defense, securing digital oilfield operations, security of future oilfield product designs, application security and architecture, records management, data privacy and consulting with Baker Hughes' global oilfield customers; PwC's advisory practice; and the U.S. Drug Enforcement Administration HIDTA task force.​
Annessa holds an MBA and a bachelor's degree from Louisiana State University, as well as Certified Information Systems Security Professional (CISSP), Certified in Risk and Information Systems Control (CRISC) and Certified Information Systems Auditor (CISA) certifications. She is an Adjunct Cyber Security Professor at University of Oklahoma's Executive MBA in Energy program. She was named one of Houston's top millennial women to watch in 2019 by the Houston Chronicle and in 2020 was nominated as  Orbie awards'  2020 Houston CIO of the Year, and in 2021 was nominated for Constellation Research.
Follow UpstreamCalendar.com for upcoming industry events. Upstream Calendar was created to help the industry to synchronize by providing a free lookahead for KEY industry events across the country. We focus on non-profit support, community, and industry specific 2022 Oil and Gas trade shows and conferences for Upstream, Subsea, Offshore, Downhole, Cementing, Completions, Fracking, Pumping, MUD, etc. We are FROM Upstream, FOR Upstream and believe in Networking With A Purpose. We put all streams of energy together as the original Energy Calendar. This event is at NRG and for a full list of NRG Events Calendar follow us on our other pages. Midstream Calendar, Downstream Calendar and this one Upstream Calendar. The Energy Calendar official – sharing All Streams of Energy. Allstream Energy Partners.
2023 Oil and Gas Events
Email Efrain@AllstreamEP.com to get involved.
2023 Renewables Events North Dakota
2023 New Energy Events Williston
2023 Oil and Gas Charity Events