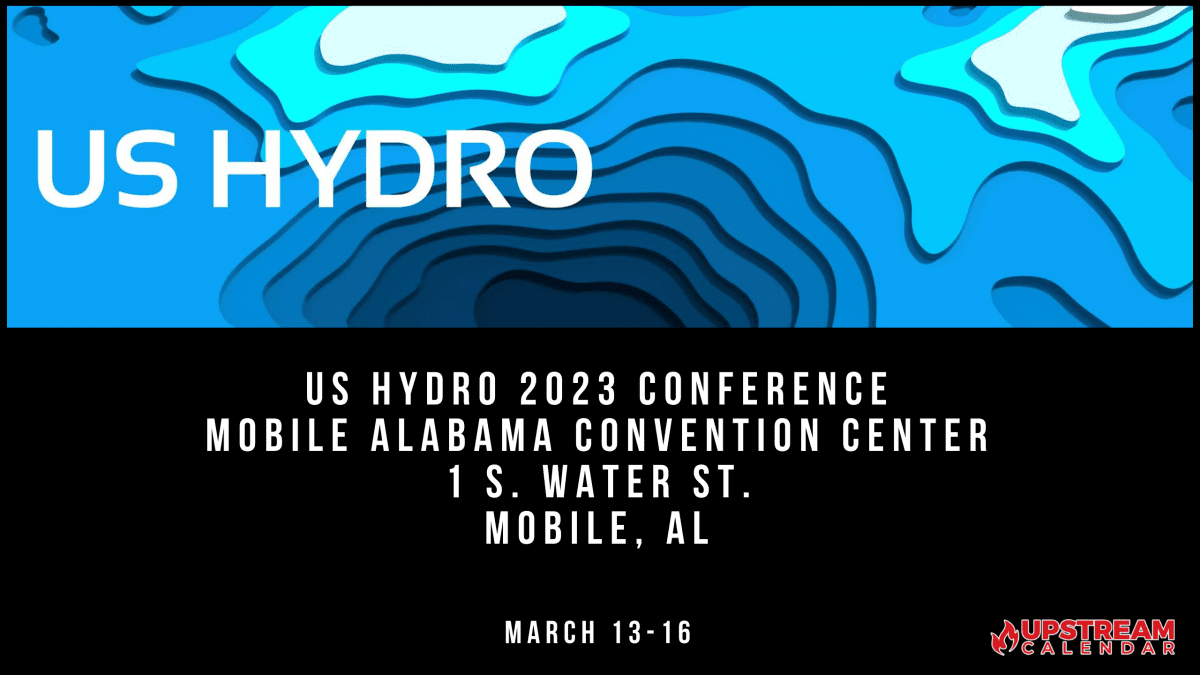 The Hydrographic Society of American 2023 Annual Conference "The Next Frontier of Hydrography" March 13-16 – Mobile, AL


US Hydro 2023 Conference
Mobile Alabama Convention Center
1 S. Water St.
Mobile, AL 36602
Monday, March 13, 2023 to Thursday, March 16, 2023
Category: In person
US Hydro 2023 Conference
Hydrospatial: The Next Frontier of Hydrography
Dear friends and colleagues,
After a very successful US Hydro 2021 Conference, our first (and hopefully last) virtual event, we have started the organization of our US Hydro 2023 Conference, which will be in person again. THSOA National Board and several enthusiastic members are working together to assemble the best US Hydro conference ever!
The theme that we have chosen for our conference reflects the relevance that our profession and related sciences have in the marine geospatial world. In some circles we are discussing the profile of "the hydrographer of the future" (the Canadian Hydrographic Service is leading a series of workshops on this topic), what they have to learn and to know, how technology is affecting their activities: the speed and amount of data being collected (Big Data), the wide variety of sensors and platforms used (IoT), the speed and efficiency in data analysis (AI and Deep Learning), the ways in which these data become information and is accessed by different kinds of users (Cloud services, Kubernetes) and new formats and standards (S-100, voxels).
All of the above and the increased attention of international bodies on the oceans, like the United Nations Global Geospatial Information Management (UN-GGIM), the UN Decade of Ocean Science for Sustainable Development, the GEBCO Seabed 2030 Project, and the IHO vision towards Marine Spatial Data Infrastructures are elevating (evolving) our profession to become geospatial data analysts of the water, or hydrospatial data analysts, joining a select group of professionals in the geospatial world.
The US Hydro 2023 will highlight these topics through your work and research, from Academia to Government to Industry and more, sharing your experiences, learning from each other, bringing new blood to our community through the students' outreach program, discussing around a cup of coffee and at dinner, relaxing at our social events, re-connecting with old friends and making new ones. Let's grow together and explore the next frontier of Hydrography at the US Hydro 2023!
US Hydro 2023
13-16 March 2023
Mobile Alabama Convention Center
Hydrospatial: The Next Frontier of Hydrography
Join us for the premier hydrographic conference in the USA, online registration is now open! We are especially excited to work with our media and industry partners to make this event a success.
Schedule
Monday, March 13: Industry Workshops
Monday, March 13: Exhibitor Ice Breaker Social
Tues-Thurs, March 14-16: Technical Sessions
Tuesday, March 14: Conference Social
Wednesday, March 15: Conference Social
General registration
Full conference registration includes admission to technical sessions, workshops, exhibit hall, meals, and social receptions.THSOA, CHA, and IFHS members will get discounts on attendance.
Details on attendance registration can be found here.
Exhibitor registration
US Hydro delivers a unique experience for exhibitors to interact with industry professionals as they share insights on technological advances and focused solutions on the hydrographic industry.
Details on exhibiting can be found here.
Student Sponsorships
US Hydro 2023 Conference Student Sponsorships are now open. Details to apply before Jan. 6 can be found here.
Sponsorship
Increase your brand exposure throughout the conference. Sponsorship opportunities are available for all budgets.
Details on sponsorship opportunities can be found here.
Pier space demonstration registration
Pier demonstrations will be held along the east side of the convention center. There will be over 300 feet of dock space available for demonstrations.
Details on the pier demonstrations can be found here.
Accommodations
Get information on the conference hotel and special rates here.
Follow UpstreamCalendar.com for upcoming industry events. Upstream Calendar was created to help the industry to synchronize by providing a free lookahead for KEY industry events across the country. We focus on non-profit support, community, and industry specific 2022 Oil and Gas trade shows and conferences for Upstream, Subsea, Offshore, Downhole, Cementing, Completions, Fracking, Pumping, MUD, etc. We are FROM Upstream, FOR Upstream and believe in Networking With A Purpose. We put all streams of energy together as the original Energy Calendar. This event is at NRG and for a full list of NRG Events Calendar follow us on our other pages. Midstream Calendar, Downstream Calendar and this one Upstream Calendar. The Energy Calendar official – sharing All Streams of Energy. Allstream Energy Partners.
2023 Oil and Gas Events