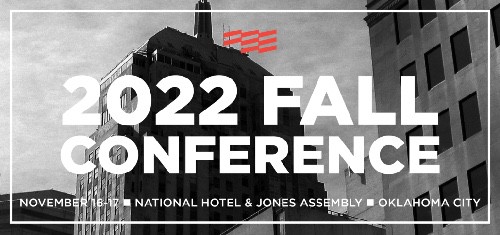 Register Now for the FALL CONFERENCE & PETROLEUM ALLIANCE FUNDRAISING AUCTION Nov 16, 17 – OKC
This Event Reminder is Sponsored by:
Hosted at the newly renovated and historic National Hotel and the Jones Assembly in downtown Oklahoma City, the Alliance Fall Conference gives oil and natural gas industry professionals the opportunity to connect with their peers, promote their company and hear relevant and timely information about the state's defining industry and the advancements within it.
Over the course of two days, we will welcome knowledgeable speakers who will offer their expertise to Fall Conference attendees. These speakers will cover a wide range of state and federal issues that impact our industry. Networking is also a big part of all Alliance events, and the Fall Conference will provide a great opportunity to connect with key industry leaders. This is your chance to build upon existing relationships and establish new ones.
The conference concludes with a night of celebration at the Black Gold Benefit highlighting the philanthropic efforts of the state's oil and natural gas industry. Held at the Jones Assembly, the Black Gold Benefit will feature The Petroleum Alliance Fundraising Auction and will also recognize the contributions Alliance members have made to our 2022 charity of the year, Positive Tomorrows.
Follow UpstreamCalendar.com for upcoming industry events. Upstream Calendar was created to help the industry to synchronize by providing a free lookahead for KEY industry events across the country. We are the original energy calendar and focus on non-profit support, community, and industry specific 2022 Oil and Gas trade shows and conferences for Upstream, Subsea, Offshore, Downhole, Cementing, Completions, Fracking, Pumping, MUD, etc. We are FROM Upstream, FOR Upstream and believe in Networking With A Purpose. We are a global network of oil and gas professionals that bring all streams of energy together. Follow us for upcoming oil and gas events.
Email efrain@allstreamep.com to get involved.