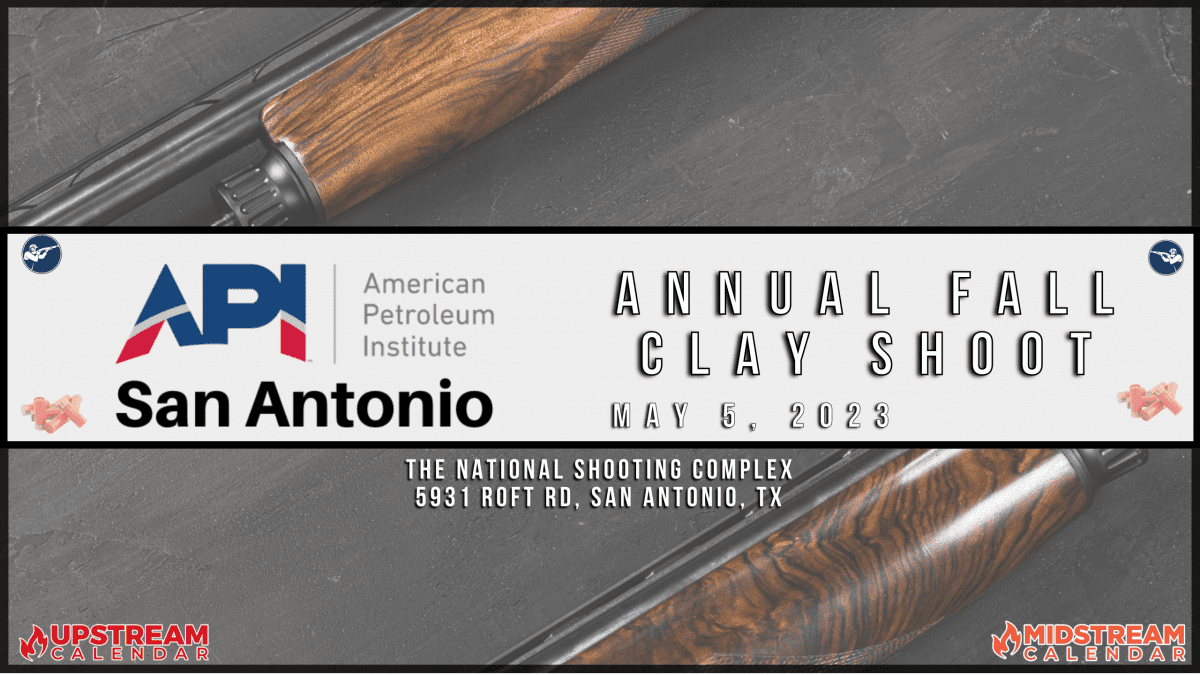 Register Now for the 25th Annual San Antonio API Chapter Sporting Clays Tournament – Saturday May 5th, 2023
This Event Reminder is Sponsored by:
25th Annual San Antonio API Chapter Sporting Clays Tournament – Saturday May 5th, 2023
25th ANNUAL
SAN ANTONIO API CHAPTER
SPORTING CLAYS TOURNAMENT
SCHOLARSHIP FUNDRAISER
at the
NATIONAL SHOOTING COMPLEX-SAN ANTONIO
EARLY REGISTRATION & PRACTICE FRIDAY May 5, 2023 100 BIRDS SATURDAY MAY 6, 2023
INFORMATION
All shooters must be San Antonio API members
**Entry fee $200.00 per shooter, API dues are $20.00**
Late shooters will shoot if a slot is available
Shooters are required to provide their own ammo (7 ½, 8, & 9 shot only)
Ammo available for purchase at the shooting complex
Format: Lewis scoring system 5 Person Team
Carts can be rented from the National Shooting Complex (call Olivia 210-688-3371 ext.244).
SCHEDULE
Friday May 6th @11:30 AM – Early Check in & Registration
Sporting Clays practice course open @ 12:00 NOON
PRACTICE FEE PAID to National Shooting Complex (credit cards accepted)
Saturday May 7th 7:30 AM to 8:00 AM – Check in & Registration
Breakfast @ 7:30 AM
Safety Meeting at 8:30 AM
Shoot begins at 9:00 AM Sharp!!
Lunch after Shoot
Trophies will be given to the Top 3 Team Scores, &
High overall Man & Lady Shooter. Check web page: www.sanantonioapi.com
THE SAN ANTONIO API CHAPTER, INC. AND THE NATIONAL SHOOTING COMPLEX
ASSUME NO LIABILITY FOR INJURIES OR LOSSES TO PERSONS OR PROPERTY.
Questions:
Jim R. Gieptner
210-844-3510
Michael Johnston
210-488-3061
Follow UpstreamCalendar.com for upcoming industry events. Upstream Calendar was created to help the industry to synchronize by providing a free lookahead for KEY industry events across the country. We focus on non-profit support, community, and industry specific 2022 Oil and Gas trade shows and conferences for Upstream, Subsea, Offshore, Downhole, Cementing, Completions, Fracking, Pumping, MUD, etc. We are FROM Upstream, FOR Upstream and believe in Networking With A Purpose. We put all streams of energy together as the original Energy Calendar. This event is at NRG and for a full list of NRG Events Calendar follow us on our other pages. Midstream Calendar, Downstream Calendar and this one Upstream Calendar. The Energy Calendar official – sharing All Streams of Energy. Allstream Energy Partners.
2023 Oil and Gas Events

About our Media Partner Spectrum Camera Solutions:

Spectrum Camera Solutions manufactures a full range of globally certified Explosion Proof camera systems to monitor any hazardous area. Founded in 2012, Spectrum Camera Solutions has an unparalleled background as a world leader in hazardous area vision systems for process, security, and safety, creating a new range of Explosion Proof cameras based on durable materials, innovative engineering, and operational excellence.
Designed and Manufactured in USA
NDAA Compliant & FM Approved
Spectrum Camera Solutions Explosion Proof Camera products are designed and manufactured in the USA. As a leader with a reputation for creating exciting and reliable hazardous area products, we pride ourselves in delivering outstanding execution from R&D to production as an ISO9001 & ISO14001 certified company.
Award Winning Manufacturer
As a committed leader to excellence and quality, Corporate Vision and Corporate Energy has recognized Spectrum Camera Solutions for our class-leading hazardous area products.
Being at the forefront of innovation and safety, Spectrum Camera Solutions is setting the benchmark for engineering excellence. Unique to the market, Spectrum's series of Explosion Proof Cameras utilize the latest technology available in the security camera market integrated into our dual patented housings designed to withstand harsh environmental conditions and certified for hazardous areas.