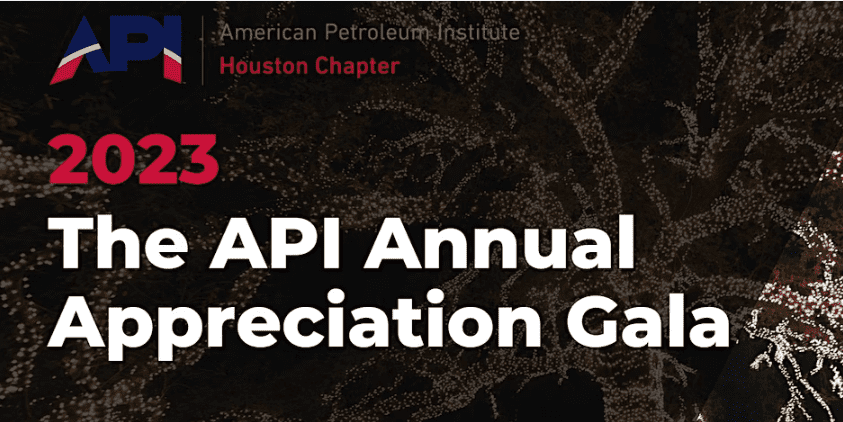 Register Now for the API- Houston 2023 Annual Appreciation Gala Feb 17th – Houston
This Event Reminder is Sponsored by: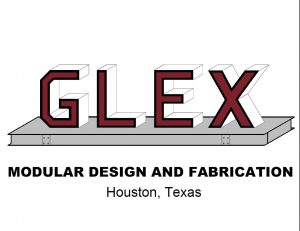 Hosted by the American Petroleum Institute- Houston Chapter, and Chaired by Chairman Justin Lurie, the 2023 Annual Appreciation Gala highlights regional brilliance. Individuals who have a proven character of patriotism, superior integrity, career fortitude, combined with a selfless passion of facilitating opportunities for others thus, Moving America Forward.
Join us for this celebration as we honor Mr. Gardner Parker, the 2023 recipient of the "Moving America Forward" Award. Featuring an intimate reception, exquisite dining experience, celebrity speakers, musical entertainment, and more…
Contributions raised will support the API-Houston Chapter fulfill its mission of encouraging future generations to maintain a strong, viable energy industry. Funds will provide scholarships to students pursuing education in petroleum-based programs.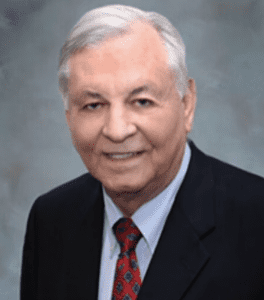 Just a few things about the outstanding man we are bestowing with this appreciation award at our API Houston 2023 Gala on February 17th;
– With over 40 years of accounting experience, Mr. Parker was a partner at Ernst & Ernst (now Ernst & Young LLP).
– He currently holds Directorships at Sharps Compliance Corp. (where he was formerly Chairman of the Board), a medical waste management services provider and Carrizo Oil & Gas Inc., where he has served since 2000 and currently serves as Lead Independent Director. He is the Trust Director of Camden Property Trust and was a founding director for Camden and also served as the Lead Independent Trust Manager for 10 years.
– Mr. Parker is Chairman of the Board of Edge Resources LTD (Energy capital fund) and Norton Ditto (Men's clothing) and serves on the Board of Directors of First Tennessee Bank-Houston, Camp Longhorn, Gillman Automotive, Online Completions and Sherwood Nursing Home. He is also currently President of the Camp Longhorn Alumni Organization and Club Dinger and is a Rotary Club Paul Harris Fellow.
– He previously served as President of the Houston Texas Exes, Touchdown Club of Houston, Longhorn Club, River Oaks Breakfast Club, and the University of Texas Accounting Advisory Council. He also served as Director for several public companies: Crown Resources Corp., USLD Communications Corp and Whitney Bank. Mr. Parker has been active in the energy sector, previously serving as Director for public company Blue Dolphin Energy Company (prior to reverse merger with Lazarus Energy, LLC.), Hercules Offshore, Inc., Triangle Petroleum Corporation and Pinnacle Oil & Gas.
– He has also served as Director for private companies, NetNearU Corp., NII Communications Inc., MCS Technologies LLC. and Global Restaurant Systems LLC.
– He is Board certified by the National Association of Corporate Directors (the "NACD") and is also a NACD Board Leadership Fellow. – Mr. Parker is a Certified Public Accountant.
Follow UpstreamCalendar.com for upcoming industry events. Upstream Calendar was created to help the industry to synchronize by providing a free lookahead for KEY industry events across the country. We focus on non-profit support, community, and industry specific 2022 Oil and Gas trade shows and conferences for Upstream, Subsea, Offshore, Downhole, Cementing, Completions, Fracking, Pumping, MUD, etc. We are FROM Upstream, FOR Upstream and believe in Networking With A Purpose. We put all streams of energy together as the original Energy Calendar. This event is at NRG and for a full list of NRG Events Calendar follow us on our other pages. Midstream Calendar, Downstream Calendar and this one Upstream Calendar. The Energy Calendar official – sharing All Streams of Energy. Allstream Energy Partners.
2023 Oil and Gas Events
Email Efrain@AllstreamEP.com to get involved.
2023 Oil and Gas Events Houston
2023 New Energy and Oil and Gas Houston
2023 Oil and Gas Executive Conferences