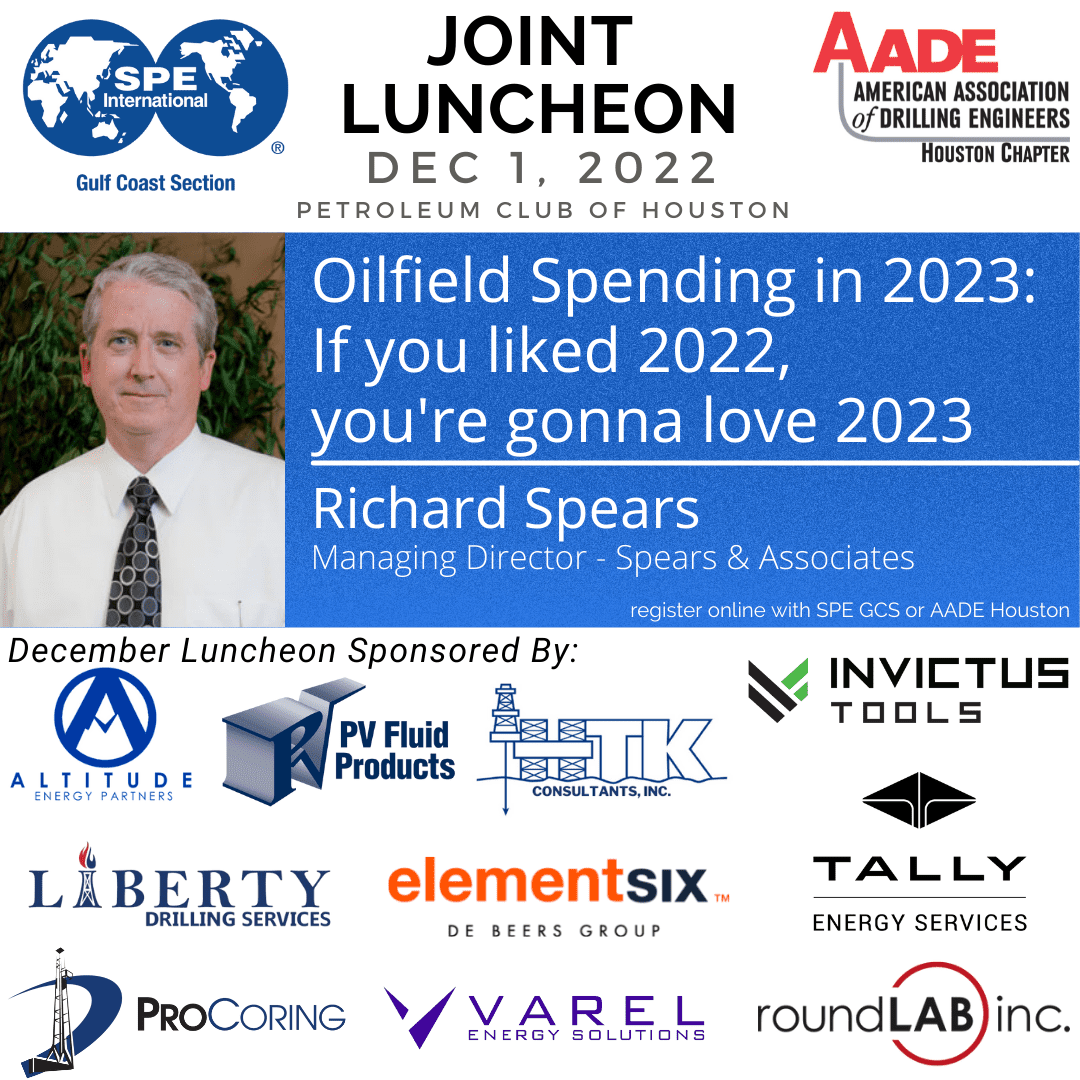 Register Now for the AADE & SPE Houston Joint Luncheon Dec 1st – "Oilfield Spending in 2023: If you liked 2022, You're Gonna LOVE 2023"
This Event Reminder is Sponsored by:
AADE Houston Chapter DECEMBER Luncheon Meeting.
Registration opens at 11:00 AM
Lunch served at 11:30 AM
Topic: "Oilfield Spending in 2023: If you liked 2022, you're gonna love 2023"
Speaker: Richard Spears, Managing Director – Spears & Associates
Cost: NOTE: You must sign into the portal to reflect member pricing.
Luncheon:
$35/Members and $45/Non-Members or Walk-ins
Table of 10: $350
Contact Carolyn Hendricks at aadecarolyn@att.net if you have any questions or dietary restrictions.
Parking:
Valet is priced at $15 per vehicle. Must have ticket validated at the meeting for this discounted rate. The club is connected to the downtown tunnel system. You may also park in any surrounding paid parking lot.
Sponsors:
Thank You Luncheon Sponsors: Altitude Energy Partners, Element Six, HTK Consultants, Invictus Tools, Liberty Drilling Services, ProCoring, PV Fluid Products, RoundLAB, Tally Energy Services, and Varel Energy Solutions.
If you are interested in sponsoring a luncheon, please email aadecarolyn@att.net.
Cancellation Policy:
Deadline for reservations is Noon, Tuesday, Nov 29, 2022. No-shows will be billed. No refunds after the deadline.
ABSTRACT: With no Red Tsunami changing the investment environment for the US oil & gas industry, a paucity of investable capital and available debt will carry financial discipline into 2023 and beyond to the point that debt is all but eliminated, growth in every oil & gas sector is modest, and profitability is sustained at record levels. If peace is slow to break out in Russia and Iran, shortages of oil and gas will support high commodity prices. Richard Spears will talk about the key points of his firm's forecast for global oilfield spending.
Richard Spears is one of the managing directors of Spears & Associates, a global oilfield market research firm. Richard also sits on the boards of several energy-related companies, including Varel Energy Solutions, APS Technology, Pruitt Tool, Latshaw Drilling, and IGNIS H2 Energy, a geothermal company associated with Milan-based GEOLOG.
Follow UpstreamCalendar.com for upcoming industry events. Upstream Calendar was created to help the industry to synchronize by providing a free lookahead for KEY industry events across the country. We focus on non-profit support, community, and industry specific 2022 Oil and Gas trade shows and conferences for Upstream, Subsea, Offshore, Downhole, Cementing, Completions, Fracking, Pumping, MUD, etc. We are FROM Upstream, FOR Upstream and believe in Networking With A Purpose. We put all streams of energy together as the original Energy Calendar. This event is at NRG and for a full list of NRG Events Calendar follow us on our other pages. Midstream Calendar, Downstream Calendar and this one Upstream Calendar. The Energy Calendar official – sharing All Streams of Energy. Allstream Energy Partners.
2023 Oil and Gas Events