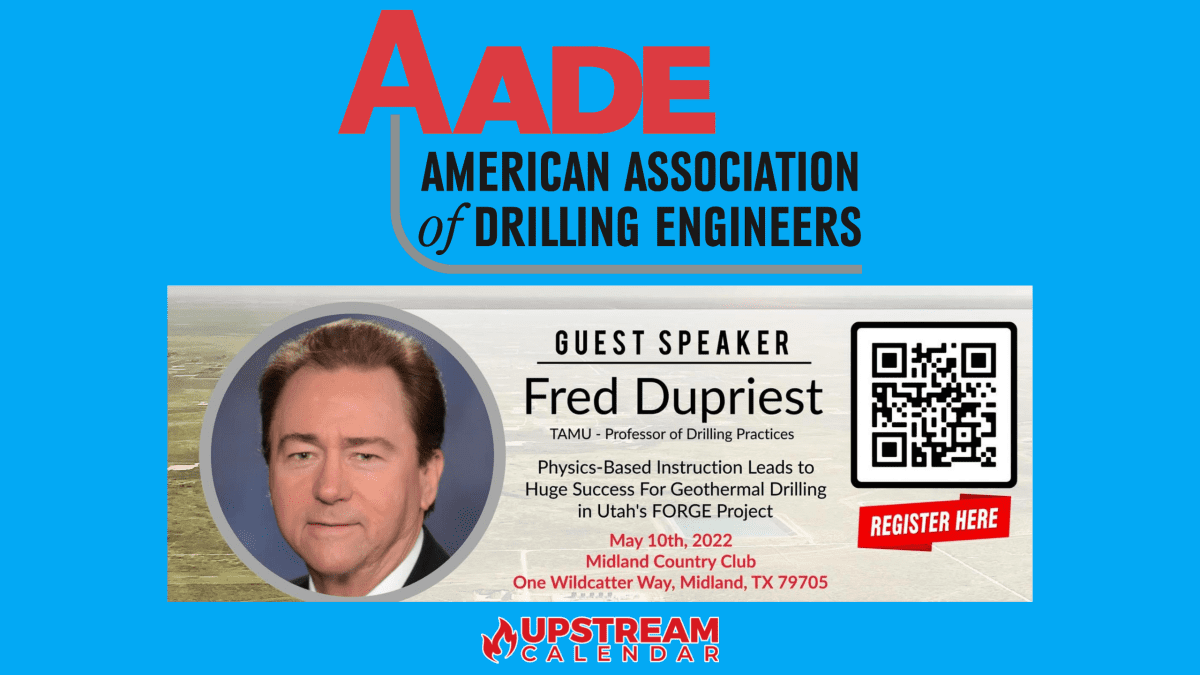 Register Now for the AADE Permian May 10th Luncheon Featuring Fred Dupriest – Midland
This Event Reminder is Sponsored by:

Sponsorships: If you wish to sponsor this event, please contact Ryan Maynard at Ryan.Maynard@Exxonmobil.com to confirm. Thank You!
——————————————————-
Fred Dupriest, Texas A&M University, Professor of Engineering Practices Presents:
Physics-Based Instruction Leads to Huge Success For Geothermal Drilling in Utah's FORGE Project
Overview:
"There is no hard rock!  I've been saying this for years, but learnings from drilling 5000 ft of granite in wells at the FORGE geothermal project have taken this epiphany to a whole new level. After training and continual redesign on 3 wells, the instantaneous drill rate with a new bit in 40,000 psi granite was consistently 250 fph, and bit life has been quadrupled. Low ROP is always due to dysfunction. This is fortunate because we can't fix rock strength, but we can always make progress on our dysfunctions. We'll talk about the physics of the dysfunctions that really do matter in hard rock, and the real time and engineering redesign practices that are most likely to make a difference." – Fred Dupriest
Bio:
Fred Dupriest retired in 2012 as the Chief Drilling Engineer after 35 years with ExxonMobil.  After retirement, he became a Professor of Engineering Practices at Texas A&M where he's taught advanced drilling practices. He's also worked with numerous industry drill teams to improve performance by moving their organizations toward physics-based, limiter-redesign workflows. Fred is a member of the AADE Drilling Fluids Hall of Fame.  a Distinguished Member of the Society of Petroleum Engineers, and a recipient of the SPE International Drilling Engineering Award.
Reminder: The location for this month's luncheon is at Midland Country Club
Deadline for registration is 5:00PM Sunday May 8th, 2022.
We look forward to seeing everyone there!
2022 Oil and Gas Events