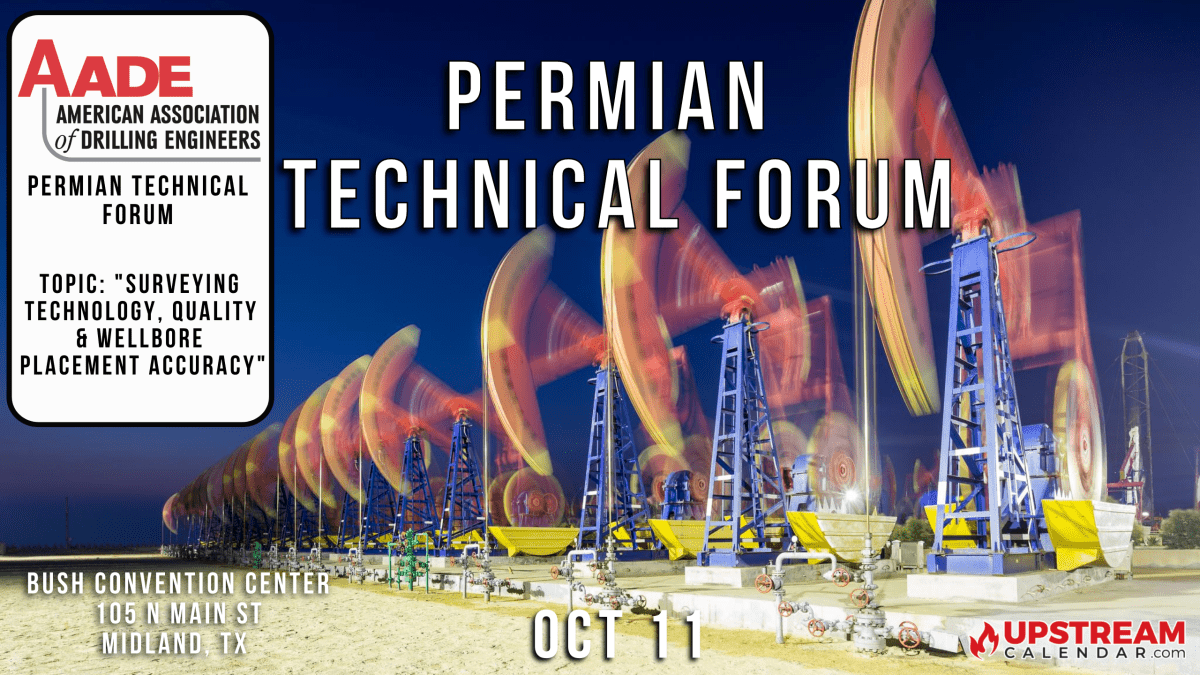 AADE Permian Basin 2022 Technical Forum Oct 11 – Topic: Surveying Technology, Quality & Wellbore Placement Accuracy – Midland
This Event Reminder is Sponsored by:

Details of Event:
11:30 – 12:00 – Registration Opens
12:00 – 12:30 – Lunch Opens
12:30 – 12:45 – A word from our President, Dallas Daley
12:45 – 3:00 – Presentations
3:00 – 4:00 – Panel Discussion during Happy Hr
4:00 – 6:00 – Happy Hr
Presentation Topics and Presenters:
West TX MWD Market Update
Gibson Reports – David Gibson
General Survey Quality, Survey Errors, and Survey QC Process
K&M Technology – Nicholas Zachman
Introducing an Industry Standard Process to Validate Accuracy of Survey Correction Software
Superior QC – Chad Hanak
Practical approach to evaluating wellbore collision risk with vertical wells
Deep Energy llc – Cade Jackson
Permian Bain Case Studies related to Overall Cumulative Curvature
Oxy – Jonathan Lightfoot
Panel discussion led by Ryan Maynard during Happy Hour
Reminder: The location for this event is at Bush Convention Center
Deadline for registration is 8:00PM Monday October 10th, 2022.
We look forward to seeing everyone there!
Follow UpstreamCalendar.com for upcoming industry events. Upstream Calendar was created to help the industry to synchronize by providing a free lookahead for KEY industry events across the country. We focus on non-profit support, community, and industry specific 2022 Oil and Gas trade shows and conferences for Upstream, Subsea, Offshore, Downhole, Cementing, Completions, Fracking, Pumping, MUD, etc. We are FROM Upstream, FOR Upstream and believe in Networking With A Purpose. We put all streams of energy together as the original Energy Calendar. This event is at NRG and for a full list of NRG Events Calendar follow us on our other pages. Midstream Calendar, Downstream Calendar and this one Upstream Calendar. The Energy Calendar official – sharing All Streams of Energy. Allstream Energy Partners.
2022 Oil and Gas Events