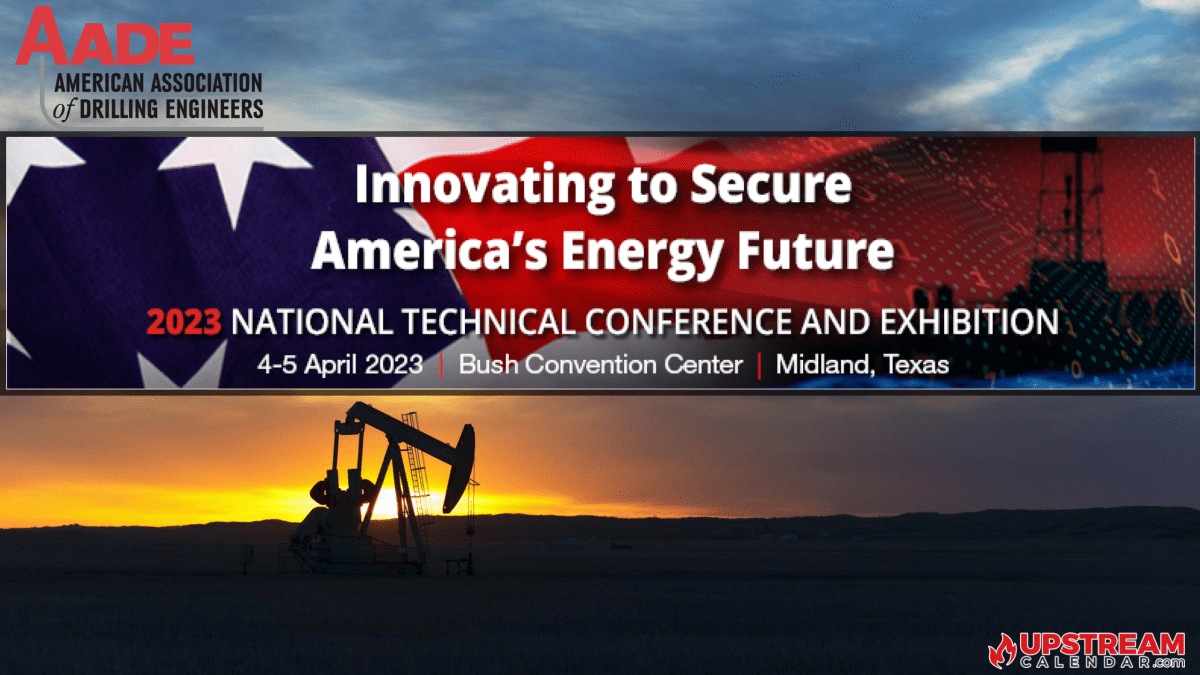 Register Now for the 2023 AADE National Technical Conference & Exhibition April 4th & 5th, 2023 – Midland
This Event Reminder is Sponsored by:
The American Association of Drilling Engineers will host the 2023 National Technical Conference and Exhibition
covering topics including case histories, improvements and innovations in drilling. This conference will be of
interest to major and independent operators, service companies, drilling contractors, equipment and materials
suppliers, manufacturers and distributors.
Bush Convention Center
105 North Main Street
Midland, TX 79701
Industry Papers Deadlines:
September 23, 2022 EXTENDED to October 7, 2022 — Abstracts will be due
October 17, 2022 — Authors will be notified of acceptance
February 3, 2023 — Papers will be due
March 1, 2023 — Powerpoint Presentations will be due
March 10, 2023 — Pre-Recorded Presentations will be due
University Student Poster Competition :
MORE INFORMATION COMING SOON!
For any questions or concerns regarding submissions, please contact Mary Dimataris.
Follow UpstreamCalendar.com for upcoming industry events. Upstream Calendar was created to help the industry to synchronize by providing a free lookahead for KEY industry events across the country. We focus on non-profit support, community, and industry specific 2022 Oil and Gas trade shows and conferences for Upstream, Subsea, Offshore, Downhole, Cementing, Completions, Fracking, Pumping, MUD, etc. We are FROM Upstream, FOR Upstream and believe in Networking With A Purpose. We put all streams of energy together as the original Energy Calendar. This event is at NRG and for a full list of NRG Events Calendar follow us on our other pages. Midstream Calendar, Downstream Calendar and this one Upstream Calendar. The Energy Calendar official – sharing All Streams of Energy. Allstream Energy Partners.
2023 Oil and Gas Events Midland
2023 Permian Basin Oil and Gas events
2023 Oil and Gas Events Texas

About our Media Partner Spectrum Camera Solutions:

Spectrum Camera Solutions manufactures a full range of globally certified Explosion Proof camera systems to monitor any hazardous area. Founded in 2012, Spectrum Camera Solutions has an unparalleled background as a world leader in hazardous area vision systems for process, security, and safety, creating a new range of Explosion Proof cameras based on durable materials, innovative engineering, and operational excellence.
Designed and Manufactured in USA
NDAA Compliant & FM Approved
Spectrum Camera Solutions Explosion Proof Camera products are designed and manufactured in the USA. As a leader with a reputation for creating exciting and reliable hazardous area products, we pride ourselves in delivering outstanding execution from R&D to production as an ISO9001 & ISO14001 certified company.
Award Winning Manufacturer
As a committed leader to excellence and quality, Corporate Vision and Corporate Energy has recognized Spectrum Camera Solutions for our class-leading hazardous area products.
Being at the forefront of innovation and safety, Spectrum Camera Solutions is setting the benchmark for engineering excellence. Unique to the market, Spectrum's series of Explosion Proof Cameras utilize the latest technology available in the security camera market integrated into our dual patented housings designed to withstand harsh environmental conditions and certified for hazardous areas.