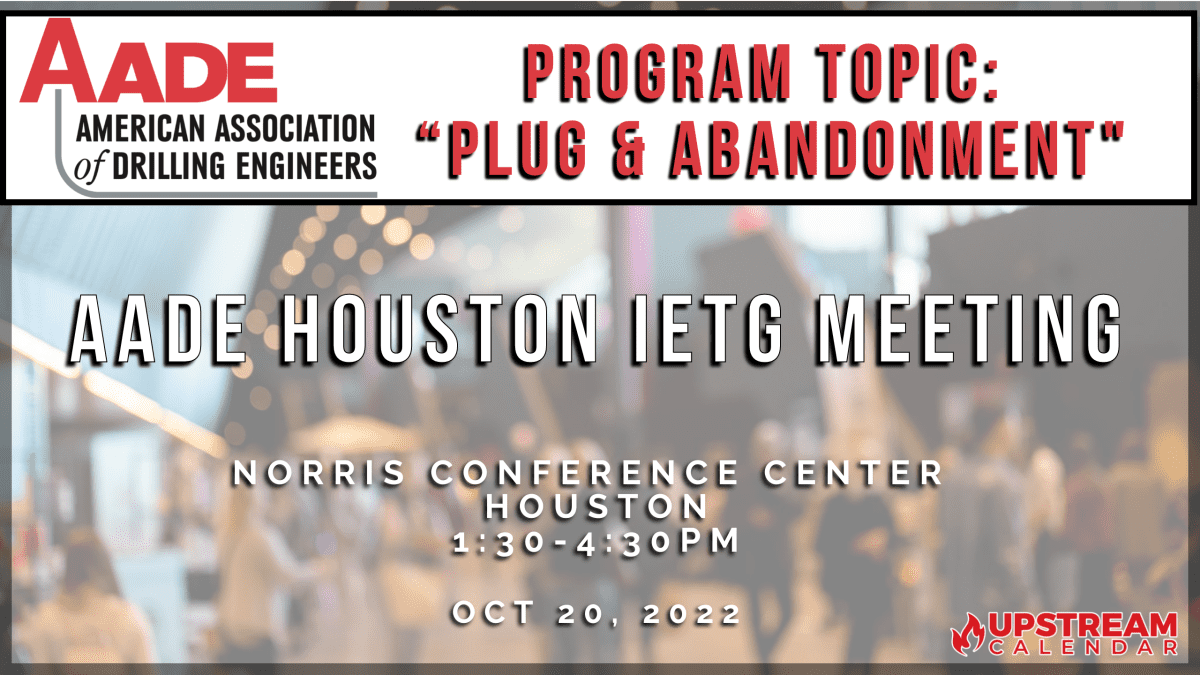 AADE Houston IETG Meeting Oct 20th Topic: Plug and Abandonment – Houston
This Event Reminder is Sponsored by:

Program Topic: "Plug & Abandonment"
SPEAKERS:
1. Dirk Valstar, NAL Well Integrity Domain Champion – Schlumberger
Presenting: "Ultrasonics to Help Understanding Annular Content"
Understanding the annular content is important in order to maintain isolation during the production period, but also in order to plan for the most effective plug and abandoning operations. We look at both conventional bond logging as well as ultrasonic logging to evaluate the annulus and what information we can extract and what not.
Dirk Valstar is currently a well integrity domain champion for the wireline operations in North America land GeoUnit for Schlumberger, based in Houston. He joined Schlumberger in early 1990 as a wireline field engineer. After 10 years he left the field and has held a variety of technical roles in the company. He received his MSc in petroleum engineering from Delft University of Technology in The Netherlands in 1989.
2. Martial Burguieres, General Partner – EcoLock LLC
Presenting: "20+ Years and Still a "Novel" Product"
Various polymer materials have been utilized in the oilfield for decades with varying degrees of success. Epoxy, with its many apparent qualities, has seen significant use. In many cases, epoxies have provided solutions to severe well integrity issues and saved operators significant operational costs. However, epoxies have also been used to no avail… or worse.
After more than two decades, epoxies seem to be relegated to the sidelines and see use as "last ditch" options but are no closer to mainstream acceptance or utilization. With increasing regulation surrounding P&A, legislation to eliminate "fugitive emissions" of methane and the impetus on CCS wells, the unique properties of epoxy resins are needed now more than ever.
Developing bespoke epoxy pumping and dosing equipment for use in wells is a significant step forward towards lowering the perceived costs and risks associated with using these materials. These same apparatus also put epoxies in a position to work as intended.
Martial Burguieres began his career in oilfield services with Weatherford Int. focused on Well Construction, Wireline and Fishing services. After completing his Masters at Rice University, he worked with Oceaneering's Deepwater Technology Services (DTS) group before returning to Weatherford to run the Drill Pipe Riser (DPR) group in Brazil. Martial was then recruited as VP of the Marine group within Wild Well Control. It was here where he gained extensive experience with problematic wells and worked with his team to develop unconventional equipment and techniques to deal with them. Currently, he has founded EcoLock to develop epoxy resin formulations and bespoke equipment to apply them into wells.
3. Jeff Everage, Vice President of Sales – Tactical Oilfield Products
Presenting: "Mitigating C Annulus Sustain Casing Pressure with a Permanent Epoxy Resin Barrier"
Sustained casing pressure mitigation treatments are complicated, costly, and all too often, temporary. The following is a comprehensive review of a successful, cost-sensitive, long-term SCP treatment utilizing a range of technologies. These include a modified hydraulic work-over unit, multi-annuli perforating charges, and high-performance epoxy well sealant.
Prior cement treatments were unsuccessful in isolating the reservoir gas pressure source, and the flow restrictions they created compromised conventional annular treatment options. Using multi-casing perforations, access to the C annulus was achieved. Epoxy resin was then squeezed in and through cement voids/paths of gas migration fully isolating the reservoir gas pressure.
Jeff Everage is currently the Vice President of Sales at Tactical Oilfield Products where he leads a team that provides technical solutions to operators for drilling fluids, cement, and well interventions. For 19 years Jeff has worked alongside operators to reduce NPT, reduce drilling costs, and solve problems that conventional approaches cannot.
The following presentation will be presented in-person only and will not be livestreamed via Zoom.
4. Travis Baer, District Director – Railroad Commission of Texas
Presenting: "An Overview of Railroad Commission Well Plugging Regulations and Operations"
The last stage in an oil or gas well's life can be the most critical in ensuring the legacy of oilfield operations do not have a negative impact on the public or the environment. Well plugging operations can present significant challenges, but it is the responsibility of the well operator to meet minimum engineering and regulatory standards to ensure the well is plugged properly and prevent pollution of natural resources. This presentation will provide an overview of Railroad Commission of Texas well plugging regulations and State-Managed plugging operations in Texas.
Travis Baer is the District Director at the San Antonio District Office and Regional Director of Field Operations (South Region), Oil & Gas Division of the Railroad Commission of Texas. Travis's expertise includes oil and gas well drilling, completion, and plugging; oil and gas waste management; and Railroad Commission oil and gas rules and regulations. His 12 years of well-rounded experience at the Railroad Commission include evaluation of well completions and plugging proposals as they pertain to statewide rules and regulations; technical application review and permit writing for oil and gas waste management facilities; participation in rulemaking for well casing, cementing, drilling and well control; and various IT projects aimed to bring several oil & gas compliance filings online. His primary focus and duties have been on oil and gas well drilling, completion and production operations in the Eagle Ford Shale and south-central Texas region. Travis graduated in December 2008 with a BS in Petroleum Engineering from the University of Texas at Austin and became a licensed Professional Engineer in the State of Texas in December 2015.
Register Here.
Reservations are required! If you register for virtual attendance, the Zoom meeting link will be emailed to those registered within 48 hours of the meeting date.
Deadline for reservations is Friday, Oct 14.
Follow UpstreamCalendar.com for upcoming industry events. Upstream Calendar was created to help the industry to synchronize by providing a free lookahead for KEY industry events across the country. We focus on non-profit support, community, and industry specific 2022 Oil and Gas trade shows and conferences for Upstream, Subsea, Offshore, Downhole, Cementing, Completions, Fracking, Pumping, MUD, etc. We are FROM Upstream, FOR Upstream and believe in Networking With A Purpose. We put all streams of energy together as the original Energy Calendar. This event is at NRG and for a full list of NRG Events Calendar follow us on our other pages. Midstream Calendar, Downstream Calendar and this one Upstream Calendar. The Energy Calendar official – sharing All Streams of Energy. Allstream Energy Partners.
2022 Oil and Gas Events