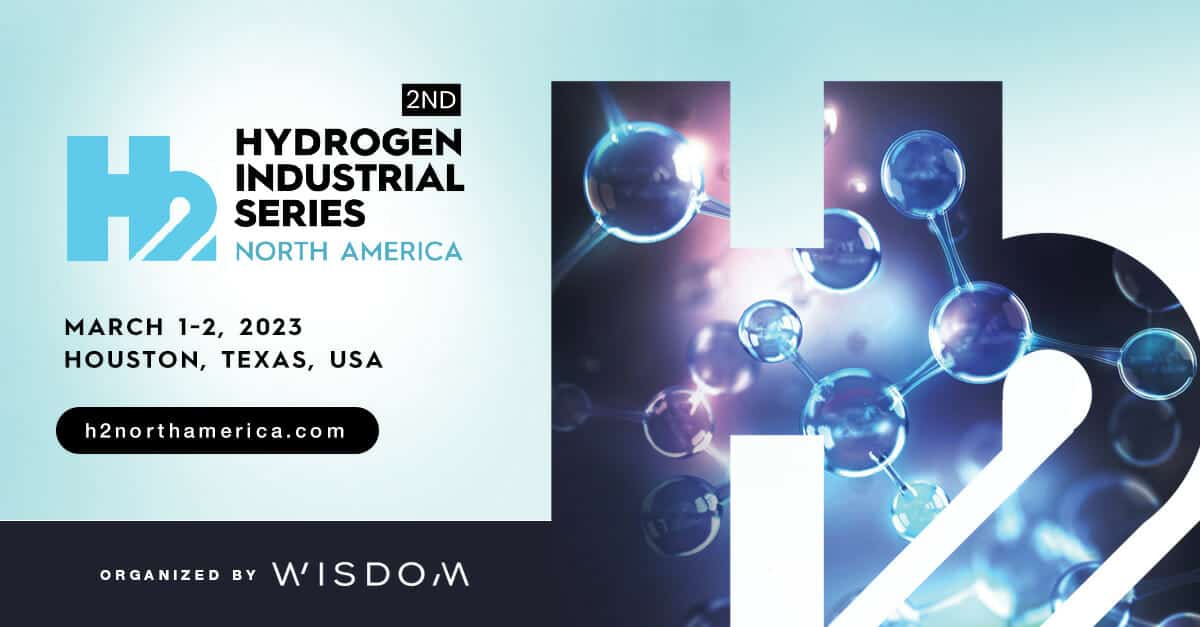 Register Now for the 2nd Hydrogen Industrial Series 2023 North America by Wisdom Events March 1, 2 – Houston
This Event Reminder is sponsored by:
Discount Code 10% – UPSTREAM10
About this event
Hydrogen has been talked about for decades, but only recently things have appeared to be accelerating, as investments and government support are growing, and the hydrogen technology is ready to further scale-up. Hydrogen will play a crucial role in meeting the net zero target by the year 2050, as it could help decarbonization efforts in a number of sectors, particularly important in sectors that are hard to electrify and where greenhouse gas emissions are difficult to abate. However, a number of regulatory issues will need to be addressed before hydrogen can play a larger role in the domestic industries.
‍
2nd Hydrogen Industrial Series 2023 – North America will delve deep to uncover the potential for hydrogen across North America. On 1st and 2nd March 2023 we will gather the key industry stakeholders in the entire hydrogen and fuel cells industry value chain, to discuss the role of hydrogen in the energy transition, to hear the latest advancements in its production, distribution and storage, and at the same time showcase the best practices and models to recognize and seize the opportunities to generate new revenue and stay ahead of the competition.Join us in Houston, TX on March, 1-2 2023 to showcase your hydrogen capabilities, collaborate, and do deals to advance the global hydrogen economy in this international arena. KEY TOPICS
1. HYDROGEN PRODUCTION, STORAGE, & INFRASTRUCTURE DEVELOPMENT New fuel Building a Clean Hydrogen Economy, The Role of Hydrogen in the Energy Transition What is the Future of Transportation? The Role of Distributed Energy Hydrogen Value Chain Analysis
2. FUEL CELL DESIGN, DEVELOPMENT, & MANUFACTURING Designing for Energy Efficiency and Decarbonization Investing in Sustainability and Financing the Future Addressing the Barriers to Decarbonization in Existing Commercial Buildings Pathway to Decarbonization in the Industrial Sector
3. CARBON CAPTURE, UTILIZATION & STORAGE Leveraging Technologies to Diversify Energy Mix and Meet Decarbonization Goals Emerging Energy Storage Solutions Clean Hydrogen Latest Trends & Projects
Follow UpstreamCalendar.com for upcoming industry events. Upstream Calendar was created to help the industry to synchronize by providing a free lookahead for KEY industry events across the country. We focus on non-profit support, community, and industry specific 2022 Oil and Gas trade shows and conferences for Upstream, Subsea, Offshore, Downhole, Cementing, Completions, Fracking, Pumping, MUD, etc. We are FROM Upstream, FOR Upstream and believe in Networking With A Purpose. We put all streams of energy together as the original Energy Calendar. This event is at NRG and for a full list of NRG Events Calendar follow us on our other pages. Midstream Calendar, Downstream Calendar and this one Upstream Calendar. The Energy Calendar official – sharing All Streams of Energy. Allstream Energy Partners.
2023 Oil and Gas Events
Email Efrain@AllstreamEP.com to get involved.
2023 Renewables Events Houston
2023 New Energy Events Texas
2023 Oil and Gas Executive Conferences