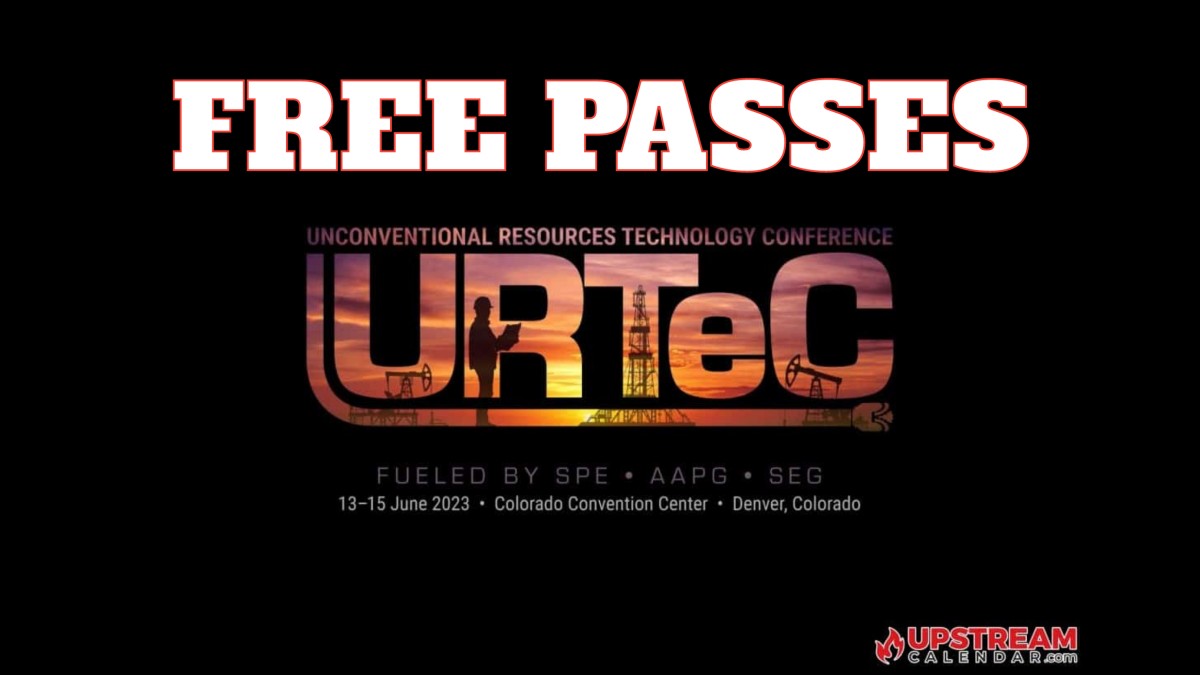 FREE PASS CODE: GP23URT – Register for the Unconventional Resources Technology Conference (URTeC)13-15 June 2023 – Denver
This Event Reminder and Save The Date is Sponsored by:
The Integrated Event for Unconventional Resource Teams
Pre-register online to save time.
1. Visit URTeC.org and click Register Now
2. Select Exhibitor Guest Pass
3. Enter Priority Code: GP23URT
4. Select a host organization
This pass is valid for the following days:
Tuesday, 13 June 10:00 am–6:00 pm
Wednesday, 14 June 8:30 am–6:00 pm
Thursday, 15 June 8:30 am–2:00 pm
The Unconventional Resources Technology Conference (URTeC) is a premier event focused on the latest science and technology applied to exploration and development of unconventional resources, with special emphasis on integration of the technical/professional disciplines.
URTeC continues to be the best opportunity you'll have to exchange information, formulate strategic ideas, and solve problems to manage and optimize your unconventional resource plays
In 2020 URTeC entered the digital space, responding proactively to COVID-19 and low energy prices, with an innovative virtual event featuring more than 250 technical talks, panel discussions, and team presentations. In 2021, URTeC implemented a fully hybrid meeting format with an in-person aspect at the George R. Brown Convention Center in Houston, Texas along with a dynamic online experience.
2022 marked the tenth anniversary of URTeC with a fully in-person meeting in Houston, Texas that rebounded with an overwhelming success. The event gathered more than 4,000 attendees from around the globe while featuring more than 330 technical presentations, and 160 exhibitors showcasing the latest technology and services.
URTeC is excited to announce that the 2023 meeting is returning to the Colorado Convention Center in Denver, Colorado 13–15 June. Plan now to attend and help celebrate what the collaboration and integration of our multiple disciplines has achieved across the unconventional sector over the years.
URTeC is comprised of three sponsoring organizations:
Society of Petroleum Engineers (SPE)
American Association of Petroleum Geologists (AAPG)
Society of Exploration Geophysicists (SEG)
Plus six endorsing organizations:
American Institute of Chemical Engineers (AIChE)
Association for Iron and Steel Technology (AIST)
American Society of Civil Engineers (ASCE)
Society for Mining, Metallurgy and Exploration (SME)
Society of Petroleum Evaluation Engineers (SPEE)
Society of Petrophysicists and Well Log Analysts (SPWLA)
This combination of the world's leading professional societies has brought both depth and breadth to the technical base of the conference which has attributed to the URTeC's collaborative platform and innovation exchange sustaining and propelling our industry's ongoing success.
Follow UpstreamCalendar.com for upcoming industry events. Upstream Calendar was created to help the industry to synchronize by providing a free lookahead for KEY industry events across the country. We are the original energy calendar and focus on non-profit support, community, and industry specific 2023 Oil and Gas trade shows and conferences for Upstream, Subsea, Offshore, Downhole, Cementing, Completions, Fracking, Pumping, MUD, etc. We are FROM Upstream, FOR Upstream and believe in Networking With A Purpose. We are a global network of oil and gas professionals that bring all streams of energy together. Follow us for upcoming oil and gas events.
Email efrain@allstreamep.com to get involved.

About our Media Partner Spectrum Camera Solutions:

Spectrum Camera Solutions manufactures a full range of globally certified Explosion Proof camera systems to monitor any hazardous area. Founded in 2012, Spectrum Camera Solutions has an unparalleled background as a world leader in hazardous area vision systems for process, security, and safety, creating a new range of Explosion Proof cameras based on durable materials, innovative engineering, and operational excellence.
Designed and Manufactured in USA
NDAA Compliant & FM Approved
Spectrum Camera Solutions Explosion Proof Camera products are designed and manufactured in the USA. As a leader with a reputation for creating exciting and reliable hazardous area products, we pride ourselves in delivering outstanding execution from R&D to production as an ISO9001 & ISO14001 certified company.
Award Winning Manufacturer
As a committed leader to excellence and quality, Corporate Vision and Corporate Energy has recognized Spectrum Camera Solutions for our class-leading hazardous area products.
Being at the forefront of innovation and safety, Spectrum Camera Solutions is setting the benchmark for engineering excellence. Unique to the market, Spectrum's series of in stock explosion Proof Cameras utilize the latest technology available in the security camera market integrated into our dual patented housings designed to withstand harsh environmental conditions and certified for hazardous areas.