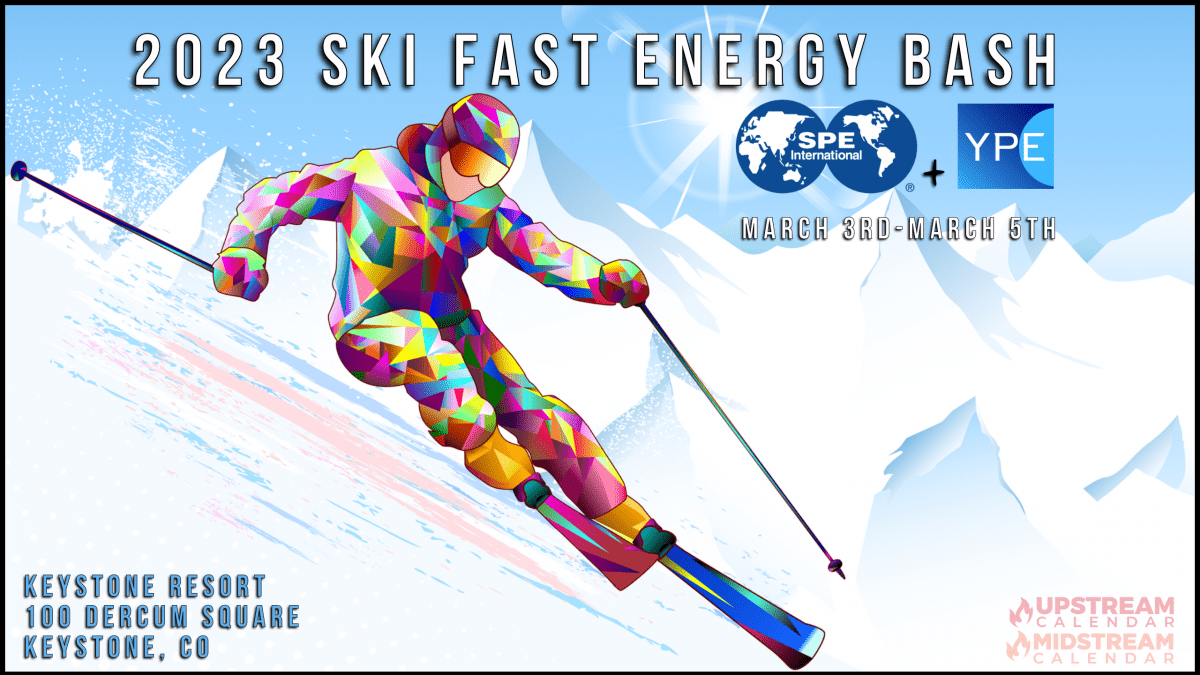 Register Now for the 2023 SPE-YPE Ski Fast Energy Bash Mar 3-5th – Keystone, Co
This Event Reminder is Sponsored by:

Ski Fast Energy Bash 2023
About Ski Fast Energy Bash
Welcome to the annual 2023 YPE & SPE YP Ski Fast Energy Convention co-hosted by YPE Denver and SPE International's Denver Section! If you're a ski or snowboard enthusiast and in the oil & gas, renewables, or the energy industry, you won't want to miss this blast of an event! This year we'll be taking over the slopes of Keystone on March 3rd-5th, with tons of skiing, food, drinks, fun, and great networking throughout the weekend!
We'll have a ski bus traveling up on Friday from downtown Denver, with the Main Event Après Ski Party on Friday afternoon. Several other events and networking opportunities are planned for the remainder of the weekend, including a dinner party Saturday night and the now-famous shirtless closing run on Saturday – snow or shine!
Registration this year is a-la-carte. We hope you will stay the weekend and enjoy the slopes, great people, and all the exciting events. Plan to buy tickets for the days you'll ski! We'll be skiing Friday 3/3 and Saturday 3/4. The bus will be leaving late morning Sunday 3/5 returning to Denver. Feel free to attend any and all events, even if you don't ski!
About SPE and YPE
The Society of Petroleum Engineers (SPE) is the world's largest upstream oil & gas professional organization, representing professionals across hundreds of organizations across all major energy centers in the United States.
Young Professionals in Energy (YPE) similarly aims to facilitate the advancement of young professionals in the energy industry around the world through social, educational and civic service oriented events. The desired outcome of our events is to foster an environment where members can learn from each other's experiences, share industry knowledge and discuss career matters.
Follow UpstreamCalendar.com for upcoming industry events. Upstream Calendar was created to help the industry to synchronize by providing a free lookahead for KEY industry events across the country. We focus on non-profit support, community, and industry specific 2022 Oil and Gas trade shows and conferences for Upstream, Subsea, Offshore, Downhole, Cementing, Completions, Fracking, Pumping, MUD, etc. We are FROM Upstream, FOR Upstream and believe in Networking With A Purpose. We put all streams of energy together as the original Energy Calendar. This event is at NRG and for a full list of NRG Events Calendar follow us on our other pages. Midstream Calendar, Downstream Calendar and this one Upstream Calendar. The Energy Calendar official – sharing All Streams of Energy. Allstream Energy Partners.
2023 Oil and Gas Events