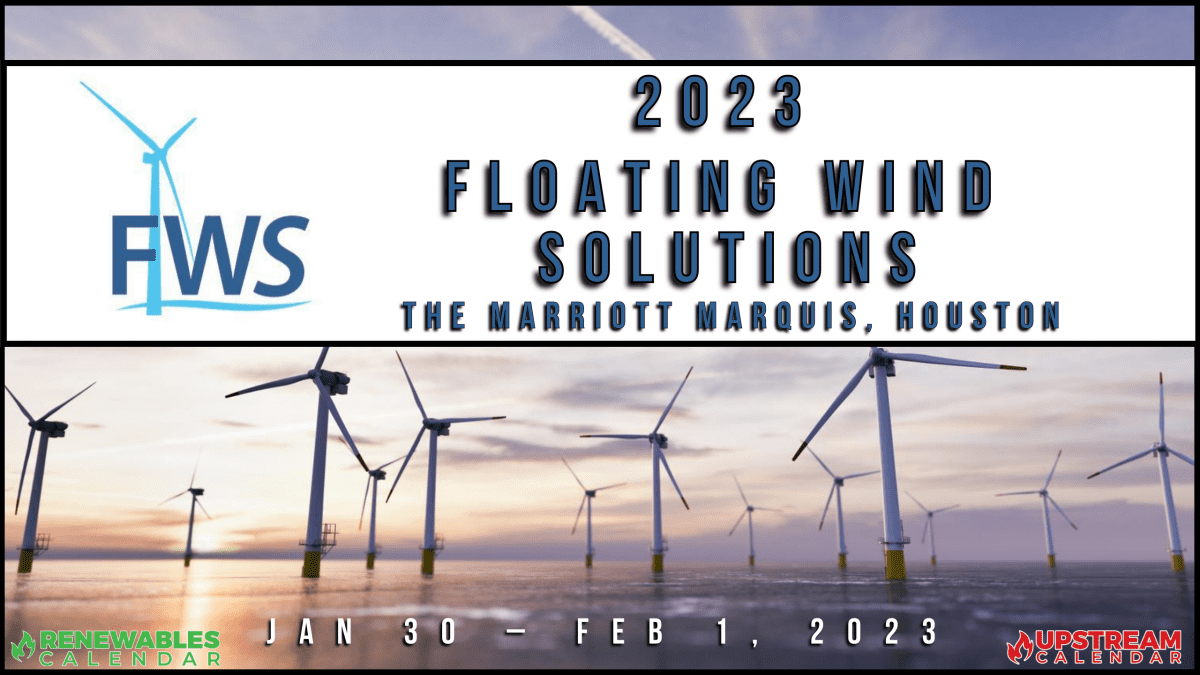 Register Now for the 2023 Floating Wind Solutions Conference and Exhibition Jan 30-Feb 1 – Houston
This Event Reminder is Sponsored by:

Floating Wind Solutions, held annually in Houston, is the ultimate opportunity for those who are presently involved in or seeking entry into floating wind. FWS facilitates network opportunities with the right experienced people while gaining knowledge of the technical solutions available. Floating Wind Solutions' mission is to utilize this platform to bring together the many critical players within the wind and offshore industries enabling accelerated adoption of Floating Wind Energy globally. This premier event's primary goal is to accelerate the Energy Transition, by focusing on the industrialization and commercialization of Floating Wind Energy. A world class Advisory Board ensures that the program maintains its sharp focus on the principles of the mission.
Exceptional growth in the harvesting of Floating Wind Energy will be reliant upon the technology and experience of companies historically focused on the offshore Supply Chain. With few exceptions, these companies are the only ones who have ever designed, constructed or installed permanently moored structures of any kind. In addition, traditional Major Offshore Energy Operators are leading investors, developers and operators of Floating Wind Energy Projects.

FWS '22 – Houston Marriott Marquis

FWS '22, was a record-breaking event and the largest Floating Wind event held in the US! The highly regarded Technical Program saw 46 presentations from leading Developers and Supply Chain companies committed to the development of this industry worldwide.
March 1-3 saw over 600 in-person, executive-level delegates from 300 different companies (20 Countries & 26 states), all committed to creating solutions to "Drive Full-Scale Commercialization Globally."
As the global energy hub, Greater Houston accounted for 50% of this year's attendees. The remaining 50% was evenly distributed between Europe and North America, with a few notable delegates from India, UAE, Japan, Columbia and Brazil.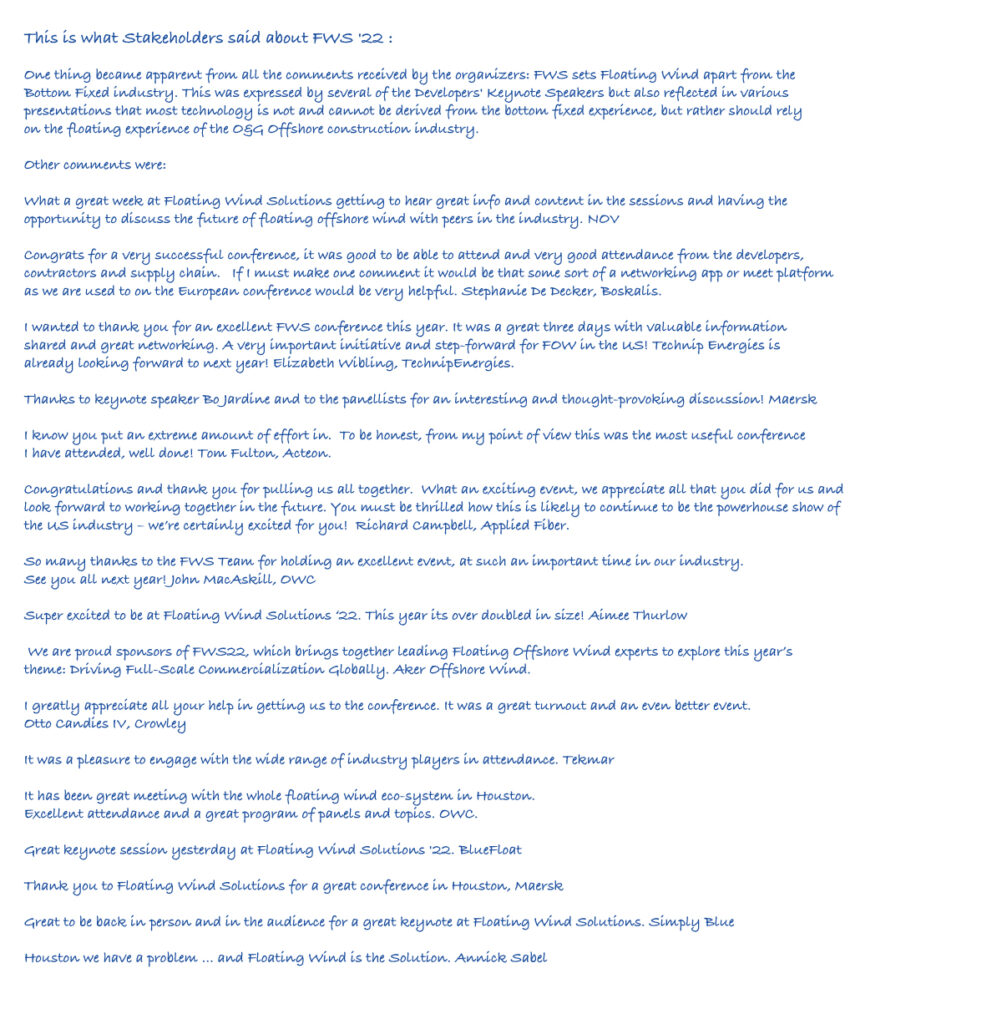 Follow UpstreamCalendar.com for an oil and gas events list of upcoming industry events. Upstream Calendar was created to help the industry to synchronize by providing a free lookahead for KEY industry events across the country. We focus on non-profit support, community, and industry specific 2022 Oil and Gas trade shows and conferences for Upstream, Subsea, Offshore, Downhole, Cementing, Completions, Fracking, Pumping, MUD, etc. We are FROM Upstream, FOR Upstream and believe in Networking With A Purpose. We put all streams of energy together as the original Energy Calendar. This event is at NRG and for a full list of NRG Events Calendar follow us on our other pages. Midstream Calendar, Downstream Calendar and this one Upstream Calendar. The Energy Calendar official – sharing All Streams of Energy. Allstream Energy Partners.
2023 Oil and Gas Events
About our Media Partner Spectrum Camera Solutions:

Spectrum Camera Solutions manufactures a full range of globally certified Explosion Proof camera systems to monitor any hazardous area. Founded in 2012, Spectrum Camera Solutions has an unparalleled background as a world leader in hazardous area vision systems for process, security, and safety, creating a new range of Explosion Proof cameras based on durable materials, innovative engineering, and operational excellence.
Designed and Manufactured in USA
NDAA Compliant & FM Approved
Spectrum Camera Solutions Explosion Proof Camera products are designed and manufactured in the USA. As a leader with a reputation for creating exciting and reliable hazardous area products, we pride ourselves in delivering outstanding execution from R&D to production as an ISO9001 & ISO14001 certified company.
Award Winning Manufacturer
As a committed leader to excellence and quality, Corporate Vision and Corporate Energy has recognized Spectrum Camera Solutions for our class-leading hazardous area products.
Being at the forefront of innovation and safety, Spectrum Camera Solutions is setting the benchmark for engineering excellence. Unique to the market, Spectrum's series of Explosion Proof Cameras utilize the latest technology available in the security camera market integrated into our dual patented housings designed to withstand harsh environmental conditions and certified for hazardous areas.