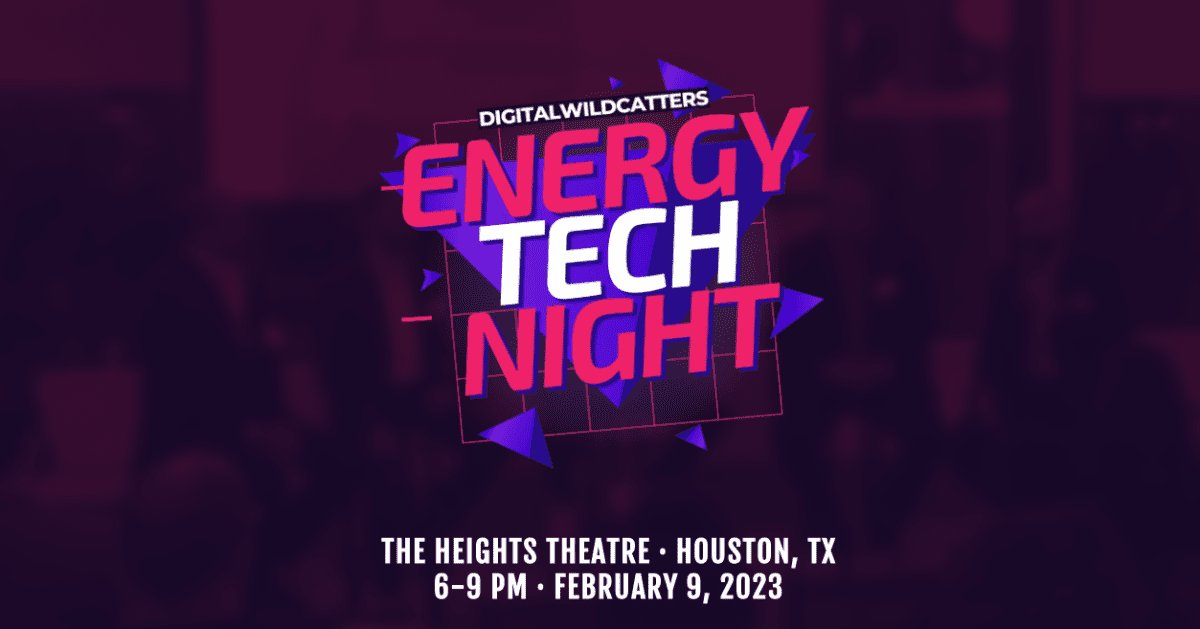 2023 Digital Wildcatters Energy Tech Night Feb 9th – Houston
This Event Reminder is Sponsored by:
A MEETUP FOR THE ENERGY TECH AND DIGITAL INNOVATION LEADERS.
Startups, energy innovators, venture groups, and the finance community all come together to catch up on the latest in energy innovation and emerging tech.
Each Energy Tech Night offers insights from energy experts and rapid-fire pitches from startups offering solutions for the energy challenges of today and tomorrow.
Cool people, cool startups, and good beer all under one roof.
Interested in getting involved? Fill out the application to showcase your technology.February 9, 2023Thursday
06:00 PM Door Open + Networking
07:00 PM Interview
07:20 PM Tech Demo #1
07:30 PM Tech Demo #2
07:40 PM Tech Demo #3
07:50 PM Tech Demo #4
08:00 PM Tech Demo #5
08:10 PM Tech Demo #6
08:20 PM Voting | Startups Go Head-To-Head!
08:30 PM Drinks + Networking
Follow UpstreamCalendar.com for upcoming industry events. Upstream Calendar was created to help the industry to synchronize by providing a free lookahead for KEY industry events across the country. We focus on non-profit support, community, and industry specific 2022 Oil and Gas trade shows and conferences for Upstream, Subsea, Offshore, Downhole, Cementing, Completions, Fracking, Pumping, MUD, etc. We are FROM Upstream, FOR Upstream and believe in Networking With A Purpose. We put all streams of energy together as the original Energy Calendar. This event is at NRG and for a full list of NRG Events Calendar follow us on our other pages. Midstream Calendar, Downstream Calendar and this one Upstream Calendar. The Energy Calendar official – sharing All Streams of Energy. Allstream Energy Partners.
2023 Oil and Gas Events
Email Efrain@AllstreamEP.com to get involved.
2023 Oil and Gas Events Houston
2023 New Energy and Oil and Gas Houston
2023 Oil and Gas Executive Conferences