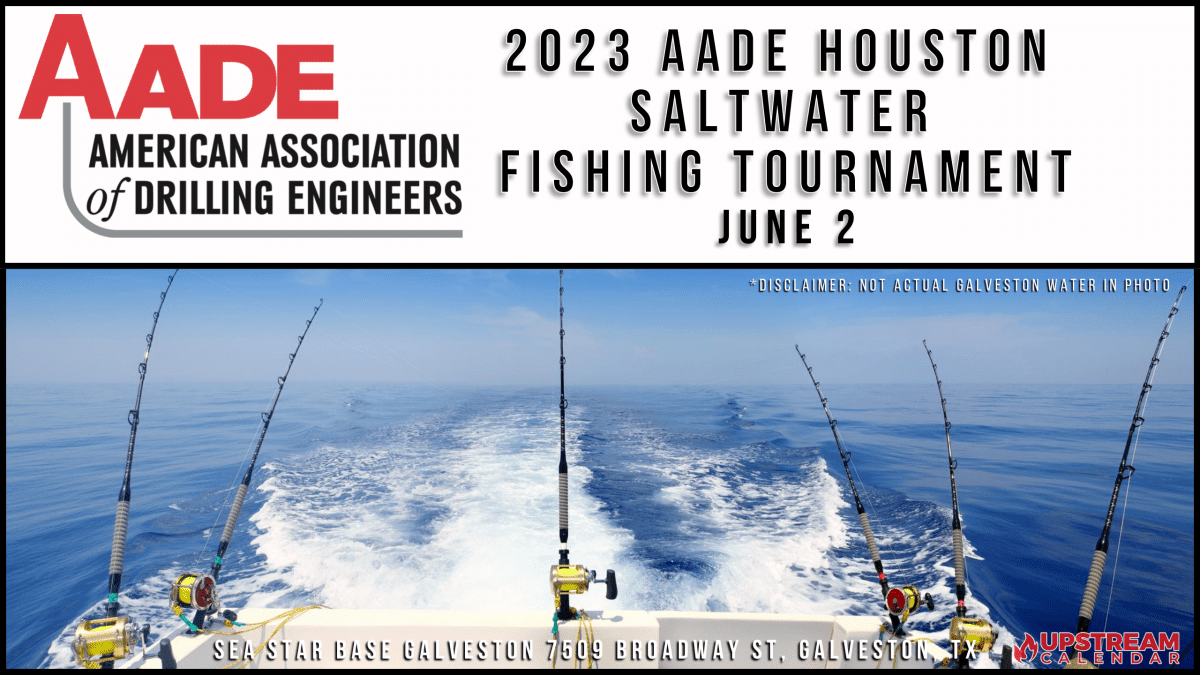 Register Now for the 2023 AADE Houston Saltwater Fishing Tournament June 2 – Galveston
This Event Reminder is Sponsored by:
This is a Save The Date for the 2023 AADE Houston Saltwater Fishing Tournament. It will be at Galveston Sea Star Base. REGISTRATION is now Live.
AADE Saltwater Fishing Tournament – June 2, 2023
29th Annual AADE Houston Chapter Saltwater Fishing Tournament – R.T. Riggle, Sr. Fishing Classic to be held at The Sea Star Base Galveston on Friday, June 2, 2023.
Team Entry is $200 per fisherman. A team consists of 2 registered fisherman up to a maximum of 6 registered fishermen. Only one team per boat.
Wristband Entry is $200: Non-fishing participants must purchase a wristband to attend. You will be eligible for door prizes!
AADE Houston Membership Link: https://app.associationsphere.com/mOXbg
PARKING SHUTTLE to run from Venue Parking Lot to Sea Star Base during event hours. Pick up from the parking lot at the designated Tent Area. Follow the signs. No onsite parking.
Schedule of Events:
Thursday, June 1, 2023
Registration 3-7:30 PM at Sea Star Base Galveston
Meal 4-7 PM Sponsored by Encino Environmental Services
Drinks provided by the sponsors
50/50 Raffle – Cash Only
Major Prize Raffles – 2 Guns & Louis Vuitton (see below)
Sunset Cruise provided by Baywatch Dolphin Tours
Friday, June 2, 2023
Tournament Fishing 6 AM – 4 PM
50/50 Raffle – Cash Only (all day until 6 p.m.)
Major Prize Raffle – 2 Guns & Louis Vuitton (see below)
Weigh-In 2-5 PM at Sea Star Base Galveston
San Luis Safe Ride Shuttle (at back entrance of hotel from 3:30 until event end)
Meal 3:30-6 PM Sponsored by Advanced Safety Training
Awards Ceremony 6 PM in the Commodore Room (5th floor) at SSB. Must be present to win door prizes.
This is to help plan and budget for Upcoming Oil and Gas Charity Events across the country. Download the iCal and set your reminder to come back. As soon as registration comes out, we will publish it here.
Follow UpstreamCalendar.com for upcoming industry events. Upstream Calendar was created to help the industry to synchronize by providing a free lookahead for KEY industry events across the country. We focus on non-profit support, community, and industry specific 2022 Oil and Gas trade shows and conferences for Upstream, Subsea, Offshore, Downhole, Cementing, Completions, Fracking, Pumping, MUD, etc. We are FROM Upstream, FOR Upstream and believe in Networking With A Purpose. We put all streams of energy together as the original Energy Calendar. This event is at NRG and for a full list of NRG Events Calendar follow us on our other pages. Midstream Calendar, Downstream Calendar and this one Upstream Calendar. The Energy Calendar official – sharing All Streams of Energy. Allstream Energy Partners.
2023 Oil and Gas Events