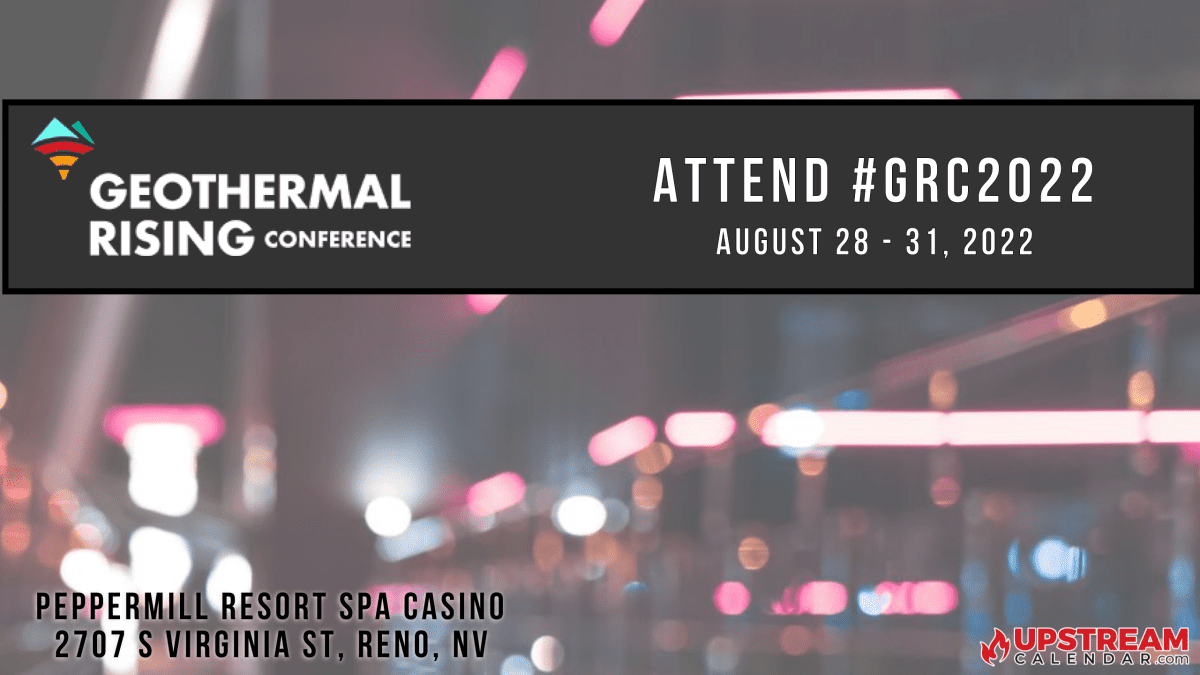 Register Now for 2022 Geothermal Rising Conference (GRC) AUGUST 28-31, 2022 RENO, NEVADA
This Event Reminder is Sponsored by:

About
Join us for the 2022 Geothermal Rising Conference (GRC) – the largest annual gathering of the geothermal community!
The GRC is the geothermal industry's flagship annual conference, reflecting the global nature of the geothermal industry and bringing together people in industry, academia, government, and the general public. Here we build relationships, discuss our opportunities and challenges, educate on the latest technologies and innovations, and inform people outside our community about geothermal energy.
The conference highlights the width and breadth of the community we have in geothermal energy spanning science, engineering, social-economics, and government, and highlights the eclectic mix of people that are involved: students, corporate entrepreneurs, politicians, professionals and researchers. We also encourage anybody interested in renewable energy to register for the GRC to learn more about the most important clean energy that will form the backbone of society's energy transition by providing 24/7 always-on electricity and heat management.
The conference offers technical, policy, and market sessions, educational seminars, tours of geothermal and renewable energy projects, and numerous networking opportunities. Our premier technical program highlights the importance of geothermal in the energy mix, not just in electricity generation but also in direct use of heat for district heating and industrial applications, and geothermal heat pumps in residential and commercial buildings.
The Expo presents exhibitors with the opportunity to maximize their exposure at the largest annual geothermal gathering in the world. It provides ample opportunities for engaging with partners and clients. It features a unique opportunity for leaders in the geothermal energy sector to showcase their projects, services and state-of-the-art technology and equipment to the geothermal community.
The GRC is a gathering of our community and our membership. It's an opportunity for everybody to engage, to learn, to do business, and to contribute to the direction of the geothermal industry.
We hope you will join us for this year's Geothermal Rising Conference!
Follow UpstreamCalendar.com for upcoming industry events. Upstream Calendar was created to help the industry to synchronize by providing a free lookahead for KEY industry events across the country. We are the original energy calendar and focus on non-profit support, community, and industry specific 2022 Oil and Gas trade shows and conferences for Upstream, Subsea, Offshore, Downhole, Cementing, Completions, Fracking, Pumping, MUD, etc. We are FROM Upstream, FOR Upstream and believe in Networking With A Purpose. We are a global network of oil and gas professionals that bring all streams of energy together.
Email Ops@MidstreamCalendar.com to get involved.
2022 Oil and Gas Events