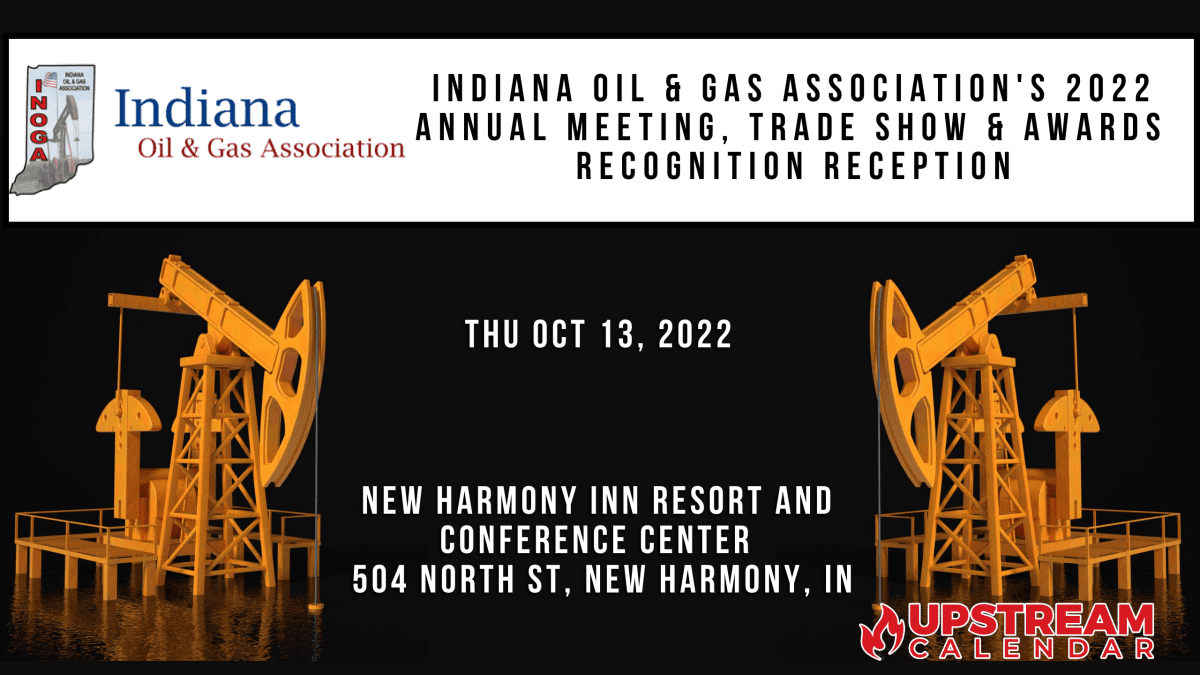 2022 Indiana Oil and Gas Association Annual Meeting, Trade Show & Awards Recognition Reception -Oct 13, 2022
This Event Reminder is Sponsored by:

​Indiana Oil & Gas Association's 2022 Annual Meeting, Trade Show & Awards Recognition Reception
Thu Oct 13, 2022
​Location: New Harmony Inn Resort and Conference Center, 504 North St., New Harmony, IN 47631
For more information:​
Contact: Stacee Dover
Phone: 812-838-8135 Email: stacee.dover@countrymark.com
AGENDA:
9:00 AM – 11:45 AM Coffee Break: Registration and Networking
10AM-11AM Indiana Oil and Gas Association Board of Directors Meeting
11:30 AM Invocation & Pledge of Allegiance Michael Payne
11:35 – 11:45 AM Lunch Service
11:55 AM
President's Welcome Brandi Stennett, INOGA President
Welcome to Associations Chuck Venditti, INOGA Vice President
12:00 PM Representative Matt Hostettler State of Indiana House of Representatives
12:10 PM Kevin Brinegar & Greg Ellis Indiana Chamber
Business Growth in Indiana and 2023 Indiana Legislation
12:55 PM Senator Mike Braun United States Senate
1:00 PM Dan Naatz Independent Petroleum Association of America
Global Issues & Election Overview Teaser
TECHNICAL SESSION PART 1
1:30 PM George Brown Ohio Oil and Gas Association
Educating Elected Officials
1:50 PM Senator Todd Young United States Senate
2:05 PM Jim Elder Illinois Oil and Gas Association
Illinois Oil and Gas Advisory Board Overview
2:20 PM Steve Weinzapfel Indiana Department of Natural Resources
Rules Status, DNR Updates, Federal Plugging Program
2:50 PM Break
Luncheon, Technical Sessions & Awards Reception
TECHNICAL SESSION PART 2
3:05 PM Eric Johnson Michigan Oil & Gas Association
EPA Methane Regulations and Methane Tax
3:35 PM Phil Flynn Fox Business Virtual
Markets Update & Election Perspective
3:55 PM Shawn Bailey Kentucky Oil & Gas Association
Pipeline Regulations Update
4:20 PM Nolen Moss Sensia Global
Digital Oil Field
4:45 PM Trade Show Hall Happy Hour and Exhibitor Giveaways
6:00 PM Reception Gathering
6:15 PM Key Note Speaker: Dan Naatz Independent Petroleum Association of America
Election Preview
7:30 PM Brandi Stennett, President Indiana Oil and Gas Association
Business Meeting & Awards Celebration
Follow UpstreamCalendar.com for upcoming industry events. Upstream Calendar was created to help the industry to synchronize by providing a free lookahead for KEY industry events across the country. We focus on non-profit support, community, and industry specific 2022 Oil and Gas trade shows and conferences for Upstream, Subsea, Offshore, Downhole, Cementing, Completions, Fracking, Pumping, MUD, etc. We are FROM Upstream, FOR Upstream and believe in Networking With A Purpose. We put all streams of energy together as the original Energy Calendar. This event is at NRG and for a full list of NRG Events Calendar follow us on our other pages. Midstream Calendar, Downstream Calendar and this one Upstream Calendar. The Energy Calendar official – sharing All Streams of Energy. Allstream Energy Partners.
2022 Oil and Gas Events