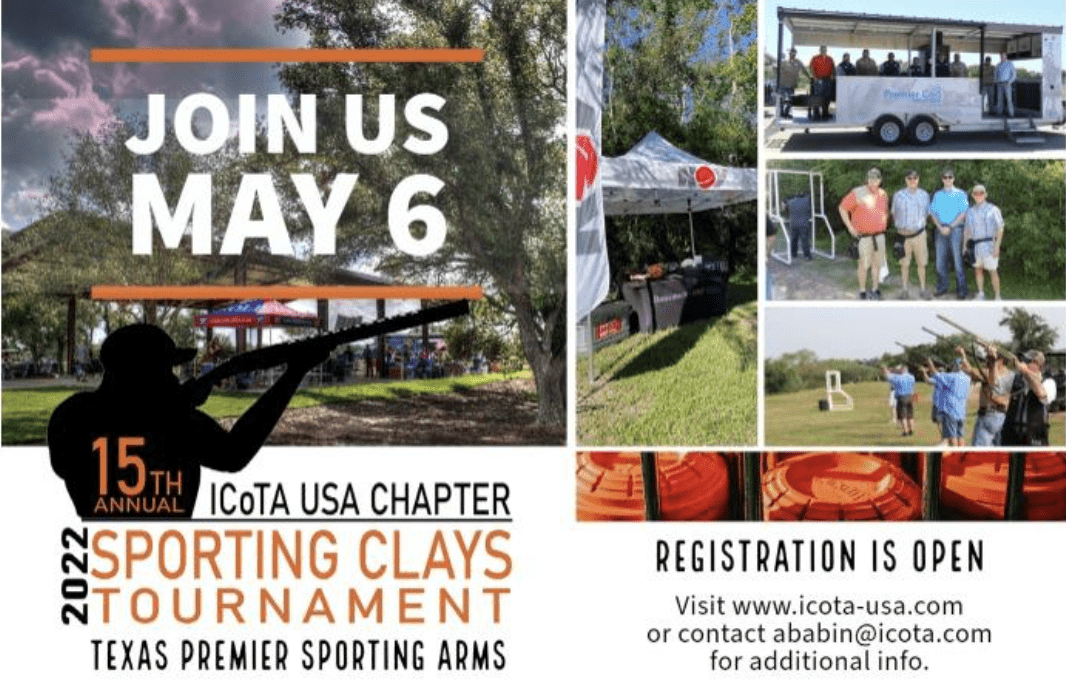 Register Here for the 15th Annual ICoTA USA Chapter Sporting Clays Tournament May 6th – Houston
This Event Reminder is Sponsored by:

Make plans now to join us on Friday, May 6, 2022 for our 15th Annual ICoTA USA Chapter Sporting Clays Tournament! This popular event will take place at the beautiful Texas Premier Sporting Arms in Sealy, Texas.
To celebrate our 15th annual event, participants will receive a one-of-a-kind, hand-crafted gift sponsored by legacy sponsors Global Tubing, Spooltech and NOV. You won't be disappointed!
Participants will start the day networking over breakfast and coffee, followed by friendly competition on 3 courses and finally end the event with awesome prizes and awards while enjoying a great time of networking and an amazing lunch.
Don't miss out on this great opportunity for a day of fun, food, friendly competition! This tournament sells out quick so gather your team and register.
TEAM & SPONSORSHIP FEES
Team Fees
4-Man Team – $800
Cart(s) – $135
Sponsorship Packages – All sponsors will receive recognition on banners, all printed and electronic materials, LinkedIn as well as logo placement on the website and recognition during the awards ceremony and lunch. See the event form for additional information. *Limited item. Please check availability.
Sponsorships with Team(s)
Course Sponsor (3 teams/carts) $4,350
Platinum Sponsor (2 teams/carts) $2,250
Gold Sponsor (1 team/cart) $1,200
Food & Beverage Sponsorships
Breakfast Sponsor *

ICoTA provides – $750 or
Sponsored Cooker – No Charge

Lunch Sponsor SOLD
Drink Sponsor – SOLD
Station Sponsor – No Charge
Other Sponsorships
Entry Sponsor – SOLD
Trophy Sponsor – SOLD
Safety Sponsor $2,250
Team Photo Sponsor $2,400 SOLD
Square Sponsor $500
Cart Sponsor $500
Volunteer T Sponsor $500 *
Gun Cleaning Station Sponsor No Charge SOLD *
Shooter Bag Sponsor (bag and/or swag) No Charge
Each team requires at least one 2022 ICoTA USA Chapter member. If there are no members on your team, a $50 membership fee for the team captain will be automatically added.
To renew or become a member, click here or simply add it on the registration form. If you are unsure, contact us.
---
PRIZES & GUN SQUARES
Gun Giveaway – 1 in 4 Chance of Winning
We will be giving away 1 gun per team! Winners will be announced during lunch and must be present to win. We will have several people helping with the FFL paperwork so we ask that you please be patient. Additional information and rules can be found on the registration packet.
Gun Squares
As always, we will have some great guns onsite!
Les Baer 45
Savage 110 Tactical Rifle w/Optics
Ruger GP 100 Revolver
Ruger Precision Rifle 22 Mag
---
Volunteers / Trappers
We simply couldn't do it without volunteers! So if you are interested, want to hang out with 300 of your peers, hold the most important job of the day, get prizes and free food, contact us or call 936-520-1549.
No experience? No worry! It's easy and there will be a quick trapping lesson prior to kickoff. You'll also be entered into several Volunteer Only prize drawings!
Follow UpstreamCalendar.com for upcoming industry events. Upstream Calendar was created to help the industry to synchronize by providing a free lookahead for KEY industry events across the country. We focus on non-profit support, community, and industry specific 2022 Oil and Gas trade shows and conferences for Upstream, Subsea, Offshore, Downhole, Cementing, Completions, Fracking, Pumping, MUD, etc. We are FROM Upstream, FOR Upstream and believe in Networking With A Purpose.
Email Ops@MidstreamCalendar.com to get involved.
Follow for:
2022 Oil and Gas Events Houston
2022 Oil and Gas Events Texas
2022 Oil and Gas Executive Conferences
About our Media Partner Spectrum Camera Solutions:

Spectrum Camera Solutions manufactures a full range of globally certified Explosion Proof camera systems to monitor any hazardous area. Founded in 2012, Spectrum Camera Solutions has an unparalleled background as a world leader in hazardous area vision systems for process, security, and safety, creating a new range of Explosion Proof cameras based on durable materials, innovative engineering, and operational excellence.
Designed and Manufactured in USA
NDAA Compliant & FM Approved
Spectrum Camera Solutions Explosion Proof Camera products are designed and manufactured in the USA. As a leader with a reputation for creating exciting and reliable hazardous area products, we pride ourselves in delivering outstanding execution from R&D to production as an ISO9001 & ISO14001 certified company.
Award Winning Manufacturer
As a committed leader to excellence and quality, Corporate Vision and Corporate Energy has recognized Spectrum Camera Solutions for our class-leading hazardous area products.
Being at the forefront of innovation and safety, Spectrum Camera Solutions is setting the benchmark for engineering excellence. Unique to the market, Spectrum's series of Explosion Proof Cameras utilize the latest technology available in the security camera market integrated into our dual patented housings designed to withstand harsh environmental conditions and certified for hazardous areas.