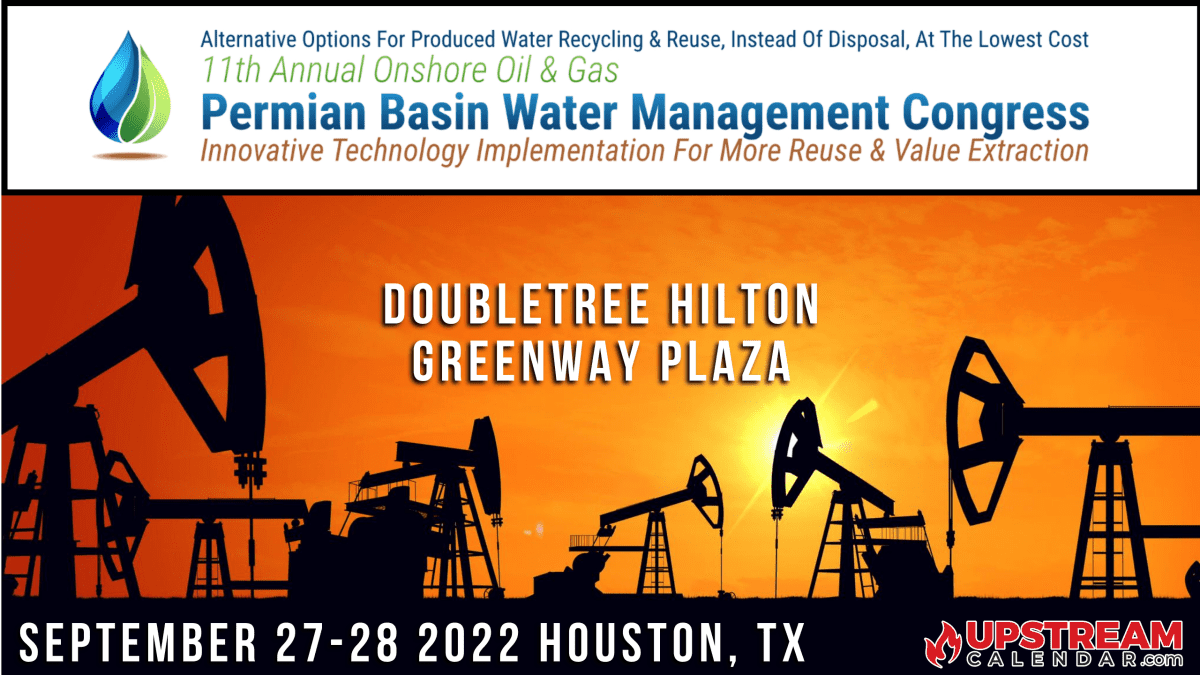 11th Annual Onshore Oil & Gas Permian Basin Water Management Congress Sept 27, 28th – Houston
This Event Reminder is Sponsored by:
DAY 1 – ALTERNATE SOLUTIONS TO MINIMIZE SUBSURFACE WATER DISPOSAL
"Dispose Of Less & Reuse More" – Operator Strategies, Regulatory Policies & Solutions To Minimize SWD & Identify Commercially Viable Alternatives
Realizing The Economic Value Of Key Minerals & Chemicals In Produced Water That Could Be Extracted & Sold
Innovative Technology Implementation To Economically Convert Produced Water For Beneficial Reuse In Sectors Outside Oil & Gas Including Agriculture, Manufacturing (Rare Earths & Raw Minerals Extraction) Industrial (Water Cooling & Power Applications) & More Long Term, Hydrogen Economy Development
DAY 2 – OPTIMIZING SUBSURFACE DISPOSAL & IMPROVING OPERATIONAL EFFICIENCY
Sharing Operator Led Solutions On Addressing Seismic Occurrences
Partnering With Regulators To Tackle Seismicity Without Reducing Production Rates
Innovations In Subsurface Disposal To Further Increase Capacity
Addressing Key Operational Challenges Of Utilizing Increasing Volumes Of Water For Fracs
Standardizing Water Qualities & Identifying Tertiary Treatment Solutions
Follow UpstreamCalendar.com for upcoming industry events. Upstream Calendar was created to help the industry to synchronize by providing a free lookahead for KEY industry events across the country. We are the original energy calendar and focus on non-profit support, community, and industry specific 2022 Oil and Gas trade shows and conferences for Upstream, Subsea, Offshore, Downhole, Cementing, Completions, Fracking, Pumping, MUD, etc. We are FROM Upstream, FOR Upstream and believe in Networking With A Purpose. We are a global network of oil and gas professionals that bring all streams of energy together. Follow us for upcoming oil and gas events.
Email efrain@allstreamep.com to get involved.