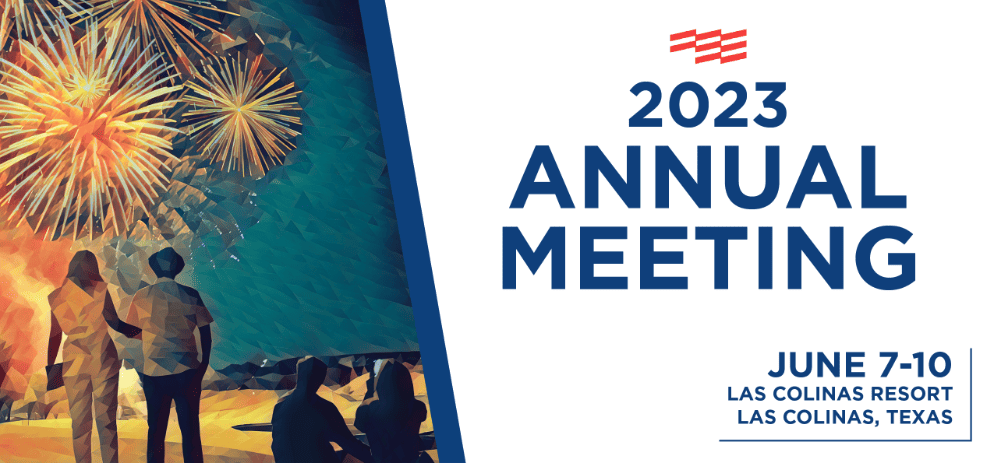 Register Now for The Petroleum Alliance 2023 Annual Meeting June 7 – 10 – Las Colinas, TX
This Event Reminder is Sponsored by:

The Petroleum Alliance's biggest event of the year returns to the former Four Seasons Resort in Las Colinas, Texas, in 2023. Now, the Las Colinas Resort Dallas, is undergoing a $55 million transformation into a Ritz-Carlton property. Although the venue's makeover will be ongoing throughout 2023, Alliance and hotel staff are working together to ensure Annual Meeting attendees receive the same level of service and standards they have come to expect.
The Annual Meeting features three days of industry speakers, networking opportunities, exhibitors, and a whole lot of fun. Attracting hundreds of industry professionals, the Annual Meeting is one of the largest conferences in the nation hosted by a statewide oil and gas organization.
The conference begins with the Wildcatter Swing Golf Scramble followed by the Wildcatter Welcome Party. Both events are open to all Annual Meeting attendees and will be followed by a spectacular fireworks display from our friends at INSURICA.
Two days of business sessions and networking events follow. Event highlights include Casino Night, the keynote lunch, and the Sporting Clays Classic tournament held at one of the region's premier shooting clubs.
The Petroleum Alliance Annual Meeting is THE can't-miss affair for Oklahoma's oil and natural gas professionals. There is no other meeting that compares to the Alliance Annual Meeting for putting you and your company face-to-face with the decision-makers of the Oklahoma energy community.
AGENDA
Here's what's scheduled for the event.
June 7, 2023
Scotty Turner Sporting Clays Classic – FOURSOME Elm Fork Shooting Sports
1:00 PM-5:00 PM
Scotty Turner Sporting Clays Classic – INDIVIDUAL  Elm Fork Shooting Sports
1:00 PM-5:00 PM
June 8, 2023
Exhibitor Set up
10:00 AM-10:00 PM
Wildcatters Swing Scramble – Individual
11:00 AM-5:30 PM
Golf Tournament
Wildcatters Swing Scramble – Team
11:00 AM-5:30 PM
Wildcatters Welcome Party
6:30 PM-8:30 PM
INSURICA After Party
9:00 PM-10:30 PM
June 9, 2023
Breakfast
7:30 AM-8:30 AM
Registration Open
7:30 AM-11:30 AM
General Sessions
8:30 AM-12:15 PM
Board of Directors Meeting
12:30 PM-2:30 PM
Cocktail Reception
5:30 PM-7:00 PM
Registration Open
5:30 PM-8:00 PM
Neon Cowboy Casino Party
7:00 PM-10:00 PM
June 10, 2023
Registration Open
7:30 AM-11:30 AM
Breakfast
7:30 AM-9:00 AM
General Sessions
8:30 AM-11:30 AM
Keynote Luncheon
11:30 AM-1:00 PM