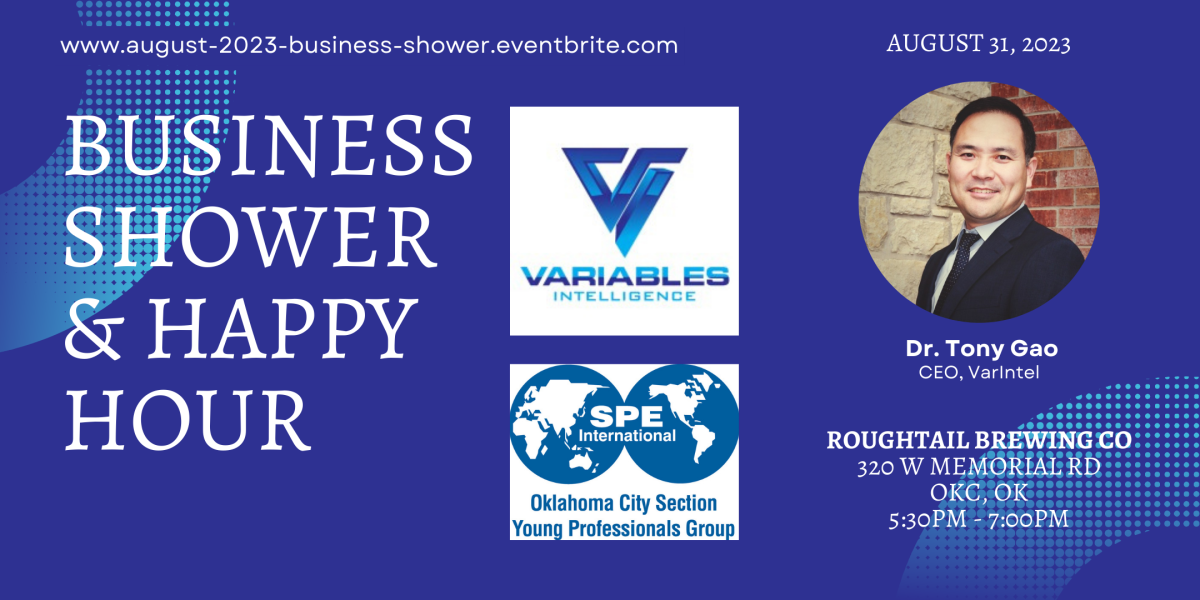 Register now for the SPE OKC Section Young Professionals Business Shower and Happy Hour August 31, 2023 – OKC
This Event Reminder is Sponsored by:
This month we will feature Dr. Tony Gao, the Chairman and CEO of VarIntel. VarIntel is formed to revolutionize the way O&G operators model and approach data, leveraging the power of Artifical Intelligence and Machine Learning to drive efficiencies and deliver high-accuracy results by streamlining and simplifying the modeling process.
With more than two decades of professional experience in the energy sector, Dr. Gao is recognized for his contributions to oil and gas operations, technological innovations, digitalization of oil & gas processes, and efforts in decarbonization. Prior to establishing VarIntel, Dr. Gao held prominent roles at Fortune 500 companies including Baker Hughes, GE Oil & Gas, and China National Petroleum Corporation. His educational background is robust, holding both an MS and Ph.D. in petroleum engineering, and an EMBA in Energy."
Dr. Gao will talk 15 min about his career, followed by a short Q&A. Then the idea is the rest of the time to mingle and spend time with the speakers and your peers.
2 drinks will be provided per attendee.
Contact: Phil Piplits – phil@phxmin.com
Location: Roughtail Brewing Co 320 W Memorial Rd. OKC, OK 73114
Date: August 31, 2023
Time: 5:30pm – 7:00pm
Organization: Society of Petroleum Engineers – Young Professionals