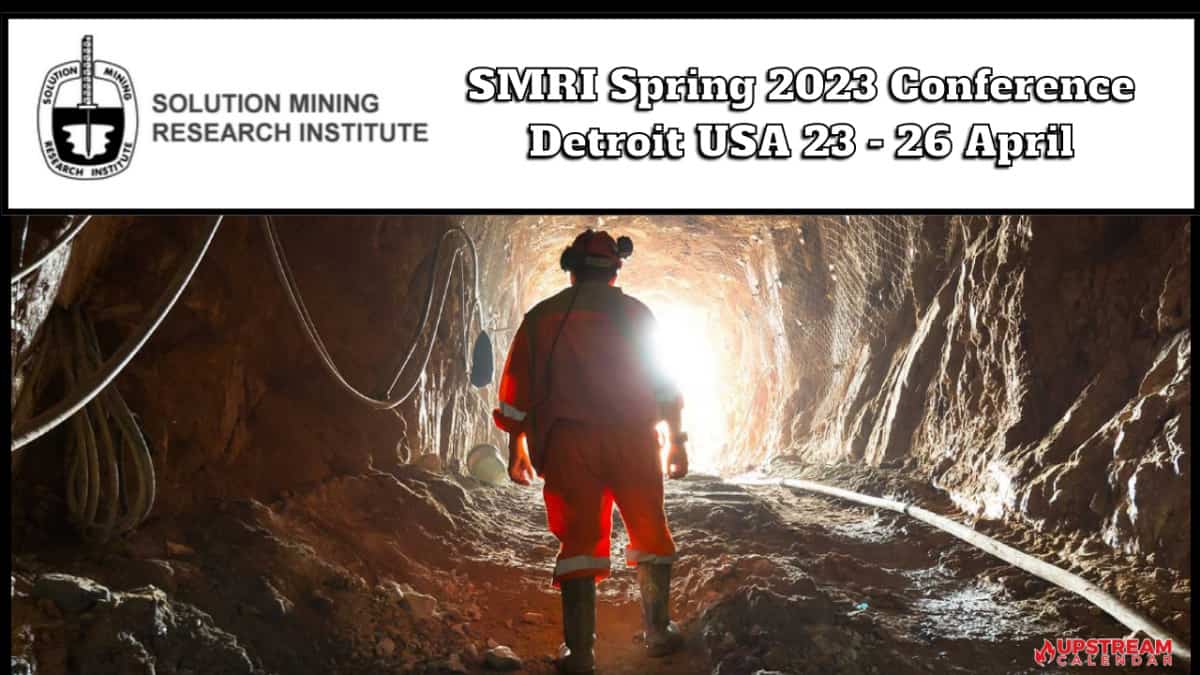 Register Now for the Solution Mining Research Institute SMRI Spring Conference April 23-26 – Detroit
This event reminder is sponsored by:

About SMRI
The Solution Mining Research Institute (SMRI) was established in 1965 as a venue for the solution mining and underground storage industries to provide technical forums, educational presentations, classes, and discussions. Additionally, SMRI directs research efforts that can provide answers, improve mineral resource utilization, promote safe and environmentally sound operations, and help utilize caverns in the most beneficial ways.
SMRI is a non-profit research and educational organization with membership spanning the globe. SMRI welcomes participation by operators, researchers, suppliers, consultants, educators, government regulators, students, and others with interest in solution mining and cavern utilization. The organization has focused on the education of current and future industry participants and research specific to the industry needs and challenges.
Education
Through our conferences, website, and online library, our goal is to facilitate technical discussion and advancement. SMRI's technical library contains over 3,700 papers relating to cavern storage, salt characteristics, and rock mechanics. The library is available for free to our membership, and individual papers can be purchased by non-members.
Research
SMRI plans, performs, and supports research projects with potential to improve our industry. SMRI presented a paper at World Salt X (2018), that highlighted some of the recent research projects SMRI has funded. SMRI is currently working on funding for hydrogen-based storage projects, other storage cavern topics, and salt-based projects.
Membership dues for SMRI helps to fund these projects, so please join the organization to advance the technologies and understanding of the cavern storage industry. Thank you to our members for your continued support.
ABOUT THE CONFERENCE:
The SMRI Spring Call for Papers is now available and contains basic information regarding the upcoming event. Abstracts for papers, sent via email to the Program chair at klooff@unitedbrine.com, are due by 20 January 2023. Authors of accepted papers will be notified by 3 February 2023, and final copies of the accepted papers will be due by 10 March 2023.
Conference Schedule
23 April 2023 Technical Class
24 April 2023 8:00 am-10:00 am: Business Meeting (members only)
24 April 2023 Technical paper Presentation, day 1
25 April 2023 Technical paper Presentation, day 2
26 April 2023 Field Trips
(Additional Schedule to be presented in Conference Announcement)
For further technical paper program or author questions, please contact Program Chair 2023 – Kurt Looff, Phone 1-832-584-5182, Email kloof@unitedbrine.com.
Travel Information
The Conference will be held at the Detroit Marriott at the Renaissance Center, located on 400 Renaissance Dr. W., Detroit MI, 48243.
The closest airport to the Renaissance Center is the Detroit Metropolitan Wayne County Airport, it is approximately a 25 minute car ride to the hotel.
Field Trips
Two optional field trips are being planned as part of the technical conference, more information to be announced.
Conference Registration
On-line registration for members will begin on 15 February 2023. Non-membership registration will open on 15 March and all registration will close on 7 April. Any late registrations after 7 April will be charged a $250 late fee in addition to the conference fee, if space is available. Please contact Dawn (dawnl@solutionmining.org) regarding any questions about registration.
Sponsor Information
SMRI thanks our sponsors of the upcoming Spring 2023 Detroit SMRI Conference:
DIAMOND: Empire Wireline
PLATINUM: Sonic Surveys LTD | WSP USA
GOLD: Lonquist & Company LLC | RESPEC | Texas Brine Company, LLC
SILVER: Burns & McDonnell | KLX Energy Services | LANE Power and Energy Solutions, Inc. | Strata, LLC | SubTerra Engineering
BRONZE: Agapito Associates Inc. | Alpha Geological Services, D.P.C.| Cavern Solutions, Inc. | Sabine Storage & Operations | Seal-Tite International | SOCON Sonar Well Services
App Sponsor: Tiberius Energy Services, LLC
Additional Sponsorship opportunities available, Contact Dawn Langlinais at dawnL@solutionmining.org
Follow UpstreamCalendar.com for upcoming industry events. Upstream Calendar was created to help the industry to synchronize by providing a free lookahead for KEY industry events across the country. We focus on non-profit support, community, and industry specific 2022 Oil and Gas trade shows and conferences for Upstream, Subsea, Offshore, Downhole, Cementing, Completions, Fracking, Pumping, MUD, etc. We are FROM Upstream, FOR Upstream and believe in Networking With A Purpose. We put all streams of energy together as the original Energy Calendar. This event is at NRG and for a full list of NRG Events Calendar follow us on our other pages. Midstream Calendar, Downstream Calendar and this one Upstream Calendar. The Energy Calendar official – sharing All Streams of Energy. Allstream Energy Partners.
2023 Oil and Gas Events
Email Efrain@AllstreamEP.com to get involved.
2023 Oil and Gas Events Houston
2023 New Energy and Oil and Gas Houston
2023 Oil and Gas Executive Conferences