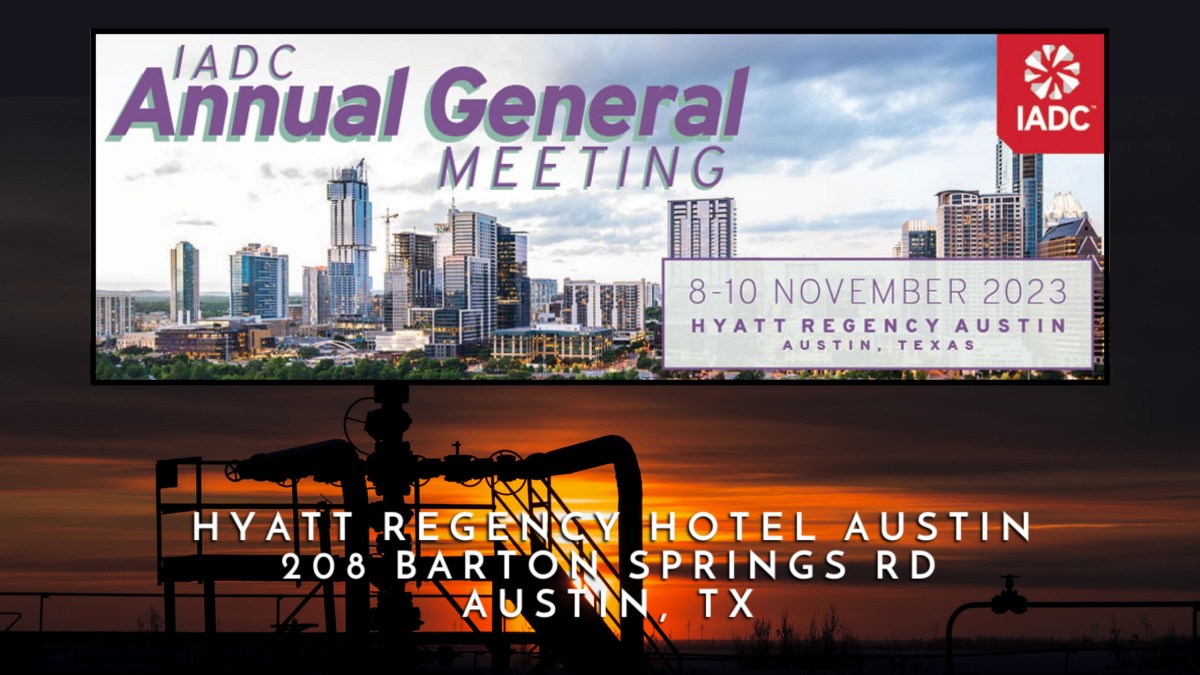 Register Now for the IADC Annual General Meeting November 8-10, 2023 – Austin
This Event Reminder is Sponsored by:

The IADC ANNUAL GENERAL MEETING is recognized as the keynote conference for the drilling industry and provides ideal networking opportunities for participants. It features prominent speakers from industry and government.
Wednesday, 8 November
8:30 – 11:00 am IADC North America Onshore Advisory Panel Meeting (Advisory Panel Members Only) Big Bend Ballroom
8:30 – 11:00 am IADC Offshore Advisory Panel Meeting (Advisory Panel Members Only) Hill Country C&D
10:00 – 11:00 am IADC Drilling Services Advisory Panel Meeting (Advisory Panel Members Only) Hill Country A&B
12:15 pm – 5:00 pm IADC Executive Committee Meeting (Executive Committee Members Only) Hill Country C&D
3:00 – 4:45 pm Registration Texas Ballroom Foyer
5:00 – 7:00 pm Welcoming Reception Sponsored by Enverus Zilker Terrace & Foyer
Attire: Business Casual, Entertainment: Spicy Loops
7:30 – 9:30 pm Networking Event Hosted by IADC's Young Professionals Committee
Il Brutto (1601 E. 6th Street | Austin, TX) RSVP Requested
7:45 am  Registration & Coffee Service Sponsored by Pason Systems  Texas Ballroom Foyer

8:20 am  HMH Keynote Breakfast  Texas Ballroom 1-3
Host: Bert Streetman, HMH
Moderator: Jason McFarland, IADC
Presentation of IADC Exemplary Service Award
IADC Exemplary Service Awards recognize individuals' notable for outstanding contributions to the drilling industry and to IADC. Recipients have, during their career, repeatedly demonstrated their commitment to improving the drilling industry and advancing its safety, training, or technology.

Ron Lee, VP Marketing & Contracts, Eastern Hemisphere, Noble Drilling Corporation
Ron serves as Vice President of Marketing and Contracts (Eastern Hemisphere) for Noble Drilling Corporation.  Previously he served as General Manager of Marketing and Contracts from November 2017, based in London, before assuming his current role as Vice President.  Mr. Lee joined Noble in January 2008 and served as Project Director of Eastern Hemisphere, based in Singapore, where he led Noble's newbuild projects until assuming the role of Director of Business Development in August 2011 to lead the Shell Alliance for Noble until transitioning to Director of Marketing and Contracts in April 2014.  Prior to joining Noble, Mr. Lee worked for SOFEC, Inc. (an FMC Technology subsidiary) from 1997 in various engineering and project management roles in FPSO newbuild projects, and was based in Houston, South Korea, and Eastern Canada.  He has over 26 years of offshore oil and gas experience.  Mr. Lee received a Bachelor of Science in Civil (Structural) Engineering from Texas A&M University, and a Master of Business Administration from Rice University.

Chris Menefee, President, Unit Drilling Company
Chris was appointed President of Unit Drilling Company in November 2020.  Prior to Unit, he spent over eight years in the U.S. land drilling business.  Chris began his career at Rowan Companies, Inc., where he worked for 15 years, holding many offshore and onshore operational and management roles, including Health & Safety Manager and Director of Sales & Marketing. Born and raised in Midland, Texas, he is a third-generation oil & gas professional. Chris graduated from The University of Mississippi in Oxford (Ole Miss) in 2000 with a Bachelor of Arts in Psychology.  In 2022, he earned a master's in business administration from the Edwin L. Cox School of Business at Southern Methodist University. Chris served as Chairman of the IADC's Houston Chapter for three years.  He is currently a Director of the IADC, sits on the Onshore Advisory Panel, and is a member of the association's Executive Committee.
Breakfast Keynote Address: Jason Gahr, Operations Manager – Unconventional Wells, ExxonMobil


Jason Gahr earned a Petroleum Engineering degree from Texas A&M University. He joined Mobil in 1998 and then ExxonMobil following the merger in 2000. Jason has worked in various roles across the drilling and completions spectrum.  He worked in operations leadership roles in Qatar, Russia, the U.S., and Canada.  Jason's work experiences have exposed him to a range of challenges and operations including extended reach drilling, HPHT drilling, completion and workover operations, land, offshore, and floating drilling operations, and arctic environments. Jason has also held technical leadership roles within ExxonMobil's global headquarters. Jason currently oversees drilling and completion operations across the ExxonMobil Unconventional portfolio as Operations Manager for Unconventional Wells. 
9:45 am  Coffee Service Sponsored by Pason Systems
Moderator: Linda Hsieh, IADC
10:00 am  Driving Change in the Approach to Mental Health  Texas Ballroom 4-7
Mental health is an essential component of overall health and well-being for everyone. So, how can companies provide better support for their workforce with respect to this essential component. What is mental health? How can we develop the necessary training? How can we prepare our leaders to identify an employee in crisis? How can we remove the stigma associated with mental health? The speakers will examine these questions and share what they are developing internally to benefit their workforce.
| | | |
| --- | --- | --- |
| | | |
| Dr. Marelize Sirgel, Company Medical Director,  Seadrill Ltd. | Neil Forrest, Vice President Operational Integrity, Seadrill Ltd. | Megan Moon, Head of HR Operations, Seadrill Ltd. |
11:00 am  Featured Address: Commissioner Dawn Buckingham, M.D., The Texas General Land Office


Dr. Dawn Buckingham brings a lifetime of experience to the office. She is committed to helping Texans after a disaster, supporting Texas energy, ensuring that every child in Texas receives a high-quality public education, serving Texas Veterans, and securing the border to keep our communities safe. She made history in 2016 as the first woman elected to the Texas State Senate from Travis County. Without slowing down, she made history again in 2022 when elected as the 29th, and state's first female Commissioner of the General Land Office, Texas' oldest state agency. Dawn embodies the American Dream. Through hard work, a "never-quit" attitude, and perseverance, she has risen above her circumstances. Becoming a self-made small business owner employing Texans, serving others in her profession and as an elected official, she has always given back to her community.

11:30 am  Annual General Meeting Luncheon
The luncheon will feature recognition of IADC officer nominees for 2024 and presentation of the 2023 IADC Chairman's plaque.
Moderator: Jason McFarland, IADC

Special Presentation: Presentation of the Permian Basin Chapter's Service Company of the Year Award.
| | |
| --- | --- |
| | |
| Jacob Bruster, Chair, IADC Permian Basin Chapter; Marketing Representative, Unit Drilling | Barret Zuskind, Chapter Vice Chair, President, Z-Tex Services |
Luncheon Keynote Presentation: John Sanclemente, Vice President, Wells, Chevron

John Sanclemente is the vice president of Wells for Chevron. He assumed the position in June 2023 and is based in Houston, Texas. John is responsible for all of Chevron's drilling, completions, and workover operations across the enterprise. Prior to his current role, John was the director of Talent Management where he led the development of Chevron's people strategy. In this position, he focused on his passion for developing one of Chevron's most valuable assets – its workforce. During his 35-year career at Chevron, John has built extensive knowledge of the Wells discipline. He has been general manager of Wells in the Gulf of Mexico and Nigeria, as well as Sr. Operations Manager for deepwater operations. His experience includes numerous positions of increasing responsibility in the U.S. and international locations across all of Chevron's asset classes.
Moderator: Angie Gunden, IADC
1:00 pm  Recruiting & Retention – New Ideas to Address Old Challenges
HR teams continue to face immense challenges when it comes to recruiting individuals into our industry…and retaining them. The competition is tough – prospects are lured to other industries with better work-life balance, work-from-home opportunities, and more positive reputations. This panel session will offer a mix of HR personnel and new industry employee perspectives on research findings, programs and initiatives that can help the industry address these challenges.
| | | |
| --- | --- | --- |
| | | |
| Amy Roddy, Senior VP Human Resources, Diamond Offshore Drilling | Bianca Richards Agar, HR Director, SLB | David LaRosa, Engineer – Associate Development Program, Patterson-UTI; former IADC Student Chapter President, Marietta College |
Moderator: Thad Dunham, IADC
2:00 pm  Drillers Outlook
Industry leaders representing land and offshore with US and global scope will share their views on key issues facing the contract-drilling industry from both a personal and company perspective.
| | | |
| --- | --- | --- |
| | | |
| Dan Hoffarth, CEO, Citadel Drilling Ltd. | Roddie Mackenzie, Executive Vice President Marketing and Innovation & Chief Commercial Officer, Transocean | Trent Latshaw, Founder & President, Latshaw Drilling Company |
3:00 pm  Coffee Service Sponsored by Pason Systems
Moderator: Bob Warren, IADC
3:15 pm An Election for the Ages: Previewing the 2024 Presidential Contest: Dr. Richard Murray, Professor, University of Houston


When an incumbent president seeks reelection, as Joe Biden plans to do in 2024, the ensuing General Election is normally a referendum on the current officeholder's performance. But a year before some 160 million Americans cast ballots in 2024, we are more likely looking at an election based on voters' assessment not so much of President Biden, but of former president Donald J. Trump. Mr. Trump is not only seeking to regain the office he lost four years earlier – a feat only accomplished by Grover Cleveland in 1892 – but doing so while under indictment for alleged federal and state crimes. Trials in four different venues loom over the next 12 months. Nothing like this has ever happened in the 236-year history of presidential elections. In a fundamental sense voters will be jurors next year, if, as now seems likely, the election comes down to a rematch of Trump v, Biden in November 2024. With no precedent for such a matchup, we are headed into uncharted waters over the next year as the spring primaries and the General Election campaigns unfold. This lecture will outline the general contours of this historic election and discuss some of the many possibilities that might come to pass over the next year. So, as Bette Davis said in the classic movie, All About Eve, "buckle your seat belts, it's going to be a bumpy ride.
Moderators: Liana Carnes, Transocean & Bill Pickering, Precision Drilling Corporation
4:00 pm Perspectives from the Next Generation of Oil & Gas Workers
IADC's Student Chapter program was started in 2017 when the need for a formal vehicle for engaging with the next generation of young professionals was identified. With the addition of two new Chapters this year, the program currently stands at a total of 16. During this session, students will offer their perspectives on expectations as they get closer to entering the workforce. What is an optimal work/life balance? What attributes are important to them in a future employer? What keeps them up at night when they think about joining the workforce? Join us to hear their perspectives on these topics and many more.
| | |
| --- | --- |
| | |
| Moderator: Liana Carnes, Transocean | Moderator: Bill Pickering, Precision Drilling Corporation |
| | |
| | | |
| --- | --- | --- |
| Clay Ostrander, University of Louisiana Lafayette | Cody Zayonc, University of Wyoming | Patrick Stapleton, Louisiana State University |
4:45-5:30 pm  IADC Board of Directors Meeting (IADC Directors Only)  Texas Ballroom 4-7
6:00 -8:00 pm  Annual General Meeting Reception  Texas Foyer/SWB

8:00 am  Registration & Coffee Service Sponsored by Derrick Corporation Texas Ballroom Foyer
Moderator: Jason McFarland, IADC
8:20 am  NOV Breakfast & Rig Census  Texas Ballroom 1-3


Host: Joe Rovig, President, Rig Technologies, NOV
NOV celebrates its 70th Annual Rig Census this year; Mr. Rovig will share the outcomes of this year's NOV Rig Census There will also be a review of the outcomes from focus group discussions with Drillers and Operators and their focus on Re-activation and Modernization of the fleet on both land and offshore rigs.
Presentation of the 2023 IADC Contractor of the Year
This annual award was established in 1988 to recognize an individual drilling contractor's outstanding lifetime achievement in technical innovation, safety, and economic efficiency within the drilling industry. The prestigious industry award is the only one reserved exclusively for drilling contractors. All recipients of the Contractor of the Year Award are nominated and selected by other drilling contractors who are IADC members.
Featured Address: Michael Collins, Senior VP, Deepwater, and Frontier Wells, Shell


Michael Collins is the Senior Vice President, Deepwater, and Frontier Wells, leading the drilling and wells teams in assets across the Gulf of Mexico, Brazil, Trinidad Tobago, and Egypt. This includes well delivery activities in Shell's frontier exploration ventures in West Africa and South America. Michael is a degreed Engineer in Mining from the University of New South Wales in Sydney, Australia. He has worked within the upstream oil and gas industry for 25 years. He began his career as a wells engineer and has held roles in offshore supervisory, engineering, project management and operations management. In addition to technical roles, Michael has had secondments in several Shell joint ventures, holding roles in corporate leadership, joint venture asset management and CEO capacities. Michael is also actively involved with industry bodies on safety, welfare, and standardization. Michael enjoys the challenges and rewards of supporting multi-cultural and multi-discipline teams in support of assets, countries, and communities. He has lived and worked globally with assignments in the Netherlands, Philippines, Namibia, Nigeria, Norway, Australia, Brunei, and Russia. He is passionate about building competitive teams to face the strategic issues facing the energy industry.
10:00 am  Coffee Service Sponsored by Derrick Corporation
Moderator: Tim McGarity, NOV
10:15 am Realizing the Vision for a Manless Rig Floor
Two leading industry experts will share insights on their companies' quests for fully automated and manless rig floors. They will share how multiple automation, AI and robotics technologies are being brought together to remove crews from red zones while delivering efficiency and consistency.

David Reid, CTO & CMO, NOV
David's life and career has focused on the development of people, business, technology, and culture. He has been a pioneer and champion of strategic growth in technology, business models, machine design, and industrial digitization. He is a global public speaker on innovation, change, and leadership, as well as being an advocate in addressing modern slavery. David currently serves on the University of Houston Energy Advisory Board, the National Ocean Industries Association, and Redeemed, a trauma informed recovery program for sex trafficking survivors. He has served on the IntelliServ JV with Schlumberger and NOV, the IADC and SPE boards in the past. David has written many published technical papers and magazine articles, with patents in drilling systems and automation. He has founded industry groups in technology, diversity and inclusion, a startup village, and RedM. A winning team member of the first Rockets and Rigs hackathon with a NASA patent-based start-up company, Permittivity, also serving as an advisor to their board.

Cameron Craig, VP Canrig Engineering & Manufacturing, Nabors
As Vice President of Canrig Operations, Cameron Craig is responsible for the oversight and performance of the Nabors subsidiary's global operations, its product lines, including the Energy Transition and TRUE Aftermarket divisions and Capital Equipment, which features the Red Zone Robotics (RZR) Rig Floor automation system. This modular rig floor upgrade enables hands-free pipe handling and removes crews from hazardous red zones. Craig is a registered professional engineer (Texas, USA) and a project management professional with over 20 years of experience in engineering and drilling operations and project management. He earned his bachelor's degree in electrical engineering from the University of Alberta, his master's degree in petroleum engineering from Texas A&M University and his Master of Business Administration from the Jones Graduate School of Business at Rice University.
11:00 am  Market Outlook
These highly regarded market specialists will provide perspective to current market trends and some guideposts to 2024 and beyond.

Jim Rollyson, Oilfield Service Analyst, Raymond James Financial Inc.
Jim Rollyson originally joined Raymond James' energy research team in 1996. He became a research analyst in 2000 and focused on the oilfield services sector during his tenure with the firm. After leaving in 2015 and spending seven years working at BlackGold Capital Management (an energy credit fund), Rollyson rejoined Raymond James in 2022 as director of oilfield services research. He graduated from the University of South Florida with a bachelor's degree in finance and a minor in economics.

Oddmund Føre, Head of Shipping and Offshore, Rystad Energy
Oddmund Føre is Head of Shipping and Offshore at Rystad Energy with a primary focus on shipping research, the offshore drilling market, and the vessel market. He holds a ship captain license and has worked in the commercial shipping industry. He also holds a degree from the Norwegian Naval Academy, having served in the armed forces.
Noon  Adjournment: Tim McGarity, NOV