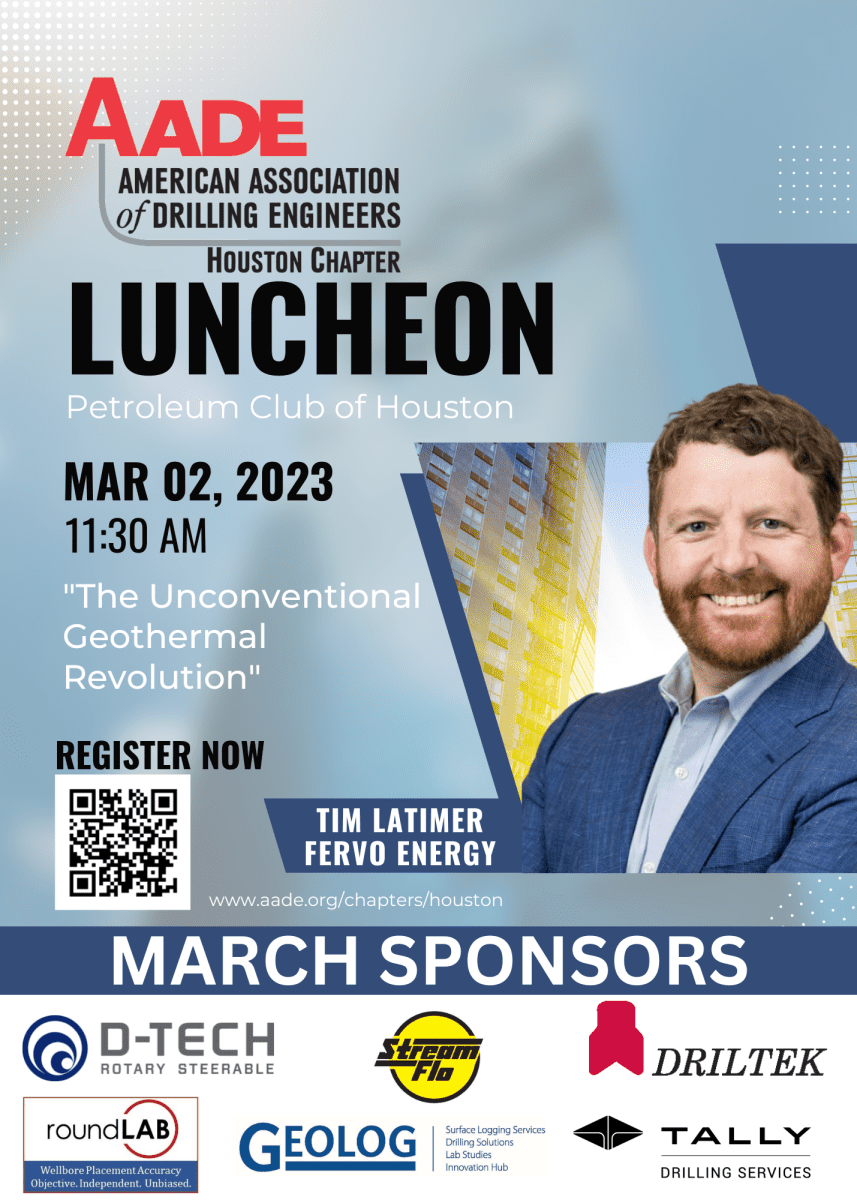 Register now for the AADE Houston Luncheon Meeting – Thursday, MAR 2, 2023
This Event Reminder is Sponsored by:

AADE Houston Chapter MARCH Luncheon Meeting.
Registration opens at 11:00 AM
Lunch served at 11:30 AM
Topic: "The Unconventional Geothermal Revolution"
Speaker: Tim Latimer, CEO – Fervo Energy
Cost: NOTE: You must sign into the portal to reflect member pricing.
Luncheon:
$40/Members and $50/Non-Members or Walk-ins
Table of 10: $400
Contact Carolyn Hendricks at aadecarolyn@att.net if you have any questions or dietary restrictions.
Parking:
Valet is priced at $15 per vehicle. Must have ticket validated at the meeting for this discounted rate. The club is connected to the downtown tunnel system. You may also park in any surrounding paid parking lot.
Sponsors:
Thank You Luncheon Sponsors: D-Tech Rotary Steerable, DRILTEK, GEOLOG, RoundLAB, Stream-Flo, and Tally Drilling
Sponsorships Available.
If you are interested in sponsoring a luncheon, please email aadecarolyn@att.net.
Follow UpstreamCalendar.com for upcoming industry events. Upstream Calendar was created to help the industry to synchronize by providing a free lookahead for KEY industry events across the country. We focus on non-profit support, community, and industry specific 2022 Oil and Gas trade shows and conferences for Upstream, Subsea, Offshore, Downhole, Cementing, Completions, Fracking, Pumping, MUD, etc. We are FROM Upstream, FOR Upstream and believe in Networking With A Purpose.
Email Efrain@AllstreamEP.com to get involved.
2023 Oil and Gas Events Houston
2023 Oil and Gas Events Texas