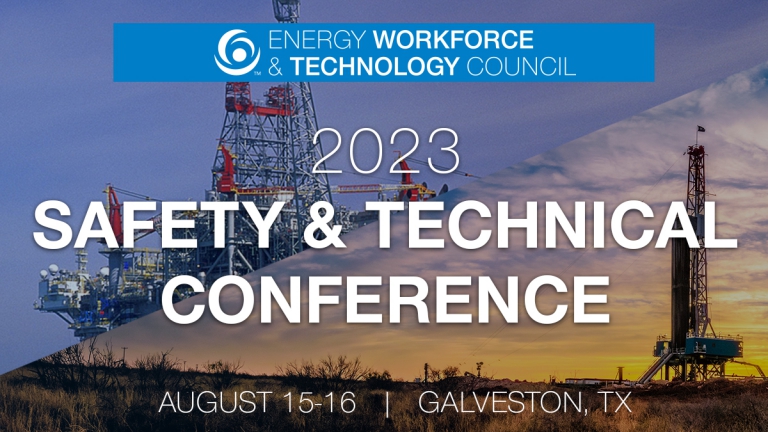 Register Now for the 2023 Safety and Technical Conference Aug 15, 16 by Energy Workforce and Technology Council – Galveston
This Event Reminder is Sponsored by:

Partnership and collaboration between services providers and operators is crucial for optimizing efficiency. Hear a discussion with Chevron, Continental Resources and Endeavor Energy Resources during the "Operators' Perspectives on Contractor Management" panel, exploring successes, challenges and what effective contractor management looks like during the 2023 Safety & Technical Conference. The hotel cutoff is JULY 21.
Member Company must have active 2023 status for personnel to attend.
Member Registration
Member registration is $1,100. Registration does not include hotel or optional activities.
Spouse/Guest Registration
Spouse/Guests of Member Company personnel are welcome to attend with a registration fee of $600.
Additional Activities
TUESDAY: Fishing Tournament, Welcome Reception, Auction
WEDNESDAY: Awards Breakfast, Reception
SPEAKERS INCLUDE:
Kevin Northcutt, Endeavor Energy Resources
Austin Harbour, Piper Sandler
R. Jason Hitchcock IV, Nine Energy Services
Elizabeth Rivers, Berkley Oil & Gas
Michael Smith, Permian Road Safety Coalition
Allen Hughes, Select Water Services
Rep. Randy Weber, R-TX-14, House Energy and Commerce Committee
Eric Draper, George W. Bush Presidential Photographer
Texas State Sen. Mayes Middleton, R-TX-11
Board Vice Chair Scott Livingston, NOV
Board Member Ron Gusek, Liberty Energy
Board Member Sam Sledge, ProPetro Services
Advisory Board Member Melissa Cougle, Ranger Energy Services
Advisory Board Member Matt Hooker,Ranger Energy Services
Advisory Board Member David de Roode, Lockton Global Energy & Transportation
Advisory Board Member Jim Wicklund, PPHB
Advisory Board Member Kevin McDonald, NexTier Oilfield Solutions
Edward J. Newman, Lockton Global Energy & Transportation
Gary Childress, Oil States International
Steve Vorenkamp, Vorenkamp Well Control Training
Join Energy Workforce for the 2023 Safety & Technical Conference August 15-16 at the Grand Galvez Hotel & Spa in Galveston, TX.
The annual Safety & Technical Conference spotlights industry experts who provide technical and operational content, discuss the challenges of today's market, and explore the opportunities in today's business climate. Recipients of the annual Safety Awards will be recognized at a special event.