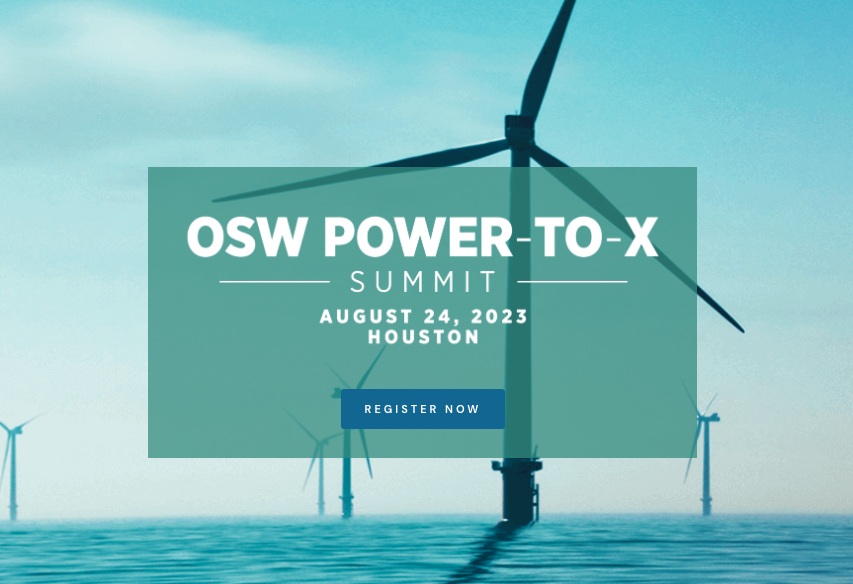 Register Now for the 2023 OSW Power to X – Offshore Wind Summit Aug 24 – Houston
This Event Reminder is Sponsored by:
Offshore wind, as a gigawatt-scale source of renewable power, has the capability of providing energy to offtake beyond traditional grid interconnection. Market demand for green hydrogen production, green ammonia production, and carbon capture and storage is growing quickly as all industry sectors respond to the need for greener fuel sources.
The first event of its kind in North America, the OSW Power-to-X Summit will explore the world of alternative power offtakes for offshore wind projects, including hydrogen and ammonia production, as well as carbon sequestration and other forms of utility-scale power demands. Learn what the implications will be for supply chain companies, policymakers, workforce development, and the entire ecosystem surrounding offshore wind.
Join us in Houston for the inaugural Summit to hear from experts across different industries and explore how these alternative offtake mechanisms will shape the supply chain of the future.
Note that this agenda is subject to change 
Speaker:
Liz Burdock, President & CEO, Business Network for Offshore Wind
9:05 A.M.
Opening Remarks
DNV staff will provide detailed technical background on the various offshore wind offtake opportunities beyond direct connection into the electric grid. Utilizing information provided by the Business Network's Offshore Wind Market Dashboard, DNV staff will share unique market insights and analysis. 
Morning Sessions: A Deep Dive Into Offshore Wind Offtake Opportunities
9:10 A.M.
Offshore Wind To Hydrogen: What's The Best Strategy?
Panelists will discuss the pros and cons of different offshore wind to hydrogen strategies. Should we expect to see distributed offshore electrolysis paired with the turbines themselves? Or will we more likely see centralized offshore hydrogen electrolysis? Alternatively, is it most likely that we will see centralized onshore production? Panelists will discuss what factors might tip the scale in one direction and will address supply chain implications for these different configurations.
10:10 A.M.
A Closer Look At Green Ammonia Production
Ammonia production already accounts for nearly 2% of global carbon dioxide emissions, with demand for ammonia rapidly increasing. Policymakers have begun calling for low-carbon solutions, especially with an eye towards ammonia as a carbon-neutral fuel source for heavy vessels. Could offshore wind serve as a power source for ammonia production? If so, what would that market look like, and what barriers need to be addressed for offshore wind to be a cost-competitive source of power? 
10:50 A.M.
Networking Break
11:10 AM.
Laying The Groundwork For Power-To-X Permitting
Permitting remains a complex challenge for the rapid deployment of offshore wind. As new markets emerge for alternative offtakes, what frameworks can be put in place to ensure that these new technologies don't encounter the same initial hurdles to deployment? Rapidly evolving technologies will require new approaches to ensure that projects are built in a safe and environmentally-sound manner, while not holding back innovation. Our expert panelists will share their visions on permitting approaches for power-to-x activities. 
Afternoon Sessions: Future Opportunities
1:15 P.M.
NREL Research Presentation: Offshore Wind To Hydrogen Cost Analysis
Can Offshore Wind Power Carbon Sequestration?
The Inflation Reduction Act creates a long-term and potentially lucrative market for carbon capture and sequestration activity. Current analysis has identified the Gulf of Mexico as a potentially ideal location for large-scale carbon sequestration. The Bureau of Ocean Energy Management's newly established Wind Energy Area off the coast of Galveston is located near this carbon sink. With an auction expected later this summer, could there be a market for offshore wind powered carbon sequestration. If so, what are the engineering hurdles that must be addressed, and what financial considerations will make or break this market? 
2:35 P.M.
Networking Break
3:00 P.M.
Alternative Fuel Options For Heavy Vessels
As vessel owners seek to reduce their carbon footprint, alternative fuel sources have begun to gain traction. If offshore wind develops as a favorable form of power for alternative vessel fuels, could there be a day in the near future where vessels can re-fuel at wind farms without coming into port? Panelists will explore the market potential for this innovative offshore wind offtake opportunity, and what it may mean for project design and supply chain development.
3:50 P.M.
Closing Remarks
Joe Tirone, Board Chair, Business Network for Offshore Wind
Follow UpstreamCalendar.com for upcoming industry events. Upstream Calendar was created to help the industry to synchronize by providing a free lookahead for KEY industry events across the country. We focus on non-profit support, community, and industry specific 2022 Oil and Gas trade shows and conferences for Upstream, Subsea, Offshore, Downhole, Cementing, Completions, Fracking, Pumping, MUD, etc. We are FROM Upstream, FOR Upstream and believe in Networking With A Purpose. We put all streams of energy together as the original Energy Calendar. This event is at NRG and for a full list of NRG Events Calendar follow us on our other pages. Midstream Calendar, Downstream Calendar and this one Upstream Calendar. The Energy Calendar official – sharing All Streams of Energy. Allstream Energy Partners.
Email Efrain@AllstreamEP.com to get involved.
2023 Renewables Events Houston
2023 New Energy Events Texas
2023 Oil and Gas Executive Conferences