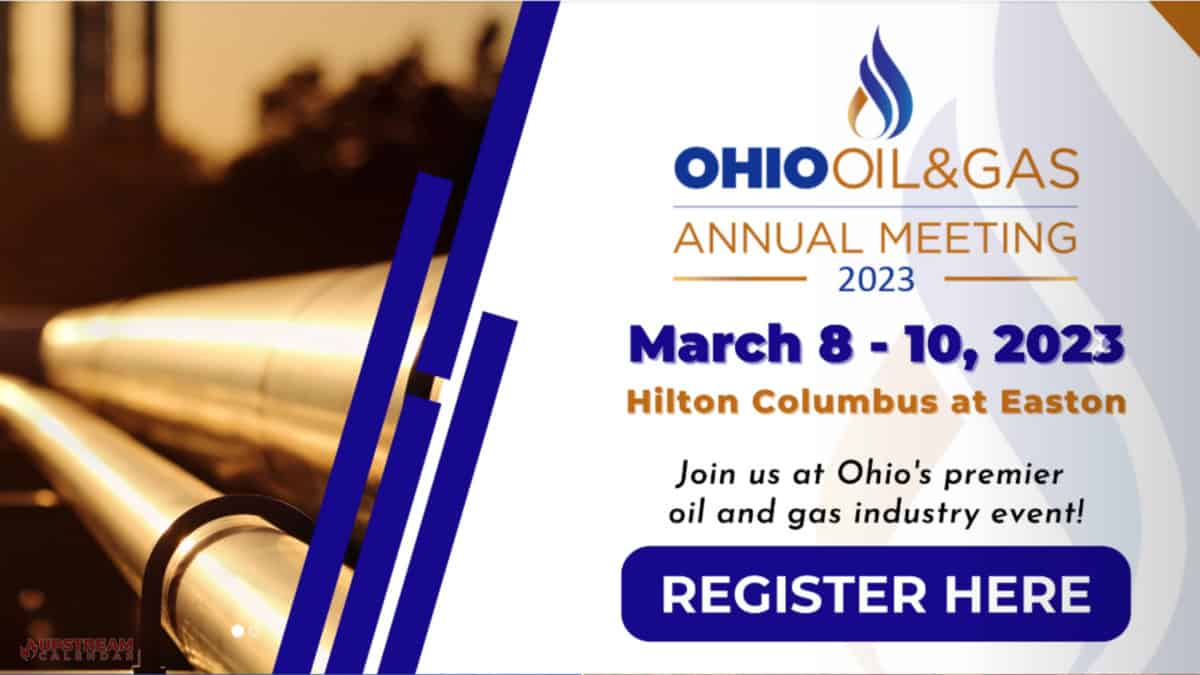 Register Now for 2023 OOGA Annual Meeting from Ohio Oil & Gas Association March 8-10 – Columbus, OH
This Event Reminder is Sponsored by:

March 8th, 9th, & 10th, 2023
Join us March 8-10 in Columbus for the Ohio Oil and Gas Association's 76th Annual Meeting. This event brings together top state and national industry leaders who will discuss current issues impacting the Ohio oil and gas industry. The Annual Meeting is the principal business meeting of the Association and the premier networking event of the year. A sampling of this annual gathering includes:
Business Sessions
Breakout Sessions
Trade Show
Networking Receptions
WEDNESDAY, MARCH 8TH
OOGA Executive Committee Meeting
Communication Committee Luncheon
Past President's Council Luncheon
Registration Opens
Sponsored by Ergon, Inc.
Board of Trustees Meeting
Legal CLE
Moderator: Devan Flahive, Porter Wright Morris & Arthur
Ohio Oil and Gas – Where We Have Been and Where Are We Headed?:
Speaker: Jason Lucas, Steptoe-Johnson
Speaker: Ilya Batikov, Vorys
Landowner Rights vs Producer Rights – Best Practice to Avoid Messy Legal Issues:
Speaker: Brian Boyer, Sherrard, German & Kelly, P.C.
Speaker: Chuck Kidder, Kidder Law Firm
Ohio Geological Society: Cuttings Volatiles: Produce More Oil, More Gas, and Less Water – All OOGA Meeting Attendees Welcome
Speaker: Mike Smith, PhD, President, Advanced Hydrocarbon Stratigraphy, Inc.
Welcome Reception
Sponsored by TBD
Oilfield Patriot Award Ceremony
Award & Video Sponsored by TBD
Dinner Sponsored by CBIZ, Precision Geophysical, Seneca Resources Company
THURSDAY, MARCH 9TH
Registration Opens
Sponsored by Ergon, Inc.
Breakfast
Sponsored by Dominion Energy
Morning Session Begins
Sponsored by TBD
76th OOGA Annual Meeting Kickoff and Welcome Comments
Speaker: Amanda Finn, Chairman, Ohio Oil & Gas Association
OOGA President's Welcome
Speaker: Rob Brundrett, President, Ohio Oil & Gas Association
Lieutenant Govenor Remarks
Speaker: Jon Husted, Ohio Lieutenant Govenor
Ohio's Economic Development Renaissance and the Role Oil and Gas Plays
Speaker: Dana Saucier, Vice President, Head of Economic Development, JobsOhio
DeBrosse Report & Appalachian Roundup
Speaker: Marty Shumway, Technical Services Director, Locus Bio-Energy Solutions, LLC
Remarks by the Speaker of the Ohio House of Representatives
Speaker: Jason Stevens, Speaker of the Ohio House
Breakout Sessions
Environmental Justice:
Speaker:  Marc Bryson, Member, Steptoe-Johnson
Speaker: Joe McGinn, Vice President of Public Affairs, Energy Transfer
New Technology in the Field:    Speaker: Des Murphy, Regional Technical Manager, Halliburton
Ohio Orphan Well Plugging:      Speaker: Jason Simmerman, Ohio Department of Natural Resources
Lunch Break (on your own)
Afternoon Session Begins
Sponsored by Southwestern Energy (SWN)
Celebrating 25 years and unveiling an exciting future
Speaker: George Brown, Executive Director, OOGEEP
Regulatory Permitting & Infrastructure
Speaker: Allen Fore, Vice President Public Affairs, Kinder Morgan Inc
What Companies Should be Thinking about When it Comes to Methane
Speaker: Roy D. Hartstein, Founder and President, Responsible Energy Solutions
Appalachia First: Produce it here. Use it here – first
Speaker: CNX Resources Corporation
Ohio Oil and Gas Public Policy Panel
Moderator: TBD
Panelist: Matt Huffman, Senate President
Panelist: TBD
Exhibit Hall Networking Event
Sponsored by Summit Petroleum, Inc
PAC Reception – Regent 3
Suggested admission – $200
Chairman's Reception
Sponsored by American Refining Group
FRIDAY, MARCH 10TH
Registration Opens
Sponsored by Ergon, Inc.
Breakfast
Sponsored by Vorys
Morning Session Begins
Sponsored by TC Energy
Welcome Back to the 76th OOGA Annual Meeting
ODNR Regulatory Updates
Speaker: Eric Vendel, Chief of Division of Oil & Gas Resources Management, Ohio Department of Natural Resources
Rusty Hutson, Co-Founder & Chief Executive Officer, Diversified
Appalachian Hydrogen Hub
Speaker: Matt Mangum, Business Opportunity Manager, Carbon Capture and Storage, Shell
Keynote Address by Jeff Eshelman, IPAA
Door Prize Drawings and Closing Comments
76th OOGA Annual Meeting Concludes
Follow UpstreamCalendar.com for upcoming industry events. Upstream Calendar was created to help the industry to synchronize by providing a free lookahead for KEY industry events across the country. We focus on non-profit support, community, and industry specific 2023 Oil and Gas trade shows and conferences for Upstream, Subsea, Offshore, Downhole, Cementing, Completions, Fracking, Pumping, MUD, etc. We are FROM Upstream, FOR Upstream and believe in Networking With A Purpose.
Email Efrain@AllstreamEP.com to get involved.
2023 Oil and Gas Events Ohio
2023 Oil and Gas Executive Conferences
2023 Oil and Gas Conferences