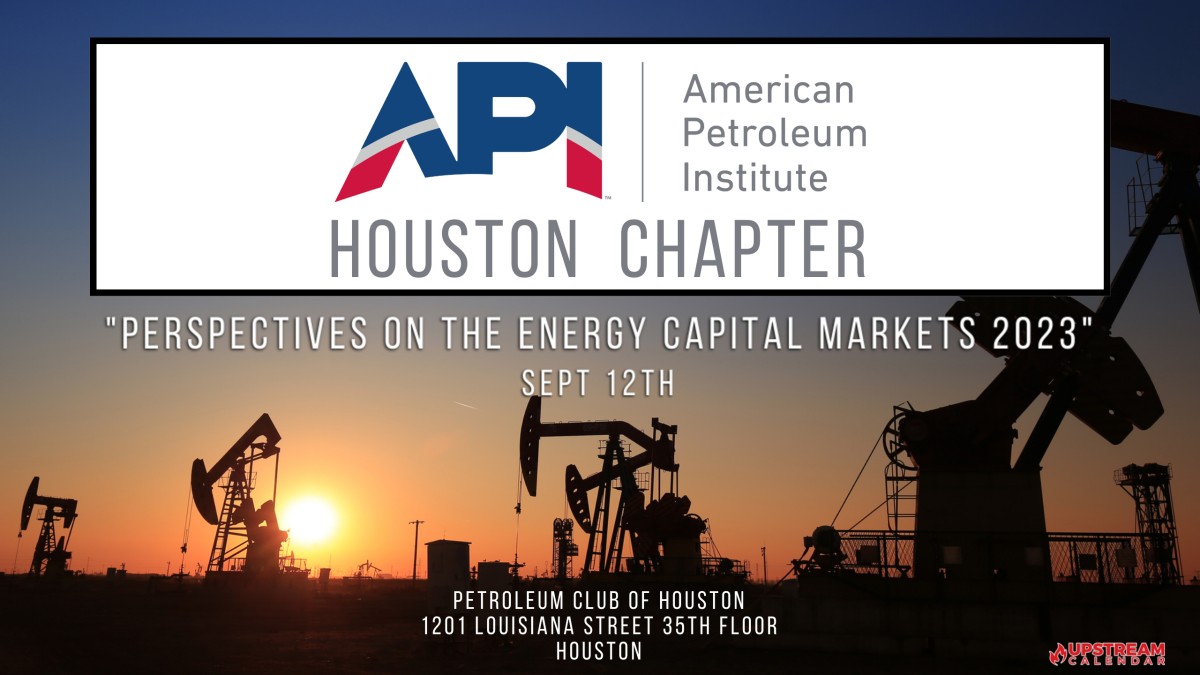 Register Now for the American Petroleum Institute Houston Monthly Luncheon September 12, 2023 – Houston

Todd Dittmann, Juniper Capital Advisors, L.P.
Todd Dittmann Joined Juniper Capital in January 2023 as Energy Credit Portfolio Manager and Partner. Prior to Joining Juniper, he was a Managing Director at Angelo Gordon & Co. where he led the firm's energy strategy since 2013. Todd has more than 25 years in energy finance with investing and board experience in both public and private companies. His experience includes the closing of approximately 150 debt, equity, M&A, derivative-linked and other energy related transactions, most of which he completed as a principal investor or lead lender. Mr. Dittmann has also held various roles with D.B. Zwirn & Co., Jefferies & Co. and the Chase Manhattan Bank. Mr. Dittmann holds a BBA with a concentration in finance and an MBA from the University of Texas at Austin and is a Chartered Financial Analyst.

Patrick Hickey, Starwood Property Trust
Patrick Hickey joined Starwood in mid-2022 as a Managing Director with Starwood Infrastructure Finance and is responsible for credit origination across the energy sector. Prior to Starwood, Mr. Hickey was with Alvarez & Marsal, serving as a Managing Director in its energy practice. Prior to Alvarez & Marsal, Mr. Hickey was a Managing Director and senior member of the EIG Global Energy Partners Houston-based oil & gas investment team. Prior to joining EIG in 2003, Mr. Hickey held a similar position at Duke Capital Partners where he was responsible for senior debt, equity and mezzanine financings. Prior to Duke, he spent ten years with Enron Corp. in various energy and marketing roles. He also worked for ARCO as a reservoir engineer for five years. Mr. Hickey received a Petroleum Engineering degree from the University of Texas and an MBA from Harvard University.

Dan Pickering, Pickering Energy Partners
Dan Pickering is the Chief Investment Officer at Pickering Energy Partners, a financial services firm focused on investments and advice in the energy sector. Prior to PEP, he served as the President of Tudor, Pickering, Holt & Co., and Chief Investment Officer of TPH Asset Management. He has spent 29 years as an energy portfolio manager, researcher and analyst, first at Fidelity Investments and then as Head of Research at Simmons & Company and as the founding partner of Tudor, Pickering, Holt & Co. Dan is the Board Chair of Merge Electric Fleet Solutions and also serves on the Advisory Boards for the Houston CFA Society, Capital Creek Advisors, Dynamo Energy Hub, Midway Companies, as well as the Posse Foundation, the Board of Trustees for Texas Children's Hospital and The Texas Children's Hospital Foundation. He holds a BS in Petroleum Engineering from the Missouri School of Science and Technology and an MBA from the University of Chicago.