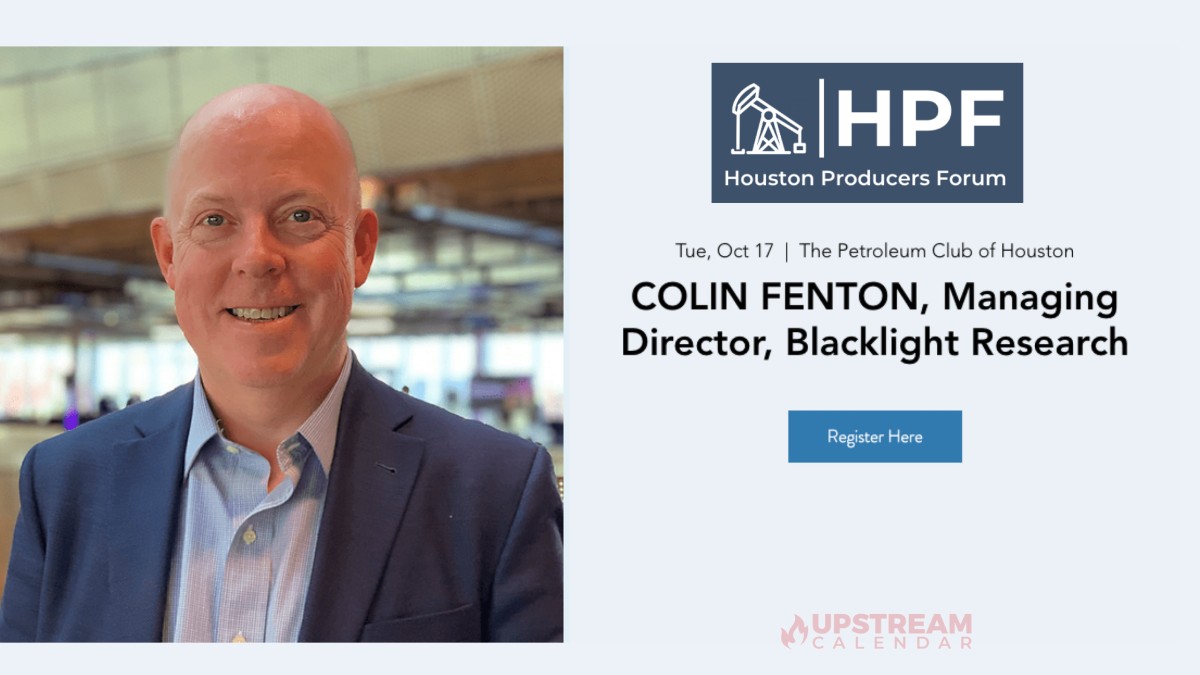 Register Now for the Houston Producers Forum Oct 17, 2023 Luncheon – Houston
This Event Reminder is Sponsored by:
About the Event
Colin is the managing partner and head of research at Blacklight Research LLC, a strategic adviser to senior leaders of corporations, institutional investment firms, and sovereign governments. He is also the co-chair of the Advisory Council for the J.P. Morgan Center for Commodities at the University of Colorado Denver, a position he has held since the Center's founding in April 2012. Colin has also been a Non-Resident Fellow at Columbia University's School of International and Public Affairs in the Center on Global Energy Policy (2015-2017).
Prior to his current positions, Colin was a managing director at J.P. Morgan Chase & Co., where he served as global head of commodities research and chief commodities strategist (2010-15). He was one of ten members of J.P. Morgan's management committee for the Global Research Division, which supervises the work of about one thousand research analysts worldwide.
He is the former managing partner of Curium Capital Advisors LLC, a registered investment adviser that he sold to J.P. Morgan Chase & Co. in 2010. For three years, he was the managing director responsible for commodities and cyclical industries at Duquesne Capital Management LLC, Stanley Druckenmiller's hedge fund. Colin is also a former Chief Intelligence Officer of Ospraie Management LP, an investment firm specializing in natural resource investments across asset classes. He began his markets career at Goldman, Sachs & Co., where for seven years he helped build the Commodities Research franchise.
Before joining Goldman, Colin was the research assistant to Ambassador Chester A. Crocker, the former US assistant secretary of state for African Affairs.
Colin holds an MSFS degree from Georgetown University's Edmund A. Walsh School of Foreign Service. He is also a graduate of Princeton University, where he studied early modern history.
Schedule
11:30 AM – 12:00 PM
30 minutes
Registration & Networking
12:00 PM – 12:05 PM
5 minutes
Announcements
Held at The Petroleum Club on the third Tuesday of each month, except for November lunch will be on November 28th.
11:30am – Registration & Networking; 12:00pm – Lunch; 12:30pm – Speaker with Q&A Session
Active members receive discounts on all ticket prices.
*All ticket prices increase to $65 after the registration deadline of Friday at 5 pm (prior to the event).
Corporate lunch sponsorships and table reservations are available by contacting info@houstonproducersforum.org.