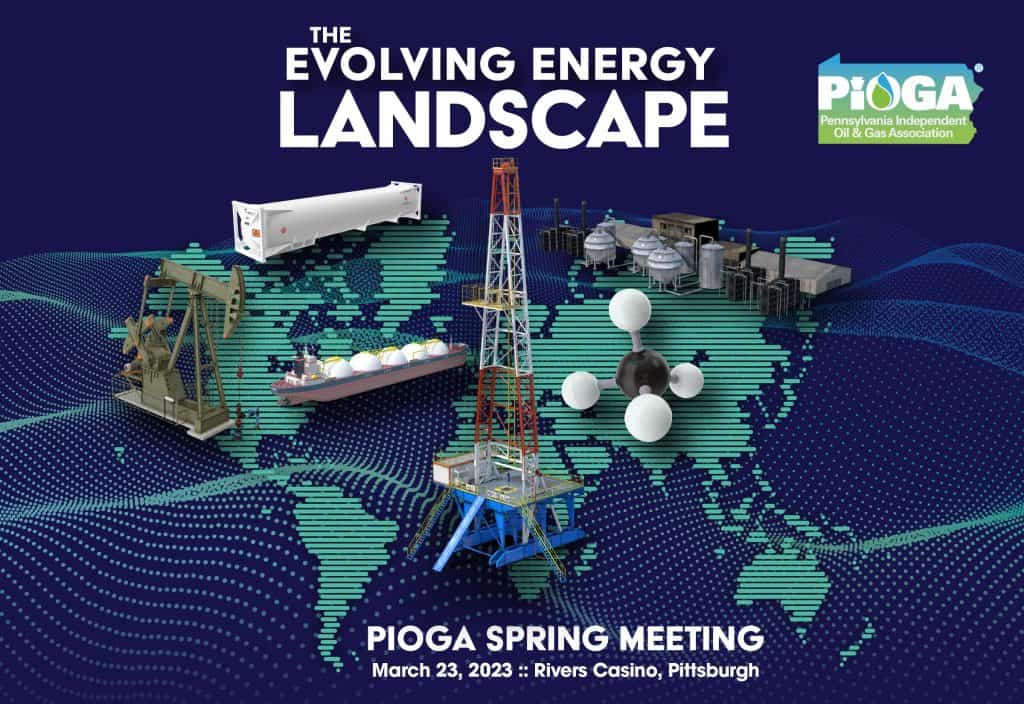 Register Now for the PIOGA – Pennsylvania Independent Oil & Gas Association 2023 Spring Meeting – March 23rd – Pittsburgh
This Event Reminder is Sponsored by:

How will our world be powered in 2030, 2050 and beyond? Where we get our energy today will be different than tomorrow. This evolving energy landscape is dynamic and always shifting due to advances in technology and changes in regulations, consumer preferences, government intervention and economics, to name just a few.
Join us for this year's SPRING MEETING on March 23, 2023 at the Rivers Casino for a daylong program featuring presentations from top experts addressing the issues and opportunities of the ever-evolving energy world we live in and depend on. This meeting will provide thought-provoking information about the future of energy, along with updates on the regulatory, legislative, market development and business climate issues impacting your business now..
AGENDA
Highlights of the Meeting – Full Agenda and Speaker Lineup Coming Soon!
Registration opens at 7:45 a.m. The program will kick off at 8:45 a.m. and last until 5:00 p.m., followed by a networking reception and casino time until 7 p.m.
Follow UpstreamCalendar.com for upcoming industry events. Upstream Calendar was created to help the industry to synchronize by providing a free lookahead for KEY industry events across the country. We focus on non-profit support, community, and industry specific 2023 Oil and Gas trade shows and conferences for Upstream, Subsea, Offshore, Downhole, Cementing, Completions, Fracking, Pumping, MUD, etc. We are FROM Upstream, FOR Upstream and believe in Networking With A Purpose.
Email Efrain@AllstreamEP.com to get involved.
2023 Oil and Gas Events Pittsburgh
2023 Oil and Gas Executive Conferences
2023 Oil and Gas Conferences Appalachian Basin